---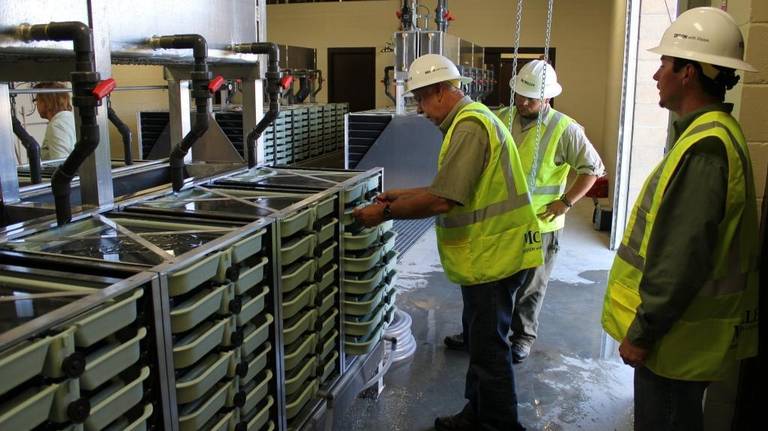 Many know the sad story of Idaho's sockeye salmon. Sockeye returning to Redfish Lake in the Sawtooth Valley travel some 900 miles to an elevation of 6190 feet on their perilous journey, the longest migration undertaken and highest elevation reached of any sockeye population in the world.
Historically, 25,000-35,000 sockeye returned to the Sawtooth Valley each year. In recent times that number dwindled to a handful of fish. Since 1991, a group of agencies has been collaborating on recovering this ecologically and genetically unique run of sockeye salmon.
What many folks don't know is that Bingham County plays a critical role in this recovery program. The Springfield Fish Hatchery in southern Bingham County was developed to aid sockeye conservation efforts. This impressive 73-acre facility began operation in 2013 and in part was established because it comes with a reliable source of cool, pathogen-free artesian water.
The hatchery was developed with the objective of assisting with recovery of Snake River sockeye, having an ultimate goal of rearing and stocking enough smolts (approximately 2-year-old salmon ready to migrate to the ocean) that sufficient fish will return from the ocean so there is no longer a need to obtain eggs from hatchery-reared fish.
The hatchery operation is overseen by Bryan Grant, hatchery complex manager for eastern Idaho. Hatchery Manager Brandon Filloon, Assistant Manager Denys Chewning, and Fish Culturist Paul Martin comprise the full-time staff that live on the hatchery grounds. The hatchery is a 365-day, 24/7 operation so one of the staff is always on call and cannot stray far from the facility. The dedicated staff approach this challenge by using three-week on-call rotations. In addition, temporary employees are hired during very busy periods.
Bingham County residents are working diligently to protect this iconic species. Even the poster that serves as a symbol of this recovery effort was created by former Bingham County resident Lizzie Wackenhut.
This important and complex program is operated by the Idaho Department of Fish and Game (IDFG) and supported by the Shoshone-Bannock Tribes, National Oceanic and Atmospheric Administration (NOAA), and Bonneville Power Administration. Together these partners form a technical oversight committee that meets quarterly and collectively makes programmatic decisions.
The Springfield Hatchery raises sockeye eggs obtained from multiple brood stocks including the IDFG's Eagle Hatchery, a NOAA hatchery near Seattle, and returning anadromous fish. Smolts are raised from these eggs and ultimately released into the waters of the Sawtooth Valley to begin their life cycle of moving to the ocean and then 1-3 years later returning to spawn in the Sawtooth Valley.
Besides the challenge of starting a new salmon production facility, Brandon Filloon explained that the program faced an additional difficulty with smolt survival. When fish were moved from the "hard" water environment of Springfield to the "soft" water environment in the Sawtooth Valley, smolts had low survival.
An extensive review of fish physiology studies suggested that these smolts could not deal with abrupt changes in water chemistry. Bryan Grant noted that the hatchery staff worked with world-renowned fisheries scientists Donald Larson and Jesse Trushenski to solve this problem. It took two years of intensive sampling to assess water conditions and develop an acclimation program to increase smolt survival. This acclimation program involves moving smolts from the Springfield Hatchery to the Sawtooth Hatchery where they are held for 2-3 weeks before being released to the wild. The full acclimation program was initiated in 2018 and the last three years provided some of the highest smolt survival rates recorded in the program's history.
This Bingham County facility is a major player in salmon management and conservation, and county residents are engaged in work the entire county can be proud of.
Related Pages:
First Sockeye from Hatchery Comes Home -- $14M, 6 Years and Millions of Smolt Later by Rocky Barker, Idaho Statesman, 8/29/19
Experts: Idaho Hatchery Built to Save Salmon is Killing Them by Keith Ridler, ABC News, 11/17/17
The Public Paid $14 Million for an Idaho Hatchery -- and All its Fish Have Been Dying by Jack Connelly, Idaho Statesman, 11/17/17
Lonesome Larry Lives On: Sockeye's Genes to be Used at New Hatchery by Michael H. O'Donnell, Idaho State Journal, 9/7/13
---
Jack Connelly has lived in Bingham County for the last 42 years. He is an avid outdoorsman and has hiked, camped, hunted, and fished over much of the U.S. as well as parts of Europe and Asia. Connelly worked as a biologist for the Idaho Department of Fish and Game for over 30 years. He now enjoys retirement with his wife Cheryl raising chickens and bird dogs at their home in Blackfoot.
Springfield Hatchery -- Bingham County's Conservation Heroes
Bingham County Chronicle, July 30, 2020
---
See what you can learn
learn more on topics covered in the film
see the video
read the script
learn the songs
discussion forum