---
Pea and lentil growers have been forced to load their legumes onto trucks to be hauled to Tacoma, Wash.,
at about twice the cost of sending product down the Columbia-Snake river system.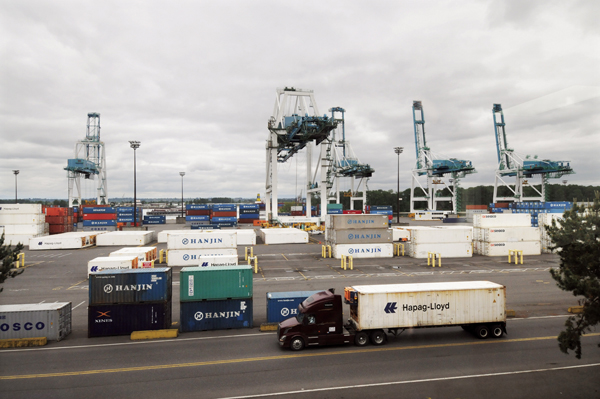 BOISE -- Half of the wheat grown in Idaho is exported. But getting that grain -- or any other agricultural commodity -- to market is no easy matter.
Labor disputes, worker shortages and infrastructure bottlenecks all contribute to transportation bottlenecks for Idaho producers.
Take pea and lentil growers in northern Idaho. A labor dispute between two unions at the Port of Portland in 2015 had nothing to do with agricultural exports but the fallout has meant that no container ship have called at the Port of Lewiston in more than two years. Pea and lentil growers have been forced to load their legumes onto trucks to be hauled to Tacoma, Wash., at about twice the cost of sending product down the Columbia-Snake river system.
David Doeringsfeld expects to see container ships return to Lewiston.
"There is too much stranded investment not to be," Doeringsfeld said during a panel discussion at the 2018 Ag Summit. The Port of Portland is working with large shipping companies to restore service but he said it might take another two years before growers see relief. He manages the Port of Lewiston.
That's just one example of the transportation bottlenecks that can quickly develop in a state that is not connected, north to south, by a rail line or an interstate.
Soft white wheat remains the number one export from the Port of Lewiston followed by peas and lentils, lumber, jet boats and bullets. Tourists are becoming more important to the region as cruise ships call on the neighboring Port of Clarkston.
While trucks and rail barges have provided a work around for the absence of container ships at Lewiston, trucks are not the answer that they once were.
Scott Masingill, the western region sales director for Prime Inc., said there is a lot of talk about the impacts of requiring every semitrailer to have an electronic log starting last December on the number of trucks on the road. Drivers are also limited to driving 70 hours a week.
"The regulation is not the problem as much as the ability to hire is," Masingill said.
Even though 72 cents out of every freight dollar goes to the driver, drivers today make less than they did in 2000 when inflation is included. With the economy improving and more off-road jobs being created, recruiting drivers is increasingly difficult.
"The real issue is that we are not seeing qualified drivers come into the pool. It's a difficult chore to hire qualified drivers," Masingill said. "Forty years ago a lot of people grew up on farms and were used to driving larger vehicles."
In 1994, 60 percent of the drivers were between 25 and 44 years old with only 11 percent over 55 years of age. Today just 39 percent of the drivers are in the 25 to 44-year-old group and 26 percent are over 55.
Twenty years ago, the primary agricultural products carried by truck were french fries, fresh potatoes and fresh onions. Fries are still No. 1 today, but yogurt and fresh meat have taken over the No. 2 and 3 spots.
Prime Inc. has developed its own driving school to train the 10,000 drivers it needs each year and is proud that it's turnover rate is just 50 percent. The industry average is much higher.
"Think about your business and if all of your employees were brand new every year," he said. "How would that affect your efficiency?"
Masingill does not expect to see driverless trucks on the state's highways any time soon but he thinks the technology may be the only way to solve the nation's trucking shortage. In the meantime, he encourages producers and others to treat truckers with respect.
"If drivers are treated with respect at loading and unloading zones, it goes a long way to make them feel good about their job," he said.
Railroads have long figured into the transportation equation, but have their own challenges particularly for fresh agricultural products that can command higher prices from end users.
Using a patented racking system, Watco Transportation has developed a perishable express program that allows companies to ship fresh and frozen product to the eastern U.S. in six to nine days. Using a traditional rail service can take 45 to 50 days, explained Winston Inouye, manager of strategy and customer development for Watco.
"The benefit of this program is that it's a faster, easier way to ship," Inouye said.
Watco acquired the Eastern Idaho Railroad in 1992 and is basing the perishable express program in Burley. The company is looking to add lines to Chicago and Dallas in the future.
Using the patented racking system, Watco can load the equivalent of four semi-trucks onto each rail car. Fresh onions, butter, cheese and potatoes are the primary products moving through the perishable express program.
Malheur County, Ore., is looking to the Watco model as it develops a transload facility to move fresh onions.
"With the truck and rail shortages, this fall and winter was a terrible time for movement (of onions)," said Grant Kitamura, one of the organizers behind the new transload facility. "It was a terrible, terrible feeling."
The county received $26 million from a $5.3 billion transportation package passed by the Oregon Legislature last year to build the transload facility to ship onions on an express rail line. Regular rails cars turn every 41 days, an express car will turn (make a round trip) every 18 days.
Kitamura says the new facility will keep the $150 million onion industry in Malheur County viable.
"This keeps us in the game."

---
Cindy Snyder
Transportation Issues Snarl Idaho Ag
Twin Times-News, March 4, 2018
---
See what you can learn
learn more on topics covered in the film
see the video
read the script
learn the songs
discussion forum