---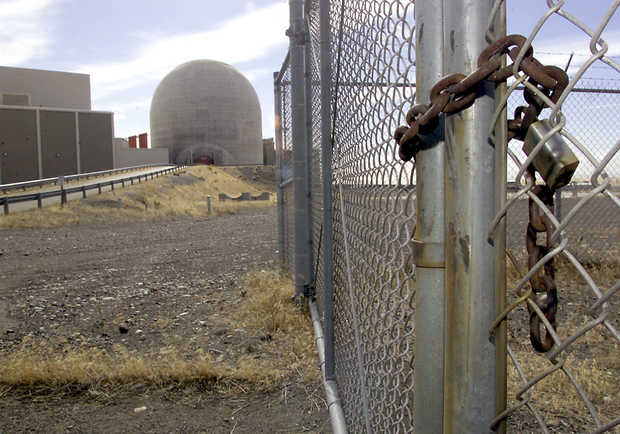 Installing a small modular nuclear reactor at the site of Energy Northwest's never-completed WNP-1 nuclear power plant north of Richland is being proposed.
A small modular reactor could be used to provide power to the Hanford vitrification plant and possibly also Pacific Northwest National Laboratory in Richland, according to a letter of support from Washington Gov. Chris Gregoire to Energy Secretary Steven Chu.
It also could help offset the loss of jobs as environmental cleanup progresses at Hanford, which previously was used to produce weapons plutonium, she said in the letter.
"Our future depends on the availability of safe, clean and affordable electrical energy to fuel our economic growth, create jobs and provide for future generations," Gregoire said. "Continued development of a new generation of advanced nuclear energy facilities has the potential to be an important part of that future."
The Department of Energy is considering proposals to award $450 million to support engineering, design certification and licensing for one or two small modular reactor designs over five years. The goal is to match that with private industry money and have the new reactors operating commercially by 2022.
A decision is expected by the end of September.
While those proposals will come from firms developing the reactors, the Tri-City Development Council believes the Tri-City area is the best place for the initial use of one of the new reactors.
TRIDEC will present a proposal to the Department of Energy on June 20 at a forum organized by the Energy Communities Alliance. Proposals or comments also are expected from communities in Tennessee, South Carolina, Virginia, New Mexico, Idaho and possibly Kentucky.
But Hanford could be the only area with a need for new power by 2020, said Gary Petersen, TRIDEC vice president of Hanford programs.
"An integral part of cleanup, the waste vitrification plant, will require an additional 70 (megawatts) of electrical power by the end of this decade," Gregoire said in her letter. "In addition, U.S. DOE's Pacific Northwest National Laboratory will also require nearly 30 (megawatts) of electricity."
That provides an opportunity for DOE to meet its own electricity needs while advancing new small modular reactor technology, she said.
Victor Reis, a senior adviser to the Office of Secretary for DOE, said during a visit to the Tri-Cities in April, that to create the demand for initial development of small modular reactors, the U.S. government would be the likely first user, possibly installing the reactors to power DOE or Department of Defense projects. Reis is supporting a DOE advisory committee looking at issues surrounding long-term development of small modular reactors.
In addition to the possible advantage of a local DOE need for the electricity, the Tri-City area also can offer the WNP-1 site, which already has infrastructure in place, Petersen said. That could provide a savings of $50 million over development of a new site.
The Washington Public Power Supply System, now called Energy Northwest, began to build the 1,300-megawatt nuclear power plant near the Columbia Generating Station north of Richland in the '70s, but never finished it. A dome was built, but would not be used in the proposed small modular reactor project.
The site has been licensed for a reactor and, although licensing still would be needed for a small modular reactor, the previous licensing work could speed the approval.
TRIDEC and Gregoire have not indicated support for a particular manufacturer, but Energy Northwest has requested that DOE award one of the grants to NuScale Power of Corvallis, Ore.
Energy Northwest and some public and investor-owned utilities assessed small modular reactors over two years as part of its long-term planning, said Mark Reddemann, chief executive in a letter to DOE. They concluded that if they were selecting a technology now, they would favor NuScale.
"While Energy Northwest and the study group utilities are not in the position to enter into a contract for the development of this technology today, we have evaluated the potential installation of a NuScale plant at an existing Energy Northwest site and are confident that, if the time comes for us to embark upon the addition of new nuclear capacity, the NuScale SMR is a product we wish to have available," Reddemann said in the letter.
Hanford has been the location of three successful "first-of-a-kind" reactors, Gregoire said in her letter. It has B Reactor, the nation's first production-scale reactor; N Reactor, which produced electricity and weapons plutonium, and the Fast Flux Test Facility, a research reactor. None of the three are operating now.
It also has the Columbia Generating Station, the Northwest's only commercial nuclear power plant, a skilled nuclear work force and supportive population, she said.
The nuclear power plants that were not finished on leased land at Hanford "should provide excellent infrastructure with cost benefits for the construction of these new and safer small modular reactors," she said.
While demonstrating and operating a small modular reactor at Hanford would create jobs, a large economic benefit would result if the Tri-City area is picked as the site to manufacture them. The reactors are proposed to be made in factories and transported to sites where they would be ready to "plug and play" upon arrival, reducing capital costs and construction time.
Models that would produce 45 to 200 megawatts have been proposed by industry, which would make them useable for small electric grids and locations that cannot support large reactors, offering utilities the flexibility to add more modules to scale up production if demand increases.
Production of the reactors appears to be DOE's ultimate goal, and the state of Washington leads the nation in exports to the Pacific Rim, Gregoire said in her letter.
"Small modular reactors, once developed, become a very exportable product that can be of great benefit to China, Korea, Japan and to developing countries around the world," she said. "Hanford and the Tri-Cities could be a keystone to such manufacturing with direct access to ocean-going barges, major interstate highways and railroads."
---
Annette Cary
Small Modular Reactor Proposed at Nuclear Plant
Tri-City Herald, June 7, 2012
---
See what you can learn
learn more on topics covered in the film
see the video
read the script
learn the songs
discussion forum