---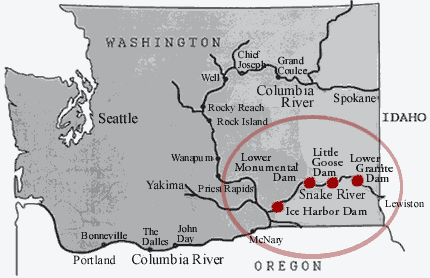 Rep. Mike Simpson, senior Republican U.S. congressman for east Idaho, released a comprehensive plan in February 2021 to end the salmon wars in the Pacific Northwest by removing four hydroelectric dams, replacing the lost electricity, compensating communities and businesses, and investing more power to American Indian tribes. His $33 billion Pacific Northwest energy and infrastructure proposal would end litigation over endangered salmon and commission the removal of four dams on the Lower Snake River in southeast Washington beginning in 2030.
In presenting his proposal to remove the Lower Snake River dams, Representative Mike Simpson has pointedly referred to the painful example of the Klamath Basin in northern California and southern Oregon. After much litigation and many appeals, the four dams in the Klamath Basin will be removed for salmon recovery by 2024 in what would be the world's largest dam removal project.
"However, the stakeholders will not be made whole like those under my concept," states Simpson.
The New York Times headline heralded a "Landmark Agreement to Remove 4 Klamath River Dams" Sept. 30, 2009. Culminating nearly nine years of often bitter negotiations over the future of the dams, agreement was reached between electric utilities, government officials, commercial fishers, farmers, native tribes, and environmental groups. It called for the breaching and removal of four Klamath River hydroelectric plants owned and operated by PacifiCorp of Portland, OR.
Because of the immensity of the Lower Snake River proposal in eastern Washington, it would probably require Federal oversight and financing to accomplish. Agreement by the principal stakeholders, as happened in the Klamath Basin, would propel the project forward.
PacifiCorp executives appeared ready to move forward to remove the dams since they faced the economic reality of pursuing expensive fish-saving modifications on the dams federally mandated to renew its long-expired (in 2006) hydroelectric licenses to the tune of $400+ million. The plan called for PacifiCorp to foot $200 million from ratepayers in California and Oregon for the demolition and river restoration with no liability and a guaranteed limit on its costs.
Opponents to dam removal have argued against the loss in value of lakeside real estate, inexpensive and clean hydropower, recreational, and flood control benefits associated with the dams. They are also concerned about flooding, pollution, and additional obstacles related to removal.
Longstanding water disputes have been a primary concern between the native tribes and the farmers. "For us, it is all about a reliable supply of water and without doing it on the back of any other party," said Greg Addington, executive director of the Klamath Water Users Association. "We're not trying to take somebody else's water."
Bob King, who operates a farm just north of the border in Oregon, said the removal of the dams would result in him having to pay $120,000 to drill a well for irrigation as well as higher costs for electricity. "The removal of the dams means a higher power bill and dirty power," King said. "They will have to use something else to make power out of, and water is about the cleanest power that we have."
A group of residents who live around the oldest dam's meandering lake are committed in their opposition. Without the reservoir created by the dam, they claim their rustic waterfront properties will become mudflats. Many insist their residences have already lost half their value.
On the other hand, Indian tribes and commercial fishers have insisted on sufficient water to aid salmon and steelhead migration. Because of the poor water quality behind the dams, the judges have been called upon to release more of the Klamath's waters to flush out a lethal parasite called C. shasta, which has decimated fish populations.
Water wars have also been central to the controversy in Idaho regarding the four dams on the Lower Snake River. The barging industry as a cheap transportation resource adds an additional element of concern on the Snake.
Regarding his Lower Snake River dam removal proposal, Rep. Simpson states, "It would lock in a more certain future for agriculture, energy, transportation and communities and also give Idaho's wild salmon and steelhead their best chance for survival.
"I want to make it clear that if these dams are removed, then all stakeholders must be provided with resources to replace the benefits they currently receive from them. In three years of studying this issue and over 300 meetings with stakeholders, I have come to believe that it would cost at least $33.5 billion to replace these benefits."
Related Pages:
Public Comment and Federal Responses, 45-day comment period of 8,000 page CRSO EIS, by bluefish during the Covid-19 Lockdown, 2020.

---
James Lang, is a resident of Meridian, ID and a long-time resident of the Pacific Northwest and the Intermountain regions. He is an Adjunct Professor with Development Associates International.
A Similar Case Study to Breaching the Lower Snake River Dams
Twin Times-News, March 13, 2021
---
See what you can learn
learn more on topics covered in the film
see the video
read the script
learn the songs
discussion forum