the film
forum
library
tutorial
contact

More Water to Spill Over Dams Starting Tuesday.
You'll See the Costs on Your Electric Bills

by Annette Cary
Tri-City Herald, April 2, 2018
---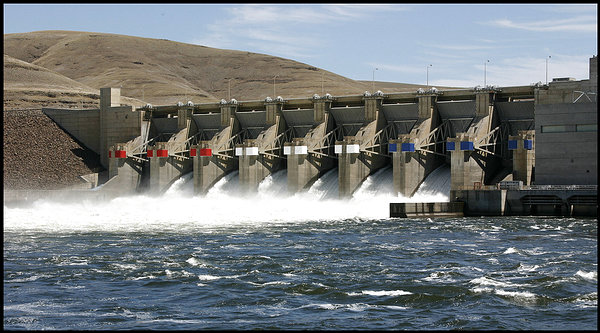 More water will be spilled over the lower Snake and lower Columbia River dams starting Tuesday, after the Ninth U.S. Circuit Court of Appeals on Monday rejected an appeal.
The ruling came as Rep. Dan Newhouse, R-Wash., was meeting in Kennewick with business, agriculture, utility and community leaders, who told him they oppose both the increased spill and also breaching the four Snake River dams.
U.S. District Judge Michael Simon in Portland ruled last spring that more water must spill over dams from April to mid-June to help young salmon migrating to the ocean.
Water that is spilled cannot be used to produce inexpensive electricity, which increases the utility bills for Northwest ratepayers.
Some of the Tri-City and state leaders Newhouse met with Monday also argued that more spill could harm, rather than help, young salmon.
Newhouse did have some encouraging news for those opposed to the increased spill and breaching the dams.
He was told Monday by U.S. House leadership that a bipartisan bill, H.R. 3144, would advance to consideration by a committee and then possibly to a vote of the full House this month, he said
The bill would keep the status quo at the Snake and Columbia River dams until at least 2022, with no court-ordered change to operations.
"Our dams would be kept safe from breaching," Newhouse said.
Now dams are operated under a plan called the Federal Columbia River Biological Opinion, or BiOp. It was created by a collaboration of federal agencies, states and tribes during the administration of President Barack Obama to protect salmon while operating dams.
But Simon has found the BiOp does not do enough to protect salmon.
He ruled that a new environmental study is needed to look at the Columbia and Snake rivers hydropower system and that it must consider the option of breaching, or removing, the Snake River dams from Ice Harbor Dam near Burbank upriver to Lower Granite Dam.
The Bonneville Power Administration said on Monday that it will follow the court decision and increase spill Tuesday, even though it would increase electricity costs in the Northwest.
"We are analyzing the full financial impacts of this court decision, and we will make more information available in the coming weeks," the BPA said in a statement. Most Tri-City area electric utilities rely heavily on electricity that comes from the BPA.
The increased spill is expected to cost Northwest electricity users $40 million in higher rates this spring, on top of the $15 billion they have already paid in programs to help fish over the past four decades, Newhouse said.
The $40 million cost "is totally unacceptable and unavoidable," he said.
The increase spill also could have possible harmful affects on transportation and barging on the rivers, flood control and irrigation systems, according to information from Newhouse's staff.
Supporters of the spill, led by Earthjustice, issued a statement, quoting the section of the Court of Appeals ruling that said "significant evidence from decades of studies show(s) that spill volumes higher than those proposed in the 2014 BiOp will lead to higher survival rates" for outmigrating young salmon.
The evidence cited comes from the plaintiffs' own data, not federal science, said Terry Flores, executive director of Northwest RiverPartners, a group that includes farmers, utilities, ports and businesses. She spoke at a press conference held by Newhouse.
"We have a district court judge and we now have a Ninth Circuit panel of judges that, in my opinion, completely disregarded the federal agency science that was directly in front of them," she said. "The law requires that the federal agencies have the science expertise and should be deferred to by the courts. We've seen none of that in this litigation."
The Appeals Court ruling also agreed with the lower court that "the listed species remain in a 'precarious' state, and that they will remain in such a state without further conservation efforts beyond those included in the 2014 BiOp."
Inaccurate and untrue, Flores responded.
If salmon were truly in a perilous situation, Flores said she would assume that there would be no fishing allowed on the stocks. But sport, commercial and tribal fishing has been set by the courts at the same levels they have been for years, she said.
The Northwest Sportfishing Industry Association said that at the spill level ordered for this spring and affirmed on appeal, "we are going to see larger adult salmon returns."
Flores disagreed, saying that spilling as much as 40 percent of the water in large rivers through hydrodams injects high levels of gas in the water. Young fish can suffer from fatal symptoms from the gas, similar to when human divers get the "bends," Flores said.
The churning water at the dams also can prevent the next generation of returning salmon from accessing fish ladders at the dams and keep them from reaching their natal rivers to spawn, she said.
"(This) forced spill as the result of the judge's order will at best shave off a few hours of travel time for young fish heading downstream," she said. "I don't think that is a very good investment, particularly when there are serious questions about the impacts it will have on these very fish."
The House bill that Newhouse said would advance was introduced by Rep. Cathy McMorris Rodgers, R-Wash. Other sponsors, in addition to Newhouse, are Reps. Jaime Herrera Beutler, R-Wash.; Greg Walden, R-Ore.; Kurt Schrader, D-Ore; Mark Amodei, R- Nev.; Raul Labrador, R-Idaho; and Greg Gianforte, R-Mont.
---
Annette Cary
More Water to Spill Over Dams Starting Tuesday. You'll See the Costs on Your Electric Bills
Tri-City Herald, April 2, 2018
---
See what you can learn
learn more on topics covered in the film
see the video
read the script
learn the songs
discussion forum