---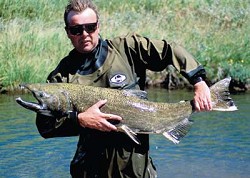 State and tribal fishery managers are still waiting for approval from the federal government to open the Wallowa and Imnaha rivers to spring Chinook salmon fishing.
Brad Smith, the Oregon Department of Fish and Wildlife's district biologist in Enterprise, said ODFW proposed allowing anglers to harvest 1,000 salmon from the Imnaha River and 500 from the Wallowa River this spring. NOAA Fisheries, a federal agency responsible for protecting and managing endangered salmon stocks, must give final approval to the seasons.
"We are shooting to having something by mid-May," Smith said of approval from the federal government to allow fishing for the prized salmon in Wallowa County this spring.
For the first time since the 1970s, anglers were allowed to fish for salmon in the Wallowa River last year. Biologists are pleased with the rebound of spring Chinook there and have proposed the second season in a row this year.
"We've seen a jump in numbers in the last couple of years," said Jim Harbeck of the Nez Perce Tribe Department of Fisheries Resource Management.
In 1999, only 13 salmon were captured at a weir on the Lostine River. Last year, more than 1,000 salmon returned.
A near-record spring Chinook run was expected this year on the Columbia system. The run has been slow to materialize, however.
"Basically it looks like the run is late this year," Smith said. "Water temperatures have been relatively cold on the Columbia."
Harbeck agrees. "I think that's related to water temperatures," he said.
The salmon run over Bonneville Dam is a few weeks late compared to last year, but has surged in recent days, with an average of 2,000 springers a day crossing the fish ladder.
Biologists are closely tracking the returns to make sure this year's expected larger-than-average return materializes.
The state of Oregon also is work with NOAA Fisheries to develop a long-term plan that makes it easier to set spring salmon seasons in Wallowa County.
"Together with our co-manager, the Oregon Department of Fish and Wildlife, we have re-established the Chinook fishery for both tribal and non-tribal anglers in the Imnaha River and are on the verge of re-establishing the Chinook fishery on the Wallowa River," Harbeck said.
"Earlier this year we shared our return projections with OWFW and encouraged the state to seek an open salmon season on the Wallowa. That fishery will target hatchery Chinook salmon returning to the Lostine River, where we release approximately 250,000 Chinook smolts each year."
Aside from its hatchery program, the tribe also is worjking on a project with the University of Idaho and Washington State University to maintain the unique genetic attributes of the salmon populations in Wallowa County by storing fish sperm in a gene bank.
---
Andy Martin
Salmon Season Decision Expected
Wallowa County Chieftain, April 30, 2009
---
See what you can learn
learn more on topics covered in the film
see the video
read the script
learn the songs
discussion forum