the film
forum
library
tutorial
contact

At Bonneville Dam, the Sea Lions Continue to Munch Endangered Salmon, Despite Hazing -- and a Lethal Injection Program

by Scott Learn
The Oregonian, May 13, 2010
---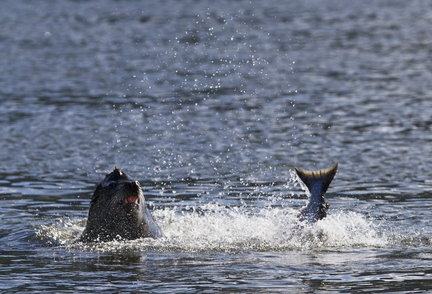 BONNEVILLE DAM -- Despite a flurry of shotgun-fired firecrackers, rubber buckshot and lethal injections that have killed 10 California sea lions this year, the amount of salmon eaten by sea lions at the first dam along the Columbia River is approaching record levels.
That's the word from Robert Stansell, a fish biologist with the U.S. Army Corps of Engineers who has monitored the sea lion's often surprising behavior since he started at Bonneville in 1982.
"These animals do learn over time," Stansell says. "Every time I think I know something, the next year they throw me a curveball."
The lethal-take program, requested by Oregon, Washington and Idaho, is the first in the nation to kill marine mammals to save threatened or endangered salmon and steelhead since Congress passed the Marine Mammal Protection Act in 1972. The Columbia is home to a multibillion-dollar salmon restoration effort.
But it's not easy to rebalance nature at the base of a mammoth hydropower dam, even with observers on the dam from dawn to dusk to track the sea lion dietary preferences, shotgun-armed hazers on boats and along the dam, and four sea lion traps on shore below the dam's north powerhouse.
Nearly three years in, the results of the lethal-take effort are murky, in large part because of those curveballs.
Salmon eaten by California sea lions at the hydropower dam -- 140 miles upstream but a prime spot for catching salmon before they swim up the fish ladders -- are down this year. But the 73 spotted so far are up from last year and newcomers have spiked, signs opportunistic colleagues may be replacing animals trapped and killed at the dam.
Steller sea lions, safe from lethal injection because they're also listed as threatened under the Endangered Species Act, unexpectedly doubled this year to at least 53 at the dam. This year, the Stellers dined on salmon as well as sturgeon, in large part by stealing salmon from the mouths of smaller California sea lions.
Overall, the estimated spring chinook and steelhead munched by sea lions this year tops 4,000 -- about 2 percent of the run -- with sea lions now departing for their coastal breeding grounds. If the consumption continues at a similar clip through May, it will be close to the record set in 2009.
Stansell says it's too early for conclusions. He'll crunch the numbers this summer, before a three-year review of the program by the same pinniped task force that recommended the lethal take program back in November 2007.
Animal activists say the numbers prove that the offensive is futile. Overall, sea lions appear to be eating about the same number of fish each year regardless, says Sharon Young, the Humane Society's marine issues field director.
"If you kill one another will come along," she says, "because you've got a very attractive, easy-to-get food source."
Dennis Richey, executive director of Oregon Anglers, says the numbers show that federal limitations on killing sea lions make the program too weak to make a significant difference.
To be killed, a sea lion has to be seen eating salmon at the dam between Jan. 1 and May 31, be identified at the dam for five days and be shown to return after it's subjected to nonlethal hazing.
When the program began in 2008, estimates were that 30 California sea lions a year would be killed or taken to zoos or aquariums. About three years in, the total stands at 35, counting four that accidentally died in traps in 2008.
"We could go on doing this forever," Richey says, "and make no inroads."
An accurate read on the program's results is important. Upriver spring chinook, both wild and hatchery-raised, are the Columbia's most valuable fish pound for pound, with this spring's run expected to hit 350,000. But the wild fish among them, down to an estimated 70,000 from millions before the Columbia's canneries fired up, are also one of the most likely to go extinct in the massive Columbia River basin.
Oregon fishery managers may request a similar lethal program near Willamette Falls in Oregon City, where sea lions also congregate from late winter through spring. And the Corps, Oregon and Washington spend nearly $1 million a year to observe, haze and remove the animals at Bonneville.
When sea lions get onto the traps, fishery managers close them in the morning, pulling California sea lions that meet the federal requirements into a private room for lethal injections and tagging others for tracking.
The targeted sea lions are first given anesthesia that puts them to sleep, then an (extra large) dose of barbiturates, Oregon Department of Fish and Wildlife officials say, the same regimen used for euthanizing other animals. They're taken to rendering plants, and likely used in fertilizer.
Ten years ago, sea lions were just a blip on the radar screen. Through the 1990s, fish biologist Stansell says he'd see a handful each year. In 2002, California sea lions at Bonneville hit 30. The next year, 104.
No one knows the exact reason behind the surge, but the California sea lion population has grown to 238,000 on the West Coast, which likely pushed more to explore far and wide for food. At the same time, salmon runs rebounded some. And smelt populations dropped, reducing the amount of food available near the Columbia's mouth.
Steller sea lions, in single digits at the dam as late as 2007, have jumped of late, too. Generally more shy, they've grown less wary of hazing. They've also learned to steal salmon from the California sea lions, whose stereoscopic vision helps them nab the fast-moving fish.
Robin Brown, of the the Oregon Department of Fish and Wildlife, says he had hoped to remove more sea lions. He also wishes federal law would allow managers to step in earlier, before the problem gets out of hand. But the California sea lions killed included some of the biggest eaters at the dam, he says, and he thinks their absence has made a difference.
"If we don't try to remove at least some of the more dominant predators," Brown says, "we're just going to end up with a situation where we have hundreds of California sea lions up here."
The view is different aboard the Sea Wolf I -- a 1979 Tioga RV parked on the Washington shore by the dam and the operational home for the Sea Lion Defense Brigade. Here, Julie Farris and others steadily watchdog the sea lion showdown.
Farris, who has sailed the world with the Sea Shepherd Conservation Society, sees the lethal operation as part of a larger offensive against predators worldwide, from harbor seals in Canada to sea lions off South Africa.
"It really does feel like we're on the front lines of a war on nature here," she says. "You see this big mega-dam, boats driving around with guns and people standing on the dam with guns. Then once in while, a sea lion pops up."
For the defense brigade and In Defense of Animals, the effort is little more than a political salve for frustrated fishermen.
The sea lion offensive takes place while dozens of fish-killing dams continue to operate, they note, hatchery fish compete with wild fish for food and habitat, introduced sportfish such as bass and walleye prey on young salmon and fishermen take far more fish along the river than the sea lions at the dam.
Fishing groups say that's not fair. So far this year, commercial and sport fishermen have caught about 36,500 upriver spring chinook below the dam.
But the downstream fisheries pursue hatchery fish -- identified by a clipped adipose fin. Some of the wild fish caught and released do die, but Oregon estimates the wild take at 770 this year below the dam versus an estimated 1,300 wild fish taken so far by sea lions at the dam.
Tribal fisheries above Bonneville, less restricted on wild catch, could take from 5,000 to 8,000 wild spring chinook this year, officials say.
The numbers of fish eaten by sea lions at Bonneville -- wild or not-- are minimum estimates that don't account for fish eaten by sea lions downstream or not observed at the dam. And the sea lion catch is unregulated, says Doug Hatch, a fisheries scientist with the Columbia River Intertribal Fish Commission.
"Nearly everything else has some sort of control."
---
Brief history of sea lions at Bonneville Dam

1937: President Franklin D. Roosevelt dedicates the first federal dam on the Columbia and Snake river system.
1972: Marine Mammal Protection Act bars killing sea lions and other marine mammals. Until the late 1960s, Oregon had a bounty on sea lions.
1990: Steller sea lions on the West Coast listed as threatened under the Endangered Species Act.
1991: First Columbia River salmon run listed under the ESA (13 runs now listed).
1994: Amended law allows killing mammals not ESA-listed if they significantly impact threatened or endangered salmon or steelhead.
2000: Federal fish managers order Corps to address sea lion consuming salmon at Bonneville.
2002: Sea lion monitoring begins.
2006: Gates with bars installed to keep sea lions out of fish ladders. Oregon, Washington and Idaho apply to the federal government to kill certain California sea lions. Fishery managers haze sea lions with shotgun-fired firecrackers and rubber bullets.
2007: Pinniped task force recommends killing California sea lions seen eating salmon at the dam. Federal officials approve lethal take of up to 85 a year. Report says California sea lions have recovered from about 1,000 in the 1930s to about 238,000, the population's "carrying capacity."
2008: Six California sea lions trapped, relocated to Sea World; one dies under anesthetic and four (along with two Steller sea lions) die from heat exhaustion after being stuck in traps, stopping the program for the year.
2009: 10 California sea lions killed and four relocated to a Chicago aquarium and a Texas zoo.
2010: 10 California sea lions killed so far. Typically, sea lions leave to breed by the end of May, shortly before the spring chinook run ends.At this point, nobody's happy.

---
Scott Learn
At Bonneville Dam, the Sea Lions Continue to Munch Endangered Salmon, Despite Hazing -- and a Lethal Injection Program
The Oregonian, May 13, 2010
---
See what you can learn
learn more on topics covered in the film
see the video
read the script
learn the songs
discussion forum