---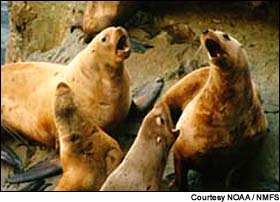 The Steller sea lion, an unassuming marine mammal protected under the Endangered Species Act, is facing new threats from salmon farmers and commercial trawlers.
Last summer, the Steller was the focus of environmentalists' outrage when dozens of the sea mammals were discovered slaughtered on Vancouver Island in British Columbia.
Over the course of the year, the sea lions have become a friction point between commercial fishing interests and environmental advocacy groups.
The Canadian Department of Fisheries and Oceans (DFO) has known for more than a decade that sea lions are lured by thousands of salmon that cluster in fish-farm pens along the Pacific Coast. To address the problem of break-ins, the department issues licenses that permit farmers to shoot marine mammal predators if they threaten their stock.
But officials were caught unawares when a pit of dozens of dead sea lions was found on Clayoquot Sound on the western coast of Vancouver Island. Further investigation revealed that the animals were killed by proprietors of a fish-farming business that received a license from the DFO.
The discovery brought to light a macabre trend: a drastic upsurge in penniped killings. Over the past 10 years, salmon farmers have shot nearly 5,000 marine mammals, including 300 Stellers, natives of the North Pacific.
A shortage of pollock and herring stocks is driving sea lions to infiltrate salmon nets where plentiful stock is sitting prey.
Clashes between fish farmers and the hungry intruders often result in expensive damage to farm property and more sea lion deaths. Marine biologists and conservationists fear the trend bodes ill for the Steller, whose population has declined sharply since 1965. Today, Stellers number only 10 to 20 percent of their population 30 years ago.
Stellers have been healthy in British Columbia for decades, numbering nearly 5,000, and the DFO saw no reason for concern when it introduced licenses 11 years ago. Since then, however, the number of slayings has increased dramatically.
"In the last few years we've noticed an increase from 25 to 30 animals killed per year to over double that number for both species (California and Steller sea lions)," said Ron Ginetz, aquaculture specialist for the DFO.
Scientists believe sea lions are invading fish farms because of a diminishing supply of the mammal's primary source of food. "Herring and hake populations have been hit and miss on the West Coast, which is driving the sea lions to look for food elsewhere. The fish farms are in areas where the sea lions normally feed on other fish," said Ginetz.
But environmentalists say the fish farms are poorly designed and located in areas that attract predators. "Any seal or sea lion swimming by can see the salmon - it's like putting a dinner bell out there," said Valerie Langer of Friends of Clayoquot Sound, a Vancouver Island-based environmental advocacy group. Langer believes the fish farms will be a magnet for sea lions as long as the aquaculture industry refuses to move pens away from coastal areas.
"(Fish farmers) should be able to change their technology so that they wouldn't need and want to shoot lions. (They should) actually make nets lion-proof to begin with," said Phil Klein, fisheries program director for the American Oceans Campaign.
The Sierra Club and the Friends of Clayoquot Sound are lobbying to have the fish farms moved inland, away from temptation. There are approximately 100 salmon farms in southern British Columbia, all of which use open sea pens.
American marine biologists worry that the Canadian killings might affect the overall population of Stellers. Little is known about the migratory patterns of the sea lions, but scientists believe there is considerable exchange between American and Canadian species.
"Our concern is that the number of animals reported is not the same as the actual number killed," said Tim Regan, Steller sea lion recovery coordinator for the National Marine Mammal Laboratory in Juneau, Alaska.
"Under most circumstances people tend to underreport. It's hard to know what the impact would be at this point."
Though they number nearly 40,000, only about 500 Stellers are left in California. In 1990, the eastern species of Stellers was listed as threatened under the Endangered Species Act. In 1997, the western species, which resides mainly in northern Alaska and Russia, was listed as endangered.
Intensive industrial trawling in Alaska has depleting fish stocks that have traditionally been the Steller's core food source, further threatening the animal's survival.
The DFO is investigating new ways to protect Stellers while considering the interests of the commercial fishing and aquaculture industry.
"I'm trying to determine why some farms seem to be shooting a lot of sea mammals and some not. Our goal is to reduce the number of animals that have to be killed by finding solutions," said Peter Olesiak, a DFO research biologist.
Despite the Canadian government's response, some environmentalists say the effort is too little, too late. "This is a very piecemeal effort to address the bad press around the sea lion killings. The fish farm industry is not addressing the larger issues like the location of the farms, pollution, inadequate net pens and escaping fish," said Langer.
---
by Koren Capozza
Steller Sea Lions Beleaguered by Salmon Farmers and Commercial Fisheries
Environmental News Network - August 21, 2001
---
See what you can learn

learn more on topics covered in the film
see the video
read the script
learn the songs
discussion forum