---
"Listening to those people who are experts in fish biology, almost all of them
will agree that your only chance of recovering salmon is to remove the dams."
U.S. Rep. Mike Simpson defended his $33.5 billion plan to breach four dams on the Lower Snake River during a Tuesday conference call with Idaho agricultural leaders.
"I'm sure you're all kind of wondering why the hell I kicked the hornet's nest," Simpson, an Idaho Republican, said during a Food Producers of Idaho conference call.
Simpson said environmentalists are likely to continue their lawsuits and legal appeals to save salmon runs until the dams are either removed or become too expensive to operate.
"While a judge can't order a dam taken out, a judge can make it so damned expensive that it doesn't make sense to keep," he said. "What I'm searching for is some solutions. If you've got a better idea, tell me. That's all I'm asking."
Simpson hasn't yet introduced any legislation in the U.S. House.
He was asked what drives his belief that the salmon would recover if Lower Granite, Little Goose, Lower Monumental and Ice Harbor dams are removed.
"I can't guarantee that anything will work," he said. "It's a complex biological system. ... I'm not a fish biologist, but what I can tell you is listening to those people who are experts in fish biology, almost all of them will agree that your only chance of recovering salmon is to remove the dams."
Other factors impact salmon, Simpson said, but fish runs that don't involve the four dams still are at sustainable levels.
The four dams put salmon runs at "extinction levels," he said.
Without taking action, the salmon will go extinct, Simpson said.
"I'm positive of that," he said.
River navigation advocates say rail and trucks are not economically or environmentally sustainable alternatives to barging wheat and supplies on that part of the Snake River.
Simpson was asked about the effect of removing the dams on grain exports moving down the river and crop nutrients coming upstream.
"If nobody can meet the need, why are we even talking about this?" Simpson said. "The reality is they will grow to meet the need."
Simpson said twice during the call that the amount of grain being barged on the river is decreasing.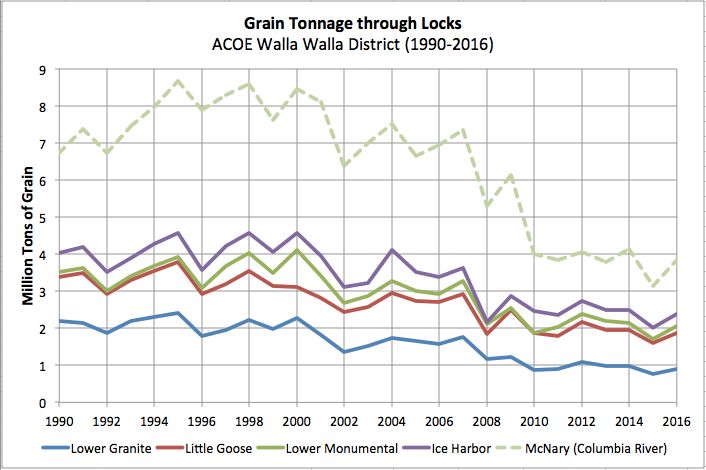 That's incorrect, Kristin Meira, executive director of the Pacific Northwest Waterways Association, told the Capital Press.
"It is the same claim we've heard from dam breaching advocates, and he is repeating it," Meira said, calling overall tonnage "remarkably stable" over the last decade.
The U.S. Army Corps of Engineers and Institute for Water Resources show an average of roughly 3.6 million tons of commodities, including wheat, was moved each year from 2009 to 2018. Wheat shipments averaged roughly 2.4 million tons from 2012 to 2018.
Simpson and dam breaching advocates may assume that unit train loop tracks built in eastern Washington resulted in wheat not being shipped on the river, Meira said. Those loop tracks make it possible for wheat that was already moving by rail to move more efficiently, she said.
Under Simpson's concept, farmers participating in a voluntary watershed partnership program would be exempt from lawsuits pertaining to the Clean Water Act, the National Environmental Policy Act and Endangered Species Act.
The environmental groups responsible for most lawsuits and Native American tribes have agreed, Simpson said.
"It doesn't mean there won't be some other lawsuit in some other arena," he said. "But I think this will end most of the lawsuits that we can anticipate."
Related Pages:
Columbia System Operations Feds respond to comments from bluefish, and bluefish responds back -- Worthwhile and sometimes funny, often sad.

---
Matthew Weaver
Simpson Defends Dam-Breaching Plan
Capital Press, March 3, 2021
---
See what you can learn
learn more on topics covered in the film
see the video
read the script
learn the songs
discussion forum