---
Watch CNN Video from CNN.com website
PASCO, Oregon (CNN) -- Migrating salmon numbers have dwindled over the years in the Columbia River in the Pacific Northwest. What major obstacles prevent the fish from rebounding? Conservationists think four of them can be found along a main tributary of the Columbia, the Snake River.
Up to 16 million salmon made their way up the Columbia River and its tributaries each year in the 1800s. Now only a few hundred thousand make the several-hundred-mile trip.
"If we don't do something I guarantee the fish will go extinct," said Doug Arndt or the U.S. Army Corps of Engineers. "So we have to make that effort. We are legally bound to do it and morally bound to do it."
The big question is, how?
The fiercest controversy swirls around four of the dams blocking the Snake River in desert-dry eastern Washington.
Conservationists, some fishermen and native tribes want the dams removed to save four runs of threatened fish.
"Seventy percent of the best remaining habitat in this whole river basin is dealing with those four dams. Those four dams are choking these runs," said Jim Martin of the group Pure Fishing.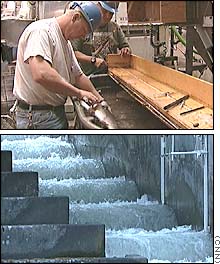 The Army Corps of Engineers says breaching the four dams would be a nine-year project. The Corps, which operates the dams, estimates the cost at $1 billion.
Punching holes in the dams would cost the Northwest 4 percent of its electricity. The region would also lose water for irrigation and navigation.
"This idea of breach the dams and everything is going to be fixed? That's myopic and misleading to people," Arndt said.
The Clinton administration's new salmon plan would leave the dams in place while boosting river flow to help the salmon on their journey.
"We are trying to take on an aggressive set of measures that we think will tell us once and for all if we can have salmon survive and recover with the dams in place," said Brian Brown of the National Marine Fisheries Service.
Conservationists think the plan is all wet.
"We're planning on this plan to spend billions of dollars to do the same thing we have been doing for the last 25 years, which science has shown is not working for these fish," said Nicole Cordan of Save Our Wild Salmon. "It's not as though we haven't tried."
---
Natalie Pawelski, Environmental Correspondent
Freeing the Snake River Could Mean Salmon Salvation
CNN.com, August 29, 2000
---
See what you can learn
learn more on topics covered in the film
see the video
read the script
learn the songs
discussion forum