---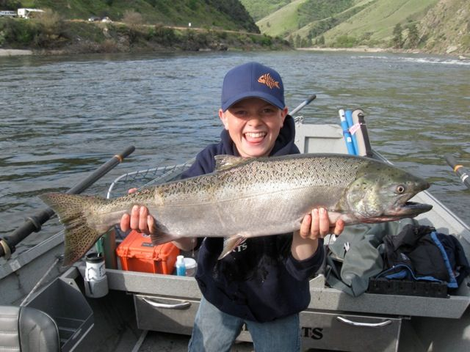 After 2013's huge fall Chinook return, Columbia Basin harvest managers are calling for another monster return of bright fall Chinook in 2014. Harvest managers said on Dec. 12 that 2013 jack counts were the second highest since 1985 and 1986 and that the 2014 return might be similar to the 2013 run, which came back at nearly twice the 555,400-fish prediction.
Tule fall Chinook returns in the lower river could be another matter, and are predicted to be less than average. But 2013's 123,200-fish prediction came up about 30-percent short of the actual return.
Willamette spring Chinook are pegged close to 2013's prediction of 60,000, but the 2013 return was barely above 47,000. The Cowlitz is expected to see 7,800 springers, 500 in the Kalama, and 1,100 in the Lewis River. The 2013 Cowlitz return was a big surprise, since 5,500 had been predicted and 9,500 actually returned.
Managers reiterated their earlier prediction for a robust upriver spring Chinook return of 227,000, which would be fifth highest in recent years, if it transpires. In 2013, 141,400 upriver springers were predicted to return, and the actual run came up a bit shy of that, 87 percent of the forecast at 123,100.
But with more than 17,000 spring jacks counted at Bonneville Dam (third highest in recent history), the 2014 return could be a blockbuster. Managers have admitted though, when jack counts are extremely high, their harvest models have a hard time coping.
The summer Chinook run is predicted to come in at a healthy 67,500 fish, mostly hatchery fish heading for the upper Columbia. Last year, 73,500 were predicted to return, but 67,600 were actually tallied.
The sockeye run for the upper Columbia is expected in the 346,000-fish range, nearly twice the 2013 return of 185,500. Managers nearly hit the bull's eye with their prediction on 180,500 returning sockeye.
They also expect about 1,200 Snake River sockeye in the coming year (counted at Columbia mouth). In 2013, about 800 were counted at Lower Granite Dam, halfway back to Idaho.
No estimate is ready for upriver summer steelhead, but the 2013 return was disappointing. About 339,200 were expected to return to Bonneville, but only 231,300 were counted, a return that was well below the 10-year average.
Some improvement in coho is expected in 2014 because of a large jack return. About 434,000 were predicted to return in 2013, but actual returns were less.
Shad are expected in the 4-million fish range in 2014, way up from the 10-year average of 2.9 million.
Smelt, which are listed for protection under the ESA, are also expected to have a healthy return. No adult numbers have been predicted, but managers say larval sampling results are the best in the past 18 years.
White sturgeon numbers are expected to climb as well, with a legal estimate of 131,700, compared to 2013's 114,200 and 2012's 72,700.
---
Bill Rudolph
2014 Spring, Fall Runs Predicted to be Very Good
NW Fishletter, January 9, 2014
---
See what you can learn
learn more on topics covered in the film
see the video
read the script
learn the songs
discussion forum