---
Washington Rep. Cathy McMorris Rodgers held a farm bill listening session in Davenport, Wash., for farmers.
She'd like to see federal agencies shift their approach from a process to getting the desired results.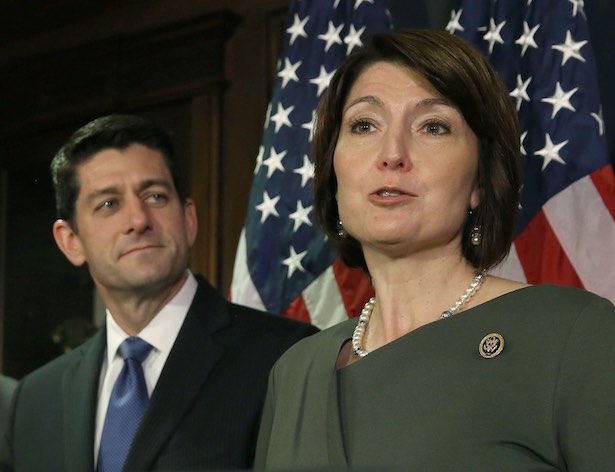 DAVENPORT, Wash. -- Rep. Cathy McMorris Rodgers says federal agencies should focus on the outcome they want instead of regulating the process farmers use to achieve results.
"Instead of the regulatory, top-down, prescriptive approach," she wants agencies to focus on the results they want, the Washington Republican said during a listening session about the farm bill May 30 in Davenport, Wash.
Since the beginning of the year, Congress has worked to repeal many major regulations, McMorris Rodgers said.
"Unfortunately, this has been building for decades, where you've just seen more rules and regulations that have the impact of law that were never voted by elected representatives of the people," she said. "We need to rethink a lot of the federal government, just go through agency by agency, program by program, and think, 'How do we get this agency or program focused on results?'"
Twelve people representing Eastern Washington agriculture shared their concerns ranging from overseas wheat and beef markets to grazing livestock on public land and greater sage grouse management.
Edwall, Wash., goat rancher Sue Lani Madsen spoke about moving from process-specific programs to focus on getting the desired results.
"If you really just want more sage grouse, pay farmers for having more sage grouse on their land," Madsen said. "Let the farmer figure out what works to get sage grouse on their land. I think that would be more effective and less subject to manipulation."
In response to President Donald Trump's proposed budget, McMorris Rodgers said Texas Rep. Michael Conaway, chairman of the House Agriculture Committee, made it clear to her that he would not support proposals to cut funding for crop insurance and market access programs.
Eastern Washington wheat farmers export 90 percent of the wheat they produce, McMorris Rodgers said.
"It's very important to me that the market access program and crop insurance are protected within the farm bill and budget moving forward," she said.
McMorris Rodgers urged farmers and wheat industry representatives to highlight what they're hearing from customers overseas. She'll work with others in Congress to build the necessary support, she said.
McMorris Rodgers also spoke with Conaway about the falling number problem in wheat that caught farmers off guard last fall and cost them more than $30 million.
They spoke about looking into how the farm bill can help affected farmers, she said.

---
Matthew Weaver
Focus on Results, Not Regulations, McMorris Rodgers Says
Capital Press, May 30, 2017
---
See what you can learn
learn more on topics covered in the film
see the video
read the script
learn the songs
discussion forum