the film
forum
library
tutorial
contact

Columbia River Basin Restoration Act,
Addressing Toxics Reduction, Passes U.S. Senate

by Staff
Columbia Basin Bulletin, September 16, 2016
---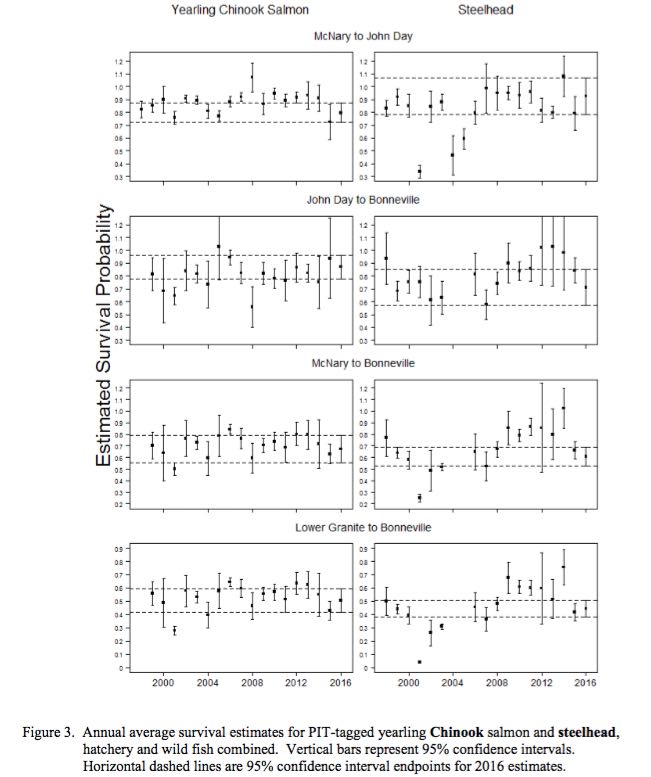 "The Columbia River Basin Restoration Act" passed the Senate Thursday as part of the Water Resources Development Act of 2016 in a vote of 95 to 3.
Oregon's U.S. Democratic Sen. Jeff Merkley and Democratic Rep. Earl Blumenauer with co-sponsors Sen. Ron Wyden, D-OR, Rep. Suzanne Bonamici, D-OR, and Rep. Peter DeFazio, D-OR reintroduced the Columbia River Basin Restoration Act in 2015 to establish a grant program to fund voluntary toxics reduction actions by growers, tribes, foresters, soil and water conservation districts, nongovernment entities, and local and state governments.
The House of Representatives also needs to approve the bill before it moves to the President's desk to be signed into law.
"The Estuary Partnership has been working on this since 2008, and we are thrilled the bill has been passed. We are grateful for the many partners who worked with us to build support throughout the northwest. We are especially grateful for the leadership of Senator Merkley and Congressman Blumenauer and our northwest delegation in making this happen. It is an important step toward toxics reduction and cleanup," said Estuary Partnership Executive Director Debrah Marriott.
The Columbia River Basin Restoration Act would be administered by the Environmental Protection Agency but adds no new authorization to regulate. The purpose of the Act is strictly to establish a competitive grant program to help local groups voluntarily clean up, monitor, and reduce the use of toxics within the Columbia River Basin.
The purpose of the act is to address:
Contaminants in flame-retardants, pharmaceuticals, and other chemicals of emerging concern that are increasing forms of cancer, changing hormone balances, and causing neurological dysfunction in humans and other species.
Contaminated dredge sediment cannot be placed back in the water and it is very expensive for ports to haul out for treatment.
PCBs harm immune systems and increase cancer risks.
Since 2009, the Estuary Partnership has worked with members of Congress to bring attention to the Columbia River and toxics. Blumenauer and Merkley have led the efforts, first introducing the bill in 2010 and again in 2014 and 2015. A coalition of partners, including Salmon-Safe, Pacific Northwest Waterways Association, and the Columbia River Inter-Tribal Fish Commission, worked for passage of the Act.

(See CBB, Aug. 8, 2014, Oregon Democrats Introduce Columbia River Restoration Act To Address Toxic Contaminants)

The Columbia River basin remains one of only two major EPA designated 'large aquatic ecosystems' to receive zero funding for clean-up pursuant to this designation. Since 2009, 'large aquatic ecosystems' including the Great Lakes and Puget Sound have received a total of over $3 billion in funding to protect and preserve their watersheds.

This act is intended to bring the Columbia River Basin in line with other 'large aquatic ecosystems,' reduce the presence of toxics in the basin, and protect the health of communities by avoiding costly environmental clean-ups, economic loss, and health impacts.

"For Oregonians, the Columbia River is not just an iconic landscape--it's a crucial part of both our environment and economy," said Merkley. "A clean Columbia River is essential for the health of our communities and for the strength of our fishing and recreation industries, and I'll keep pushing to get this legislation across the finish line."

"The Columbia River is a cornerstone of our cultural history, used for commerce, fishing, recreation and agriculture. The Pacific Northwest relies on this vital resource remaining clean and healthy to meet our needs," Wyden said. "I am proud to work on preserving and protecting the Columbia River as it continues to be the environmental and economic lifeblood of our region."

Toxins are present throughout the Columbia Basin, and are harmful to humans, fish, and wildlife. These contaminants make their way into fish tissue and can be dangerous to humans if consumed. Some of these toxins are known to cause cancer and have been linked with neurological, developmental, and reproductive problems, including birth defects and learning disabilities.

Historically, the Columbia and its tributaries have constituted the largest salmon-producing river system in the world, with annual returns peaking at 16 million fish.

---
Staff
Columbia River Basin Restoration Act, Addressing Toxics Reduction, Passes U.S. Senate
Columbia Basin Bulletin, September 16, 2016
---
See what you can learn
learn more on topics covered in the film
see the video
read the script
learn the songs
discussion forum