---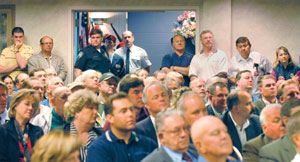 Steve Appel earns his living selling wheat and barley grown on 1,400 acres near Dusty.
Bob Zimmerman makes his money selling fishing lures and bait at a tackle shop in Riggins.
Both men joined hundreds of people on different sides of a long-simmering argument over salmon recovery Monday.
The opposing viewpoints squared off in separate rallies before a congressional subcommittee in Clarkston and at the witness table once the field hearing on "Keeping the Columbia/Snake a Working River System," began.
Each declared their livelihoods and way of life at risk because of dwindling salmon runs and a proposal to breach dams to save the fish.
Zimmerman would like to see the dams removed and the lower Snake River restored to its free-flowing condition. He and others think that move will restore long-suffering salmon and steelhead runs and net hundreds of millions -- maybe even billions -- of dollars each year.
Appel wants the dams and their efficient barge transportation system and cheap hydropower production preserved. Keeping them will help the Inland Northwest remain an agricultural force and a place with good jobs for working families, according to dam supporters.
Appel, president of the Washington Farm Bureau, was one of 10 people who testified before the subcommittee chaired by George Radanovich, R-Calif., and Republican Reps. Cathy McMorris and Doc Hastings of Washington and C.L. (Butch) Otter of Idaho.
His grain is among 5 million tons shipped to Portland via the Snake River each year. River transportation saves Appel 50 to 70 cents on each bushel of wheat he sells, enough to equal $25,000 a year.
"Eliminating the Snake River dams would devastate the agricultural economy of eastern Washington and hurt farmers as far away as North Dakota," he said. "It would force many farmers off the land and turn agricultural communities into ghost towns."
Zimmerman and other merchants at Riggins say salmon is an economic engine that has revved up the economy of the town in recent years. In 2001, during one of the largest salmon runs in decades, anglers spent $10 million in Riggins. Salmon advocates say there is plenty more of that if wild salmon were to be recovered. But this year fishing has been slow and income is down.
"We are feeling the crunch of a devastating low season," Zimmerman said at a press conference prior to the hearing.
More than 400 people packed into the Clarkston Convention Center at the Quality Inn to watch the hearings. Before the morning meeting began hundreds of others watched and joined dueling rallies in support of dams and salmon.
Radanovich opened the hearing by calling the Endangered Species Act a "well-intended law but one that has serious consequences on rural communities."
Most of the witnesses tried to impress on the congressional representatives just how serious those consequences could be if dams are breached to recover threatened and endangered runs of Snake River salmon.
"We will lose millions of tons of cargo, hundreds of millions of dollars of commerce and the opportunity to move products to market from Washington, Idaho, Montana, Wyoming and the Dakotas," said Dale Alldredge, president of the Port of Lewiston Commission.
Others such as Rebecca Miles, chairwoman of the Nez Perce Tribal Executive Committee, and Virgil Lewis, vice chairman of the Yakama Nation, told the committee their communities have already been devastated by salmon runs that have been on a long decline since four dams on the Snake River were completed in the 1970s.
"This had the economic and cultural impact on the Indian people of no barges to Lewiston or crops in southern Idaho for that same period, yet we have seen no congressional field hearings, no disaster declarations or relief of any form," said Lewis.
Those who favor keeping the dams said they provide a cheap and efficient transportation corridor for products produced in the Inland Northwest while generating low-cost, clean power. Those who favor breaching the dams said restored salmon runs could bring $540 million to Idaho each year and $3 billion to the region.
Dam-breaching has re-emerged as a fierce debate following U.S. District Court Judge James Redden's decision two weeks ago that found the federal salmon recovery plan inadequate. The ruling was quickly picked up by the subcommittee members as Congress considers reform of the Endangered Species Act.
Otter said the act should give people incentives to recover species rather than spawn onerous restrictions that harm the economy.
"That process has to change to 'let's give you incentives to do the right thing,' " he said.
A similar hearing took place at the convention center five years ago as federal agencies tried to decide if they should breach the dams to save salmon and steelhead. They opted to keep the dams and try an everything-but-breach salmon recovery strategy that concentrated on fixing habitat and improving fish passage at dams.
But that plan, known as a biological opinion, was ruled inadequate by Redden. The judge ordered the federal agencies to fix the plan so he could be sure their recovery efforts would be carried out.
Instead the Bush administration issued a new biological opinion that declared the dams a part of the river system and said the government was not required to recover salmon but only to avoid extinction.
On Friday, Redden will conduct a hearing on the fate of the Snake River and its reservoirs this summer. Salmon advocates have asked him to send more water downstream and to draw reservoirs down to help juvenile fall chinook reach the ocean. That could drop Lower Granite Reservoir by 10 feet and end barge transportation to Lewiston for more than two months this summer. It also would cut power production at the dams and prevent irrigators from drawing water from the river.
---
Eric Barker
Snake River Hearing Renews Debate on Dams
Lewiston Tribune, June 7, 2005
---
See what you can learn
learn more on topics covered in the film
see the video
read the script
learn the songs
discussion forum