---
The first ever global life-cycle assessment of clean energy sources shows that
a renewable system could supply the world's entire electricity needs by mid-century.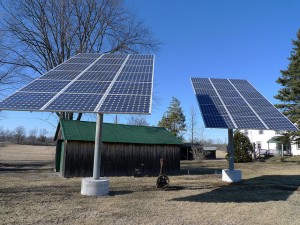 (Reuters) - For years, the utilities responsible for providing electricity to the nation have treated residential solar systems as a threat. Now, they want a piece of the action, and they are having to fight for the chance.
If utilities embrace home solar, their deep pockets and access to customers could transform what has been a fast-growing, but niche industry. Solar powers only half a million U.S. homes and businesses, according to solar market research firm GTM Research.
But utility-owned rooftop systems represent a change the solar installation companies who dominate the market don't want, and whether the two sides can compromise may determine if residential solar truly goes mainstream.
In Arizona, the state's largest utility has proposed putting solar panels on 3,000 customers' homes, promising a $30 monthly break on their power bills. In New York, regulators are weighing allowing utilities to get into the solar leasing business to meet the state's aggressive plan to incorporate more decentralized, renewable power onto the grid.
That's a change from the industry's recent skepticism of residential solar. Last year, for example, the Edison Electric Institute, a utility trade group, in a report described rooftop solar as a "disruptive challenge" that could squeeze revenue and profits as customers defected, leaving companies forced to maintain grids that serve all.
Residential solar grew 45 percent in the second quarter from the previous year and installations are expected to exceed 1 gigawatt this year, or about enough for 165,000 homes, according to GTM Research. That growth has been underpinned by government subsidies and falling equipment costs that have allowed startups to underprice utilities.
No-money-down solar leases also have made rooftop systems much more financially accessible, boosting demand.
IF YOU CAN'T BEAT 'EM...
Some utilities, like Edison International and NRG, already have entered the rooftop solar market through unregulated divisions, and many utilities have bought huge solar arrays.
But a regulated utility rolling out large amounts of rooftop solar is a new idea.
Pinnacle West Capital Corp unit Arizona Public Service (APS) in July proposed to spend up to $70 million on systems for about 3,000 homes.
Also in Arizona, Fortis unit Tucson Electric Power proposed this summer to give customers a fixed power rate in exchange for putting panels on their rooftops.
The plans first must be approved by the utility regulator, and the solar industry is fighting.
The issue, according to The Alliance for Solar Choice (TASC), a coalition of solar leasing companies that includes SolarCity, SunRun and Verengo Solar, is that regulators set rates that guarantee profits for utilities, giving them a financial advantage, in addition to their access to customers.
They say APS' record of trying to impose fees on solar customers is a reason to question the utility's motives.
"Are they actually trying to deploy lots of rooftop solar or are they just trying to kill off the only competition they've ever had?" said Will Craven, a spokesman for TASC.
To be sure, solar companies get their share of government support through subsidies, and New York state recently agreed to invest $750 million in infrastructure and equipment purchases for a SolarCity solar panel factory. SolarCity, backed by Tesla Motors CEO Elon Musk, is the largest U.S. residential installer with about a third of the market.
APS argues that its program isn't intended to supplant other means of going solar and is good for rate payers. For instance, the utility can place panels in locations that will most improve grid stability.
"This isn't intended to be the one size fits all for solar," said Marc Romito, manager of renewable energy at APS.
Arizona is currently ground zero in the debate over utility ownership of rooftop solar, but the concept is being considered elsewhere.
New York is weighing allowing utilities to own residential rooftop systems, and regulated units of National Grid, Fortis, Iberdrola SA and Consolidated Edison Inc support the idea. An early draft of the plan issued last month said, however, that utilities must demonstrate why their rooftop solar would be better than the alternatives.
Other states have faced resistance to utilities getting into rooftop solar as well. South Carolina earlier this year allowed utilities to offer solar leases, although they cannot recover costs from ratepayers and therefore will have to run such programs through an unregulated division, a condition insisted on by solar installers.
And in Washington, a bill that would have given utilities control of the leasing market failed this year. The bill's author, Representative Jeff Morris, said he expects to introduce a compromise between the solar and power sectors next year.
Utilities and installers could also join forces. Former U.S. Energy Secretary Steven Chu said utilities should partner with installers, offering financing while installers put on systems, though he acknowledged risks.
"Safeguards against utilities squeezing out competition are important," Chu said.
---
Tim Radford
Renewables Can Supply 100% of World's Power by 2050
The Ecologist, October 15, 2014
---
See what you can learn
learn more on topics covered in the film
see the video
read the script
learn the songs
discussion forum