---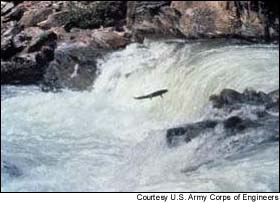 Breaching four federal dams on the lower Snake River is the best way to recover endangered Idaho salmon, according to at least one federal agency.
"The bottom line biological conclusion is a no-brainer; for native species it is a free-flowing river, not a dammed river," said Ann Badgely, regional director for the U.S. Fish and Wildlife Service.
Badgely and other federal officials spoke Friday at a news conference that coincided with the release of a draft environmental impact statement on juvenile fish passage on the Lower Snake River and a report on the life cycle of salmon and steelhead. Conservationists who support dam removal are applauding the U.S. Fish and Wildlife Service for what they see as a clear-cut scientific statement that moves away from the rest of the federal caucus.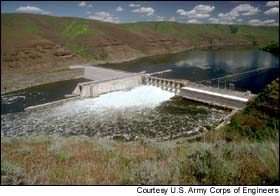 According to conservationists, Snake River dams kill salmon by delaying their migration to the sea — exposing them to predation and disease — and creating obstacles for the adult salmon that return to spawn in the rivers. They say removing the four lower Snake dams is the only way to ensure that the salmon populations will recover.
The environmental impact statement contains an economic and biological analysis of four recovery alternatives for endangered Snake River salmon and steelhead. Conservationists blame the federal caucus for dodging questions and providing only fuzzy information regarding salmon recovery.
"If you read the (draft) documents, you will see that there is lots of new information," said Justin Hayes, a spokesperson for American Rivers. "The science is crystal clear. Only the Clinton Administration's message is murky."
According to Idaho Rivers United, the science presented in the environmental impact statement clearly recognizes dam removal as the option most likely to restore salmon.
"Dam-breaching has the highest frequency of achieving the survival and recovery criteria for the listed Snake River species," the report says.
Conservationists disagree with the report's conclusion that dam removal would cost as much as $246 million annually. They also contend that the report ignores the substantial cost of keeping the dams in place, citing the $1 million slated to be spent on salmon migration alone next year.
The release of the environmental impact statement will be followed by a 90-day public comment period.
A decision on the removal of the four lower Snake dams is not expected for at least five months. The Army Corps of Engineers and the National Marine Fisheries Service have claimed that more time is needed before they can determine the best way of saving Northwest salmon and steelhead runs.
---
Margot Higgins
Report Supports Removal of 4 Snake Dams
Environmental News Network, December 21, 1999
---
See what you can learn
learn more on topics covered in the film
see the video
read the script
learn the songs
discussion forum