---
WSU students look for ways to create water access with or without dams on the lower Snake River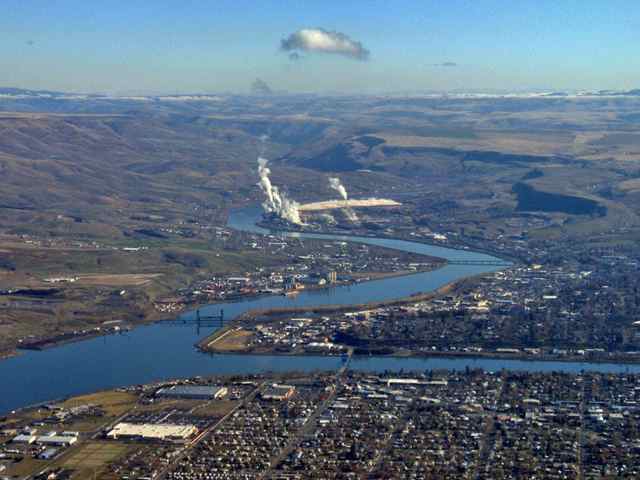 Zochil Castro, 23, has an idea to get Lewiston residents interacting with the nearby lower Snake River. It starts with removing the four local dams.
Castro is one of several landscape architecture students in Washington State University's School of Design and Construction developing designs for the Lewiston lower Snake River waterfront - part of a class assignment.
Her teacher, associate professor Jolie Kaytes, asked the class to consider "what if" the four lower Snake River dams - which have received significant criticism since they were completed in the 1960s and 1970s - were removed or kept in place, and to design a waterfront around that scenario.
"Given the profession of landscape architecture is really about invention and asking 'what if,' and creating meaningful experiences for people to engage with their place, that idea of, 'what if the dams were removed?' or, 'what if we could reimagine this waterfront?' becomes provocative and a good frame for training students around the possibilities of the profession," Kaytes said.
Campaigns to remove the four lower Snake River dams have existed for the last two to three decades, Kaytes said. Critics of the dams argue they contribute to lower populations of salmon in the area.
The dams also produce electricity, but Castro said at least one of them is not fully efficient.
Her five-phase design imagines a scenario where the dams are removed, lowering the river's water levels and revealing areas of beach along the waterfront, where Castro said Lewiston residents could interact with their surrounding river and travel nearby path systems she also designed.
"My thought in my head is, if you take out the dams, you save that money that you're spending on trying to keep up the salmon population and trying to fix all these turbines within them. You can use that money to upgrade the rail infrastructure" as an alternative to barging, Castro said.
Her classmates tackled other scenarios. Tyler Reid, 34, developed a design he says is possible with or without the dams, which repurposes barge ships as the base for a floating public space on the river.
"These spaces are designed to be places where people could sit and relax, put their feet in the water, enjoy the water, fish off the side of it," Reid said. "Right now, with the way the levees are constructed, to do that you have to climb over a bunch of rocks to get to the water in most places, and there's not really places you can just sit and relax," Reid said.
Students have spent the past semester designing and researching the project, as well as interacting with several stakeholders in the area including Save our Wild Salmon, the Nez Perce Tribe, the city of Lewiston, the Port of Whitman County, the U.S. Army Corps of Engineers, the Pacific Northwest Farmers Co-op, Lewiston residents, WSU and University of Idaho specialists, a watershed restoration specialist and a local wheat farmer.
Their designs will be presented from 1:30 to 5 p.m. April 25 in Room 412 of WSU's Carpenter Hall. They will also be exhibited at the Lewiston Library for two months.

---
Taylor Nadauld
Reimagining the Lewiston Waterfront
Moscow-Pullman Daily News, April 20, 2018
---
See what you can learn
learn more on topics covered in the film
see the video
read the script
learn the songs
discussion forum