---
The longshoremen's union has lost two jobs plugging and unplugging refrigerated containers at the Port of Portland due to lagging productivity.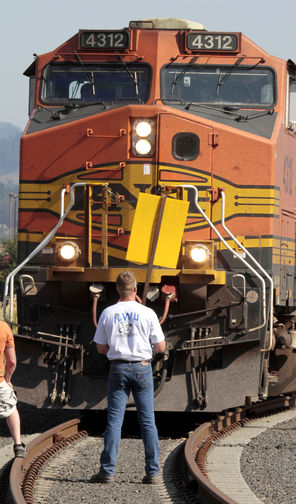 A deal between the longshoremen's union and the Port of Portland over container terminal productivity has unraveled, costing the union two jobs it had obtained as part of the compromise.
Productivity at the container terminal is of prime importance to Northwest farmers who rely on the Port of Portland to ship crops to Asia.
Unless productivity at the facility improves, the Hanjin shipping company may stop using the terminal, said Peter Friedmann, executive director of the Agriculture Transportation Coalition.
That outcome would force some farmers to send crops to more distant ports or eliminate their export options altogether, he said. "This is a terrible time for the longshoremen to test the ocean carrier's resolve."
Last year, Oregon Gov. John Kitzhaber brokered a deal in which the International Longshore and Warehouse Union took over plugging and unplugging refrigerated containers at the port.
The two jobs were previously held by another union, the International Brotherhood of Electrical Workers.
In exchange, the longshoremen's union was expected to increase productivity at the terminal, which had lagged due to the dispute over the two jobs and tensions between ILWU and the terminal operator, ICTSI Oregon.
The cost of plugging and unplugging the refrigerated containers tripled after ILWU took over the work, said Josh Thomas, marketing and media relations manager for the Port of Portland.
More importantly, the pace of loading and unloading containers is still lackluster, he said. "Productivity did not improve and it just didn't work."
Historically, longshoremen moved nearly 30 containers per hour, but more recently the rate has fallen below 20 containers per hour, Thomas said. On one recent shift, productivity dropped as low as 7.5 containers per hour.
For that reason, the port will turn the refrigerated container work back to the IBEW within a month, Thomas said. "The experiment had run its course."
The port remains hopeful that longshoremen will increase productivity before they lose the two jobs, though it's not promising that an improvement would allow ILWU to keep the work, he said.
Low productivity is detrimental to ocean carriers, as loading delays force them to travel faster -- using more fuel -- or change schedules at other ports, Thomas said. "It can be a domino effect."
Hanjin had planned to stop calling on the Port of Portland but agreed to continue its service in exchange for a $20-per-container subsidy earlier this year.
While Port of Portland handles a small portion of overall West Coast container traffic, it's nonetheless crucial for farmers in some regions, said Friedmann of the Agriculture Transportation Coalition.
Hay, potatoes and other Oregon crops that are exported already generate narrow margins, and they may disappear if farmers must use more distant ports, like Seattle or Tacoma, he said.
The possibility that container shipping may someday resume in Portland wouldn't offer much solace for growers who lose customers to other agricultural exporters around the globe, Friedmann said.
"Once that cargo flow leaves, it does not necessarily come back," he said.
Earlier this year, administrative law judge with the National Labor Relations Board has found that ILWU was intentionally causing slowdowns to drive away ICTSI Oregon from operating the terminal.
The union called the findings "absurd and wrong," claiming that ICTSI Oregon was trying to force longshoremen to operate equipment in an unsafe manner.
ILWU had not responded to requests for comment as of press time.
---
Mateusz Perkowski
Longshormen Lose Refer Container Work
Capital Press, August 26, 2014
---
See what you can learn
learn more on topics covered in the film
see the video
read the script
learn the songs
discussion forum