---
The state of Idaho has conducted its first extensive aquifer recharge effort at a new permanent site.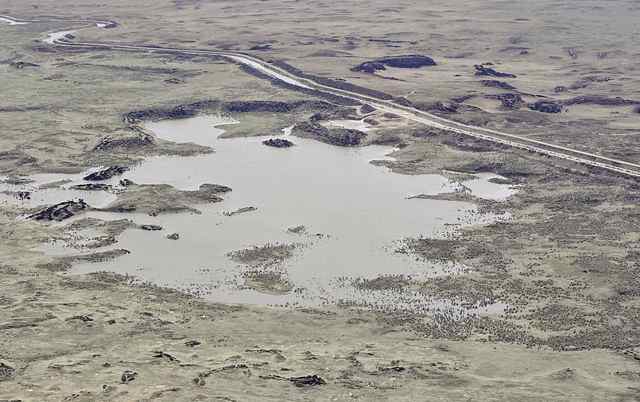 SHOSHONE, Idaho -- The state has conducted the first extensive aquifer recharge project at a new site off the Milner-Gooding Canal and plans to construct several more facilities engineered specifically to bolster groundwater levels.
Informally called Milepost 31 due to its location 31 miles from where the canal diverts water from Milner Dam, the new structure spills into an adjacent 700-acre, low-lying basin laden with basalt fractures. It was jointly constructed by American Falls Reservoir District No. 2 and the Idaho Department of Water Resources at a cost of about $80,000.
Lynn Harmon, general manager of the reservoir district, said his staff fulfilled its match by providing labor. The irrigation entities will be paid so-called wheeling fees to deliver water to the recharge site during the spring and fall, when the canal isn't in use for irrigation.
Harmon said reach gains from springs upstream of Milner have provided sufficient water to support about 200 cubic feet per second of recharge this spring using the state's special recharge water right. Recharge commenced March 9 and was scheduled to end March 24. Harmon anticipated recharging 5,000-6,000 acre-feet during that timeframe.
State water officials say they won't conduct managed aquifer recharge at any other sites this spring.
Because there are no storage opportunities for water flowing below Milner, Harmon said recharge should remain an option at the site during the driest seasons.
Harmon said water recharged at the new site will flow from springs near American Falls and Hagerman. Though some water will leave the system within about 10 days, he said models show a portion will stay in the aquifer for 25-30 years.
Brian Patton, planning bureau chief with the Idaho Department of Water Resources, said Northside Canal Co., which also diverts from Milner, deserves credit for delaying the filling of Wilson Lake, leaving a sufficient volume for the recharge effort.
Patton said the state hopes to build up to 10 permanent structures, most of which would be located below Milner for aquifer recharge during the spring, fall and winter, pausing only when in-stream flows are needed for irrigation.
Patton said 214,000 acre-feet are lost from the aquifer each year through springs. The total cost of building those recharge facilities would be about $40 million, and state cigarette tax funding is available toward those projects. By comparison, a proposed enlargement of Arrowrock Reservoir to create an additional 300,000 acre-feet of storage would cost $800 million.
Patton said the state has commenced with engineering of a facility along Lake Walcott in Rupert, where water would be diverted into injection wells from fall through spring. He said a pumping plant to send Milner water to injection wells is also under consideration.
"We may build a few things above the reservoirs, but the majority of it should be below so we're not interfering with water that would otherwise be stored," Patton said.
He said the state has filed for several new recharge water rights throughout the Snake, and canal companies have also filed for private recharge rights.
---
John O'Connell
Idaho Conducts Spring Recharge at New Site
Capital Press, March 20, 2014
---
See what you can learn
learn more on topics covered in the film
see the video
read the script
learn the songs
discussion forum