---
Idaho Power thrived when low cost was king and coal and hydropower kept prices down.
But climate change and the push for greener power have changed the game.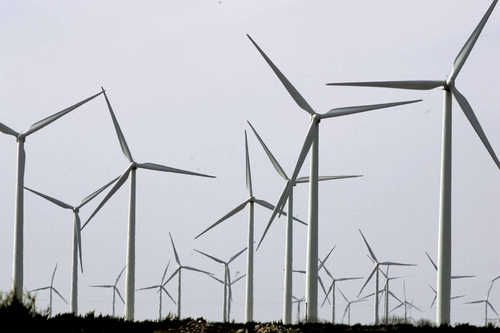 Idaho Power was once so powerful that the joke was the state itself was named after the company.
For decades it could dictate its own terms of doing business - and in the era of hydro and coal, Idaho Power's low energy prices made sure no one minded.
Until as recently as 2007, Idaho Power was confident it could meet its growing demand by expanding coal facilities in Wyoming. But the threat of climate change, rising metal prices and efforts to reduce greenhouse gases all but dried up the capital markets used to build new coal plants.
Almost overnight, the company that provides electricity to more than 500,000 homeowners, businesses and farmers across southern Idaho and eastern Oregon has had to adjust to a world where fossil fuel-based electricity will no longer be cheap and federal government policy increasingly favors renewable energy sources like wind, geothermal and solar.
The company's customers, regulators and Idaho's political establishment haven't changed their expectations of cheap power. But Idaho Power has to change - or risk being left behind.
"Important energy and environmental policy reforms are affecting just about every aspect of our business model," said LaMont Keen, Idaho Power's CEO and president. "Whether you think the debate is over or whether you can't remember there being a debate and you just remember one side declaring victory is becoming increasingly irrelevant."
The 93-year-old company now is trying to build new transmission lines, a new natural gas plant and more renewable energy - all while trying to get its customers to reduce how much power they use.
None of these plans offer the same certainty as traditional coal and hydroelectric power always did.
Even proposed transmission lines - required to tap into low-cost renewable energy available in the Pacific Northwest - are being opposed by landowners in Oregon and western Idaho.
And the upcoming relicensing process for Hells Canyon and other Idaho Power dams - with new uncertainties coming from environmental concerns and a federal administration newly receptive to hearing them - could drive up Idaho Power's costs by hundreds of millions of dollars.
"There's an abundance of risk," said Paul Kjellander, director of Gov. Butch Otter's Office of Energy Resources, "at a time when there is a lack of trust."
MIXED MESSAGES
The fast-coming changes have put disparate demands on Idaho Power.
The company can reduce demand - and save the tremendous costs of expanding power generation - by promoting energy efficiency and even paying customers to use less, especially in times of high use.
But decades of low rates and surplus power make this hard to sell to consumers. Why save power when the price is too low to notice?
And the pressure to keep rates low keeps coming.
Large business users, irrigators and low-income residents - the main voices often heard in PUC rate decisions - all favor low prices over programs that boost efficiency and could encourage greener power in years to come.
The Public Utilities Commission has been supporting more conservation programs and renewable energy generation. But the commissioners have stopped short of setting public policy, leaving that to the Idaho Legislature, said Gene Fadness, the PUC's spokesman.
"They realize if you have rate increases you will raise rates higher than customers can bear," Fadness said.
And so far in this new world, the PUC is sending regulatory mixed messages that underscore the uncertainty for Idaho Power and its customers right now.
Last month, the Idaho Public Utilities Commission allowed Idaho Power to hold on to renewable energy credits - so-called "green tags" - that it could sell to other utilities.
Idaho Power's industrial customers wanted the utility to sell the credits and use the money to reduce its rates, but the company wanted to keep them in case Congress, to reduce greenhouse gases, passed a "cap and trade program" that would restrict future power development and make these tags even more valuable.
Meanwhile, Idaho Power's residential customers began on Feb. 1 paying for electricity based on rates the company hoped would penalize people for using more power.
But the rate system ordered by the Idaho Public Utilities Commission actually gave typical Idaho Power customers - those who use about 1,000 kilowatt hours monthly - lower rates, discouraging further conservation. But people who heat their homes with electricity get hit hard.
NO CHOICE BUT NATURAL GAS
Idaho Power still needs what is called baseload generation - power that is available all the time, said Jim Miller, Idaho Power's senior vice president for power supply.
The company is expected to announce plans soon to either build a natural gas generation plant or buy power from another company.
Coal is mostly out of the picture, and nuclear power is at least 20 years away if the company were to buy into a plant.
Kjellander, who used to be a PUC commissioner, said the company has no choice.
"Three or four years ago we were telling Idaho Power as regulators to stay away from natural gas because the price is too volatile," Kjellander said.
Renewable energy supporters aren't convinced.
They believe a more aggressive effort to build and buy wind, solar and geothermal energy - along with new sophisticated conservation programs - can provide power cheaper than gas over the long haul and still be reliable.
"Ratepayers will be at the mercy of steeply rising power prices specifically because Idaho Power has not diversified its portfolio with renewable power production and is not anticipating national carbon pricing," said Kiki Tidwell, a Hailey resident and Idaho Power critic.
Keen said the company is adjusting.
"Our national political leaders believe human-caused climate change is real and that something needs to be done about it in the form of legislation," Keen said. "Exactly what the legislation ultimately looks like is unknown; however, its impact on increasing prices is fairly certain."
INCREASING RENEWABLES
Still, Idaho Power has increased the amount of power it gets from renewable sources and by the end of the year could have 360 megawatts - a similar output to many coal plants - of wind power available.
The company is working with Sierra Pacific Power in Nevada on a joint investment in a large solar thermal generation plant near Las Vegas, where sun conditions are ideal, Miller said.
But until recently, when climate change science, policies and economics forced Idaho Power to change direction, the company limited its investments in renewables. Utilities in surrounding states - especially California, where customers pay a lot more for power - have been buying more renewable electricity and doing more to promote energy efficiency.
And because the utility is so powerful here, Idaho Power's past attitude toward renewables largely became the state of Idaho's position.
For instance, surrounding states all have "Renewable Portfolio Standards" that require their utilities to have a set percentage of renewable electricity.
These standards are encouraging renewable industries in these states, and they also require utilities to develop renewables no matter the cost to ratepayers.
Idaho Power successfully killed attempts several years ago to pass similar standards in Idaho, and there is no serious effort in the Legislature to push them now.
Idaho still offers far fewer incentives for developers and individuals to build or install renewable electric systems than surrounding states.
But the company is changing.
"Traditionally, it's always been their way or the highway," said Pat Sullivan, a lobbyist who was a U.S. Senate Energy and Natural Resources Committee staffer under former Idaho Sen. James McClure. "But today you have a new breed, more willing to work things out."
Sullivan says it appears from the outside like there's an internal culture war within Idaho Power's walls. Some inside the company are sending lawmakers mixed signals, he said.
"The energy picture in the Northwest and the U.S. is changing, and they're going to have to change, too," Sullivan said.
Kjellander said Keen, a 34-year veteran of Idaho Power who became CEO in 2006, is largely responsible for turning the company around.
"What we saw was a sea change," Kjellander said. "There was much more openness in terms of dialogue than there was before."
---
Rocky Barker
Is Idaho Power Ready to Adopt Renewable Energy?
Idaho Statesman, February 15, 2009
---
See what you can learn
learn more on topics covered in the film
see the video
read the script
learn the songs
discussion forum