---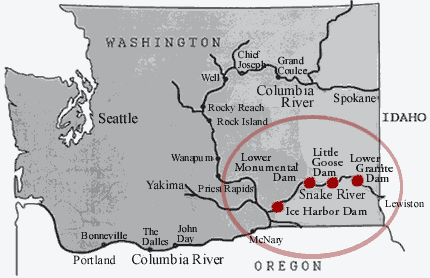 Congressman Mike Simpson, R-Idaho, is closing in on his moment.
Or, perhaps, it's a matter of the moment catching up with Simpson.
Either way, the Idaho Republican probably ought to be poring over what the latest Boise State University Public Policy Survey says about Idaho's fish and Washington's dams.
Almost a year ago, Simpson stunned the state on that topic.
Speaking at the Andrus Center's "Energy, Salmon, Agriculture, and Community; Can We Come Together ?" conference last April, the 2nd District congressman contemplated the idea of breaching the four dams on the lower Snake River.
"I've come to the conclusion that I'm going to stay alive long enough to see the salmon returned in healthy populations in Idaho," he said.
Given Simpson's legislative legacy -- safeguarding the future of Idaho's Boulder-White Clouds wilderness after a 15-year effort -- it's not wise to bet against him. He's a senior appropriator with decades of contacts and the wherewithal to get the right information from the best sources.
As the Tribune's Eric Barker reported Saturday, last week's BSU poll points to a tie: 40 percent favor removing the four dams in an effort to restore salmon runs; 38.3 percent oppose. The poll has a margin of error of plus or minus 3.1 percent.
What's interesting here is the proportion of people on the sidelines -- 21.7 percent say they're not sure. That's an unusually large group. Elsewhere in BSU's poll, the number of people who are undecided about whether Idaho is growing too fast comes to 3.8 percent. If the question involves taxes, about 5.1 percent say they're unsure. The undecided group on state spending levels reaches 14.8 percent.
The newer you are to Idaho, the less certain you are about dams and fish.
BSU says 32 percent of those who came to Idaho less than 10 years ago are not sure. That compares to 19 percent of people who have lived in the state at least 10 years.
Among the opponents of dam breaching, the largest group, 34.6 percent, say they're concerned about lost hydroelectric power generation. Another 15.6 percent cite lost irrigation water. In descending order, 13.7 percent don't believe breaching will benefit the fish, 12.6 percent say it will hurt local communities and 8.1 percent say it's too expensive.
Nor has there been much movement. When BSU asked a similar question in 2006, 42.8 percent opposed breaching while 35.3 percent supported it. At the time, 18.4 percent were neutral and another 3 percent were unsure.
In that poll, however, BSU produced this finding: If steps were taken to mitigate the economic effects of breaching, support rose to 45.2 percent.
If there's one bright spot in these numbers, it's that people are not polarized. Just as likely, they've been confused by a debate driven by advocacy and couched in the careful language of scientific probability.
All of which plays to Simpson's strengths.
He's well-positioned. As noted on this page before, Simpson has the ability to launch independent reviews -- if nothing else about whether the dams are a good investment or a boondoggle for the American taxpayer. As he did with an earlier debate about Idaho's public lands, he can assign the Congressional Research Office to study it. Or, as the ranking minority member of the House Appropriations Subcommittee on Energy and Water Development -- with jurisdiction over the Bonneville Power Administration, the Army Corps of Engineers and the Bureau of Reclamation -- Simpson can bring in the Government Accountability Office. The investigative arm sets the gold standard for independent audits and reviews.
At the Andrus conference, he was asking the right questions:
"If the dams were to come out, how would you address Lewiston?"

"If the dams were to come out, how would you address the barging issue and the (concerns) grain growers have of getting wheat down the river?"

"If the dams were to come out, how would you address the Washington farmers that have concerns they would have to lower all of their (irrigation) intake pipes and everything to farm?"
At a time when Idahoans remain persuadable, Simpson can do what he often does best -- serve as an honest broker of information.

Related Pages:
Report: Idahoans Split on Breaching the Four Lower Snake River Dams by Eric Barker, Lewiston Tribune, 2/1/20
Simpson Should Start With This 'What If' Question by Marty Trillhaase, Lewiston Tribune, 5/5/19

---
Marty Trillhaase
Say These Local Businesses: It's the Dams Or Us
Lewiston Tribune, February 5, 2020
---
See what you can learn
learn more on topics covered in the film
see the video
read the script
learn the songs
discussion forum