---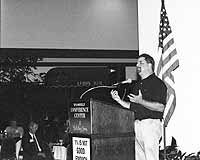 WILSONVILLE, Ore. - A leading congressional advocate for reforming the U.S. Endangered Species Act stopped off in Oregon last week to solicit support for his efforts to overhaul the much-maligned federal law.
Rep. Richard Pombo, R-Calif., didn't have too difficult a time selling his themes to the crowd of ranchers, farmers and forestland owners who gathered on Aug. 18 in this suburb south of Portland.
Of fundamental importance to any and all ESA reforms is that the federal government rediscover respect for personal property rights, said Pombo, a San Joaquin Valley rancher.
"There is nothing that is more important to our survival, to our way of life, than protecting private property rights - because that is truly the backbone of the capitalist system," he said.
"If you take away the incentive that people have to go out and work hard and save a little bit more and give it to their kids and grandkids - if you take that incentive away from people, then there's nothing left," Pombo added.
Specifically with regard to the ESA, which was originally signed by President Nixon in 1973, Pombo says a change in concentration is in order - or rather, there's a need to start addressing in earnest what the ESA was originally intended to do.
"Let's put the focus on recovery," said Pombo. "We need to take the focus away from land-use control, and we need to come up with plans to make private-property owners part of the solutions."
In order for federal agencies to develop strategies "that actually recover species," they should set achievable recovery goals and encourage delisting once the recovery standard has been attained, he said.
Pombo said one of his biggest gripes has been that about the only way a species can be taken off the ESA list is if it goes extinct.
Of the roughly 1,300 plant, fish and fauna species placed on the list over the years, only a very small number have actually been "recovered," he said.
"I would argue that of those (that have been taken off the list), over half should never have been put on the list to begin with," said Pombo. "Seventy-seven percent of the species on the ESA list either have declining populations, or U.S. Fish and Wildlife officials have no idea what their populations really are."
Pombo, chairman of the U.S. House Resources Committee, is in the process of negotiating the parameters of an ESA reform bill that he hopes will garner bipartisan support. Although the details of the bill haven't yet been formally released, a report from Pombo's committee examining the history of the ESA probably gives an indication as to what some of Pombo's priorities will be. The report, issued last spring, called for:
Better distinctions between threatened and endangered species and more rigorous criteria for listing determinations.

Greater focus on "unique" animals and plants.

Improving program efficiencies; delisting species originally listed on the basis of erroneous data, or which are likely already extinct.

Enacting mechanisms to reduce program costs

Making species-by-species government ESA expenditure reports - as well as economic impact assessment data - more readily available and searchable online to increase congressional oversight and public awareness.
The environmentalist attorney group Earthjustice says that based on House ESA draft legislation that's been leaked, as well as Pombo's past advocacy for natural resources-based economic interests, they believe the seven-term congressman really just wants "to make the (ESA) more friendly to the developers and lobbyists who have funded his recent campaigns, and considerably less friendly to the wildlife that this landmark law is intended to protect."
Pombo tends to dismiss critics of his ESA reform agenda, suggesting for starters that any legislation he'll sponsor is still mostly in the incubation stage.
But he also won't hesitate to accuse environmental lobbyists and lawyers of their own economic conflicts of interest: The worse America's natural environments and native plant and animal species are perceived to be doing, the better environmentalist groups tend to make out financially, said Pombo.
Many preservationist issue-oriented activist groups are "more interested in conflict and being able to raise money than they are in finding solutions," said Pombo.
---
Mark Engler, Freelance Writer
New Bush Fish Policy Reviving Old Debates
Capital Press, May 7, 2004
---
See what you can learn
learn more on topics covered in the film
see the video
read the script
learn the songs
discussion forum