---
The Surface Transportation Board
is the only recourse farmers have.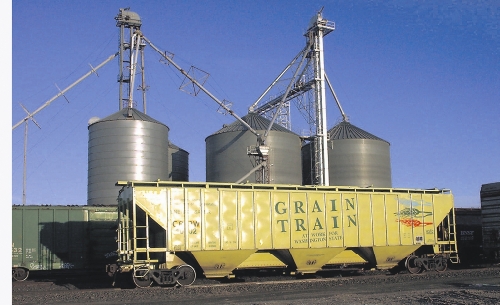 Northwest agricultural shippers say they hope the Surface Transportation Board's efforts to improve poor performance by railroads will be successful.
"We are very appreciative that there is a system in place to hold transportation issues with the rail accountable," said Michelle Hennings, executive director of the Washington Association of Wheat Growers. "It's causing uneasiness with farmers ... not being able to receive inputs that are needed for our crops. It's concerning already to have input prices double and triple, and then adding the stress of transportation issues is not a good scenario for farmers."
Paul Katovich, general manager of Highline Grain Growers in Waterville, Wash., said his company is most affected by the inconsistency of rail performance.
"If our expectation is that they're 10 days late, but they're consistently 10 days late, we can plan," he said. "If we think it's going to be 10 days late, but then it's 40 days late, that's a big problem."
Rail delays have become so frequent over the past decade that they're almost commonplace, said Todd Scholz, vice president of research and member services for the USA Dry Pea and Lentil Council.
Rail is the only form of transportation for many small country elevators and processors shipping to ports at Portland, Seattle or the Gulf of Mexico, he said.
"The issue they always have is trying to get (the railroads') attention," Scholz said. "A lot of these guys are asking for four or five cars, small numbers, and the rail companies like 100-car trains."
Any additional costs reduce pulse farmers' profitability, Scholz said.
Shippers ordering railcars must first try to predict what they want 90 days out. Most pulse contracts are 30-day contracts.
"The shipper is under a time constraint -- if the railcars don't show up on time, they're out the contract but there's no recourse for them against the rail company," he said.
When railcars show up late, the shipper might not have an immediate use for them and must pay demurrage, Scholz said.
Railcars are supposed to arrive in a condition suitable for shipping food, but they can be dirty and unacceptable, he added.
"The procedure is you reject the railcar, and the rail company brings you back one that's clean," Scholz said. "Well, if they reject the railcar, they don't know when the replacement will come, so they wind up cleaning the rail car at their cost and then putting the food in it. It's just a system that is so rigged in favor of the rail company."
The Surface Transportation Board is the only recourse farmers have, he said.
"We're pretty excited that they're taking some action to help us out," he said.
Rail uncertainty is also an argument in favor of maintaining the four lower Snake River dams, which are targeted by environmental groups, Katovich said.
The cost of rail delays for HighLine is minimized by the balance barging provides, Katovich said.
"When finely tuned, our American organism is the best there is, and it's not close when we're all running well," he said. "The river system is the pressure relief valve for the rest of the organism, even though it's just one little part of it. If you miss that pressure relief valve, if that's gone, then imagine how much pressure would be present if we were relying on a system that by its very nature has strikingly wider variability than our river system."

---
Matthew Weaver
Ag Shippers Hope Surface Transportation Board Efforts will Improve Rail Performance
Capital Press, May 12, 2022
---
See what you can learn
learn more on topics covered in the film
see the video
read the script
learn the songs
discussion forum