---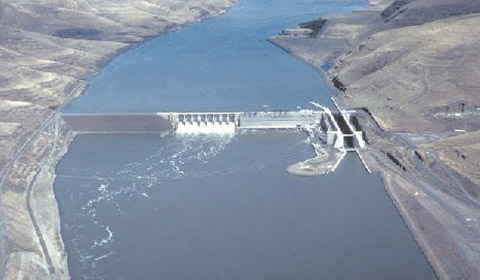 Are outdoor writers beginning to question formerly sacred conservation myths? That's the way it seemed at the annual conference of Northwest Outdoor Writers held in Lewiston, Idaho, last week.
A representative from Idaho Rivers United addressed the group and he wanted the Snake River dams removed in the name of salmon and steelhead recovery.
Long ago, I realized the true motives for removing dams in organizations like Idaho Rivers United, the Sierra Club, Trout Unlimited, Save Our Wild Salmon and many others had nothing to do with fish recovery. Instead, their motives were to put rivers back to their natural state.
They point out the Snake River dams provide "only" 15 percent of our power (bluefish corrects: 4% of Northwest electricity on an average water year). But that much power lights the city of Seattle and more. That's a lot.
The representative said power could be produced by wind and someone pointed out none of the wind generators were turning as they drove to Lewiston the day before.
I asked the representative if, once the dams were removed, he would agree to have wind generators line the rims of the Snake River Gorge. He waffled.
A voice from the back of the room said, "Not in my backyard."
We have dams that need removing, of course. They served a purpose once, but now all they do is block salmon and steelhead from prime spawning waters. The Elwha, which used to host the largest king salmon in this state, and the White Salmon River are two examples.
But the dams on the Snake River serve a purpose - they generate a lot of electricity and they produce it much more cheaply that wind generators.
And why is no one pointing out fishermen, water skiers, hunters and swimmers use the large and mild-mannered reservoirs they provide?
A few years ago, the young man proposing dam removal would have been given a pass by outdoor writers, but no longer.
Preservationists masquerading as conservationists no longer get a free ride with their half truths and outright lies. Their hidden agendas, radicalism, exaggerations and blatant lies have been discovered, but the Washington State Department of Ecology is still getting away with it and they're being aided by the Department of Fish and Wildlife and Gov. Gregoire.
Collectively, they're claiming lead is a threat to children and upland birds.
Recently, an article appeared in the Yakima Herald Republic. It said lead levels in children have been dropping steadily for several years (lead-based paint became illegal 20-odd years ago), but lead wheel weights will become illegal thanks to the governor (Have you ever seen a child eating wheel weights?).
And the Department of Wildlife wants to make lead shot illegal on all its one-million acres in order to save upland birds, when, as best I can tell, the only upland birds to die of lead poisoning were force fed.
And the Department of Ecology wants to ban the use of lead ammunition in this state. You can read it yourself by going ecy.wa.gov/pubs/0807025.pdf, but read it carefully. It says they have no plans to ban lead ammunition, but don't stop reading.
A few paragraphs later, they want to make its use illegal "where non-toxic substitutes are available."
Such a ban would affect rifle, pistol and shotgun ammunition; it would effectively end almost all target shooting because ammunition would become prohibitively expensive.
The Outdoor writers didn't spread any lead at the meeting in Lewiston. We usually go to a local shooting range, but times are tough in the outdoor writing game and members didn't want to pay for an extra night's lodging.
As you probably know, magazines and newspapers have fallen on hard times. They're cutting back on expenses wherever possible and that means fewer assignments to freelance writers.
After the Saturday night dinner, the Excellence in Craft awards were given. I got third place in the humor category with a piece titled "Blind Thoughts: Caffeine and Clothing" and I took first place in the managing our world category with a piece titled "Advocates Without Passion."
Maybe the editor, Bob, will let me sneak those articles into the paper sometime in the future. Humor isn't time sensitive and Advocates talks about people trying to save our game and fish from behind computers while sipping Starbucks.
All the while, they keep their shoes clean by walking on asphalt, concrete and tile. Fishing, hunting, camping, hiking and shooting would ruin the shine.
And they know lead poisoning is a threat.
They don't know anyone with lead poisoning, but they know it's a threat.
---
Jim Pearson
Questioning Sacred Conservation Myths
Othello Outlook, May 15, 2009
---
See what you can learn
learn more on topics covered in the film
see the video
read the script
learn the songs
discussion forum