---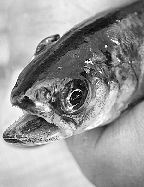 Last week's international pact to sharply cut the catch of chinook salmon migrating from Washington is one of those good news, bad news situations.
The good aspect is that Alaska and Canada have finally put aside self-interest and acted to protect endangered chinook runs.
The bad part is that the decline in the runs is now so obvious that all parties involved recognize that they have to act. This agreement should have come much earlier, but later is better than never.
The Pacific Salmon Commission has worked out a 10-year harvest plan to prevent the overfishing of the Washington-spawned wild chinook that leave Puget Sound or the Columbia River and head north up the western coast of British Columbia.
Washington fishermen and authorities have long been concerned about B.C. commercial fishermen taking too much of these fish. But B.C. officials and fishing interests have similar complaints about chinook migrating from B.C.'s Fraser River; these salmon head north to Alaska, where they provide a significant harvest for American boats.
While efforts to reach a deal have been underway for some time, the parties no doubt found new urgency when California's Sacramento River chinook run collapsed suddenly last year.
Authorities shut down the U.S. fishery for Sacramento chinook, dealing a severe economic blow to commercial fishermen in Northern California and Oregon. That economic and environmental disaster served as a shocking wake-up call for the parties involved in the salmon commission talks.
Alaska will reduce its catch of wild salmon 15 percent over the decade; Canada will make a 30 percent reduction. In two years, the commission will renegotiate harvest limits for the fish spawned in the Fraser River system.
U.S. federal money sweetens the deal, providing Canada $30 million to aid B.C. commercial fishermen, $7 million to Alaska and $7 million to Washington to improve salmon habitat.
Whether the new harvest reductions will be enough to stave off further declines will take several years to answer. A multitude of other factors, including habitat loss, urban and agricultural pollution and ocean conditions possibly related to climate change are at work.
The fish pact is a boost for the efforts of the Puget Sound Partnership, which seeks to restore the health of Puget Sound salmon runs. That task encompasses the entire ecosystem, as partnership chairman Bill Ruckelshaus has pointed out.
Commercial fishermen who see salmon stocks declining know it's in their interest to protect the runs. It's a harder sell for industries and Puget Sound residents who aren't directly affected by the declines.
The truth is that saving our salmon is a job for all of us.
Related Pages:
Historic Salmon Deal Really More of the Same by Mike Barenti, Yakima Herald-Republic, 5/25/8
---
Editorial Board
Putting the Fate of Salmon First
The News Tribune, May 25, 2008
---
See what you can learn
learn more on topics covered in the film
see the video
read the script
learn the songs
discussion forum