---
Dumping of Chilean farmed fish on U.S. market prompts a giveaway in Olympia
Columbia River salmon fishermen gave away salmon at the Capitol building in Olympia yesterday to protest the Chilean fish farmers' dumping of coho salmon on the U.S. market.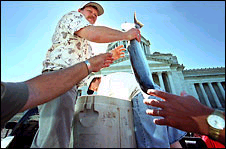 According to estimates by the Fishermen's Protective Union, the spot price for farm-raised Chilean coho in Los Angeles is $2.10 per pound, about $1.40 less than it should be after figuring in production, air freight, importer markup and warehousing.
The glut of salmon is frustrating Puget Sound fishermen who are struggling to make ends meet. Local fishermen this year were getting an average of 80 cents per pound for a whole sockeye and sometimes as little as 65 cents a pound for king salmon.
A decade ago, the price per pound paid to fishermen often topped $2 per pound.
Jack Karuza of Vis Seafoods in Bellingham remembers getting $1.50 per pound for sockeye when he started fishing in 1976.
"What happened to inflation?" he asked yesterday.
Karuza and other fishermen say that without help, they could be the last generation to make a livelihood salmon fishing.
"That is the sad state of the industry. It has become a hobby in the Puget Sound. The Port of Bellingham is not much of a working port anymore as far as the fishery," he said.
The irony is that it is a great season for pink salmon, but fishermen have had trouble finding buyers.
"For the processors to make a profit, they have to be able to buy the fish at a very low price," said Karuza.
According to the Columbia River Fishermen's Protective Union, a 6 percent tariff placed on Chilean farmed fish after a 1997 investigation helped balance the market, but the tariff was recently lifted and Chilean companies have increased production.
"We are working to make the entire country aware of Chile's unlawful dumping practices and are calling for a united front of U.S. consumers, fishermen and processors to lobby Congress to enact legislation that will protect our markets by being responsive to rapidly changing market conditions and protect us from foreign market raiders," said Gary Soderstrom, president of the fishermen's union.
Farmed fish accounts for about 60 percent of the world's salmon market, about twice as much as it did 20 years ago. Much of the fish is being sold in Japan, which used to buy much of the Northwest salmon catch. Farmed salmon is also used in cans and vacuum-sealed packets.
"I wouldn't touch it," said Shannon Moore with the Nooksack Salmon Enhancement Association. "When you look at farm fish, you can definitely tell the difference, it doesn't have the muscle texture, it falls off the fork when it is cooked, there isn't the flavor."
Vicky McCaffree, executive chef at the Waterfront eschews farm-raised salmon as well, except in the winter when she buys fresh salmon from a New Zealand farm.
McCaffree said she tries to stay away from the Chilean farm salmon, concerned about the lack of regulations governing their farms. She said she has heard stories of the fish being fed steroids and doctored with dye to improve the color.
"It just makes me kind of wonder," she said. "I prefer to use the wild."
Bob English, the meat and seafood specialist for Larry's Market, said the store carries some farm-raised salmon for customers looking for a lower price. He is sympathetic to the fishermen's struggles.
"If there was some way they could keep the farm salmon off the market in the summertime, everything would be fine," said English.
Harry Yoshimura, manager of wholesaler Mutual Fish in Seattle, sees advantages to farmed salmon -- including stabilizing the supply.
"Salmon used to get very expensive. Now more people are able to eat it," he said. He agrees that the extra salmon has impacted the export market and made it difficult for wild fishermen to make a living.
Yoshimura expects the market to even out, as the low price of salmon runs even some fish farmers out of business.
"There is an overabundance of farm fish out there right now. In a year from now it will be totally reversed," he said.
"I think some of the farmers will give up."
---
Kathy Mulady
Fishermen Protest Salmon Glut
Seattle Post-Intelligencer, September 11, 2001
---
See what you can learn
learn more on topics covered in the film
see the video
read the script
learn the songs
discussion forum