---
But Indian tribes say dams on the Snake River
must be breached to protect the fish.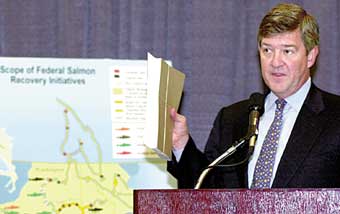 PORTLAND — The federal government Thursday offered its long-awaited plan for saving Columbia Basin salmon from extinction, calling it the biggest ecosystem restoration project since the spotted owl.
But Indian tribes and environmentalists said it falls far short of what is needed.
Even though the plan fails to breach four dams in southeastern Washington, officials said the strategy is the best plan that could get support from Congress.
George Frampton, acting chairman of the White House Council on Environmental Quality, said the strategy concentrated on habitat improvements to the Columbia Estuary, and held out the possibility of dam breaching if they don't work. The strategy's success will be evaluated after five, eight and 10 years.
"If we are not able to get clean water, more flow from Idaho, restoration of habitat, the pressure will move back quickly to dam breaching," Frampton said.
Opponents have warned that breaching could seriously harm the economy. Removing the dams built on the lower Snake in the 1970s would cut off barge transport of grain and other freight between Lewiston, Idaho, and the Columbia, lower reservoirs below irrigation intake pipes, and reduce Northwest electricity supplies by about 4 percent.
Columbia Basin Indian tribes called the strategy a declaration of war and warned they would go to court and even begin civil disobedience to enforce their treaty rights to abundant salmon for ceremonial, subsistence and commercial fishing if the strategy is not changed during the 60-day review period to include dam breaching and other measures.
"I told Mr. Frampton that he leaves me with but one choice: To fight back," said Antone Minthorne, chairman of the Confederated Tribes of the Umatilla. "To defend my people, my religion and my culture.
"Today I will go back home to my people and tell them what the White House has decided that Snake River salmon should go extinct in order to save four federal dams."
Although happy with the basic framework of the strategy, environmentalists said it lacked the "hard triggers" necessary to change things that have been killing salmon for decades, as well as specific sources of funding to pay for programs or water to augment river flows.
"We have a skeleton right now, but there is no meat and it ain't walking or talking," said Glen Spain of the Pacific Coast Federation of Fishermen's Associations.
The strategy proposes no more water for fish than was suggested in 1995, and it still allows for massive mortality of juvenile fish that try to swim through dam turbines, said Rob Masonis of American Rivers.
Industrial river uses such as barge operators, aluminum smelters and irrigators were unhappy as well because the strategy lacks firm estimates of costs, benefits or funding sources, said Bruce Lovelin of the Columbia River Alliance.
The strategy likely will come to nothing as administrations change in the White House next year, he added.
The strategy, or National Marine Fisheries Service biological opinion, will undergo a 60-day public comment period before becoming final.
---
by Jeff Barnard of the Associated Press
Proposal Will Save Salmon, Feds Say
Salem Statesman Journal, July 28, 2000
---
See what you can learn
learn more on topics covered in the film
see the video
read the script
learn the songs
discussion forum