---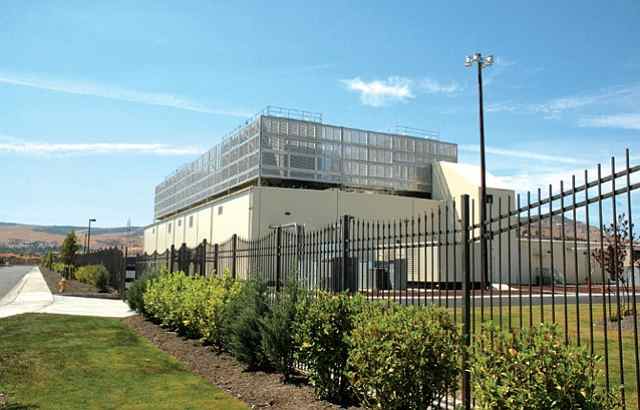 The tiny central Oregon community of Prineville could have twice as much electricity available within just a few years, enough to supply the city's bustling data center industry and make room for other companies to move in.
That could ease a power crunch created by Apple and Facebook, each of which have massive server farms in Prineville. Their arrival over the past several years produced a surge in electricity demand that overwhelmed the Bonneville Power Administration's transmission capacity - potentially derailing a mysterious new employer known as "Project Falcon," which contemplated building a Prineville factory.
The issue in Prineville isn't power generation - there's plenty of electricity, according to utilities and power agencies. The problem is that power lines and electrical substations in the region don't have the capacity to deliver all that energy.
So BPA presented a plan to the city and economic development officials this week to upgrade a pair of electrical substations and make changes in how the agency manages power on its grid. That will increase the region's capacity from 560 megawatts to 1,145 megawatts within a few years.
"We're excited we've got a path forward, which is obviously key," said Roger Lee, director of Economic Development for Central Oregon. He said the BPA's plan will probably meet power demand for the foreseeable future.
Long-term demands might require a new transmission line into the area, however, a major project that the federal power agency warned "would be a significant challenge" and take more than six years.
The BPA's plans will start boosting capacity by the middle of 2019 and could be wrapped up the following year. But that may not be in time for Project Falcon, a code name for a company that is keeping its identify secret while talking with economic development officials.
Falcon had held out the prospect of hiring more than 300 people. It is apparently considering other sites, including Klamath Falls and Walla Walla, Washington.
Still, it appears the BPA's plan has satisfied a number of constituencies in central Oregon who had been critical of the agency. Prineville city officials, the economic development agency and electric utilities issued a joint statement praising the agency's plan.
"From our take, the BPA is addressing the needs we see," said Ry Schwark, spokesman for Pacific Power, one of two utilities serving the Prineville area.
The BPA has a broad service territory and lots of constituents, but Lee said it needs to find a way to keep closer track of the power needs of the communities it serves.
"We still have work to be done, from a cultural change there," he said. "That takes time."
Prineville is a city of 9,200 people about 30 miles northeast of Bend. It lured Facebook and Apple with property tax exemptions, incentives worth $16 million in 2016 alone. Those tax breaks are offset by franchise fees generated by the data centers' electricity use, which now account for a substantial portion of city revenues.
The data centers are relatively small employers - Facebook has 200 working at its site there - but the influx has had a profound effect on the community. Hundreds of temporary workers have passed through town to build the facilities, filling hotels and restaurants but triggering a housing shortage.
Prineville's electricity issues became evident late last year, as utilities began planning for Apple's continued expansion. With Project Falcon in jeopardy, an outcry from city officials and economic development authorities prompted BPA to consider options to address the situation.
The new plan meets regional needs for the time being, according to Crystal Ball, BPA's Oregon liaison. Now, she said, cities, utilities and BPA need a closer relationship to prevent surprises as new power demands emerge.
"We went through a miscommunication," Ball said. "We've all been talking a whole lot more."
---
Mike Rogoway
BPA Unveils Plan to Ease Prineville's Power Crunch
The Oregonian, April 17, 2017
---
See what you can learn
learn more on topics covered in the film
see the video
read the script
learn the songs
discussion forum