---
There were only 1,000 megawatts of solar power in the entire world in 1999.
Just the state of Arizona has more than that today.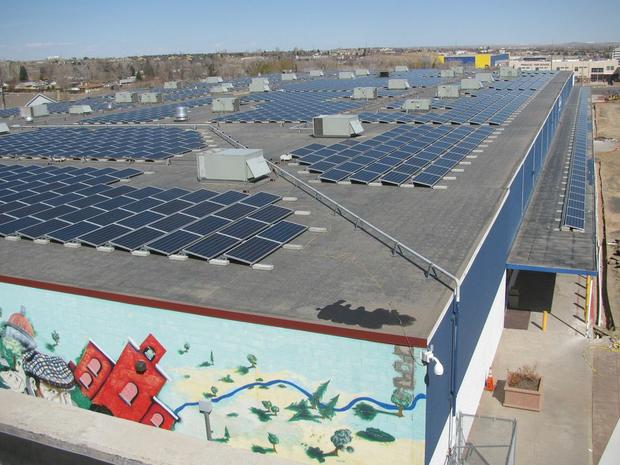 Prince never publicly talked about his generosity, but after he died April 21, a friend shared how the entertainer helped kick-start Oakland green projects.
"There are people in Oakland who have solar panels on their houses and don't know Prince paid for it," CNN commentator Van Jones said on television.
The Tribune has been unable to locate individual homes powered by Prince's gifts of panels, but his contributions made it possible for thousands of people nationwide to go solar. And that started at five sites in Oakland.
Jones, an environmental activist, was once President Obama's Special Advisor for Green Jobs.
He became a target of the president's opponents as they pounced on outspoken remarks he had made, sometimes years before.
Jones resigned his White House position in September 2009. He was despondent about it, he now says, until Prince helped him get his groove back, offering to support his work in boosting environmental and economic justice and realizing green economy projects.
With Jones as an intermediary, Prince provided much-needed bridge funding to allow an Oakland company, Mosaic, to survive at a time when the solar industry was struggling to get on its feet.
The company began in Washington, D.C. "Mosaic was a crowd-funding platform matching investors with companies that wanted to go solar," spokesman James Robinson said. Clients were nonprofit organizations and small businesses.
When co-founders Billy Parish and Dan Rosen's efforts to attract investors to the clean energy sector in Washington "didn't gain traction," as Rosen put it, Jones convinced them to relocate to Oakland.
"We need people like you," the longtime Bay Area resident told them. "I think there's an opportunity to do something bigger in Oakland."
But the climate for fighting climate change was still harsh.
"The type of capital that you need to do this is enormous," Robinson said.
In 2011, people weren't buying in. "Things just weren't working out," Robinson said.
Rosen wrote of being with Parish one day in Oakland that year, "feeling pretty down and low. Lots of doubt," when Jones called.
"Are you sitting down?" Jones asked him. "No."
"Well, you should probably sit," Rosen says Jones told them, "because Prince wants to put a bunch of money into solar projects in Oakland, and I think we should do it as a partnership with Mosaic, Green for All and the Ella Baker Center."
Green for All and the Ella Baker Center are nonprofit organizations Jones founded -- the former to provide green-collar jobs and the latter to address social justice issues.
A quarter-million grant from Prince matched what the company had raised through crowd-funding, Robinson said,
"The company didn't have any credibility" at that time, Robinson said. "It was really a philanthropic gesture on the part of Prince" that allowed it to progress. It was a time when, down the road in Fremont, for instance, government investment in the solar technology firm Solyndra had become a political liability.
Mosaic was able to arrange solar power for five Oakland projects, including the People's Grocery on Seventh Street, the Asian Resource Center on Eighth Street, the Youth Employment Project on International Boulevard and St. Vincent De Paul's.
Today, Robinson said, if you get a pitch from Sungevity, on Oakland's Franklin Street, or Utah's Vivint for one of the no-money-down offers that have become common in the solar-panel installation industry, that's funding arranged by Mosaic., which has contracts with most solar installers.
"We're circling back to create a bigger program for low- to mid-income families to go solar," Robinson said.
Mosaic now has $200 million available for solar installation loans. By year's end, he said, the company expects that number to be $1 billion and will be on track to having provided the means for 25,000 homes nationwide to go solar.
An average solar system installation is about $25,000, Robinson said.
"It also translates to jobs," he added.
Those include green jobs in solar installation, upgrades and maintenance.
Mosaic itself is on a hiring binge, seeking marketers, financiers, engineers and operations staff.
"The only thing that's stopping us now is our space" in temporary offices on the seventh floor of 1212 Broadway while workers build out the second and third floors below, he said. Sixty-four people work at Mosaic.
"In the next two months, it'll be 150," Robinson said. "We're in the midst of growth that I can't even fathom."
And, he added, "it really started with that act of generosity by Prince," Robinson said.
Related Pages:
How Crowdfunding Solar Power is Democratizing the Way We Finance Clean Energy by Lyndsey Gilpin, TechRepublic, 3/13/14
---
Mark Hedin
Prince Quietly Helped Oakland Solar Projects
East Bay Times, May 12, 2016
---
See what you can learn
learn more on topics covered in the film
see the video
read the script
learn the songs
discussion forum