---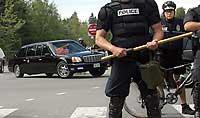 Maria Townsend couldn't believe that a White House staffer was in Burbank to ask a favor.
President Bush's staff needed to use the school grounds as a place to set up a communications antenna for Friday's visit to nearby Ice Harbor Dam. And Townsend, Columbia School District Office Manager, had to compose herself before talking with a member of Bush's communications department.
"It's not every day that a member of the White House staff comes to the Burbank administration office. I laughed and said, 'What president is coming here? The president of the United States?' It could have been president of the Grain Growers or something," she said.
Lori Stahlman of Northwest Rentals in Richland had a similar initial reaction after receiving nearly a dozen phone calls from someone in Washington, D.C.'s 202 area code earlier this week.
Someone wanted to rent 675 folding chairs, 32 8-foot tables with white linens, five 10-foot by 10-foot canopies, two 20-foot by 20-foot tents and portable flooring to place under the tents and canopies.
It wasn't until she got official word from the White House on Wednesday at 1 p.m. that Stahlman realized it was the president's staffers who would be requiring the use of the equipment for Bush's quick stop at the dam.
"At least 10 different people called. They wouldn't give their names," Stahlman said.
But she did get a callback number. Sure enough, when she rang the number with the 202 area code, a voice at the other end asked to reserve the equipment.
"I told them if I was going to hold these items I had to know who they were," she said.
The answer was unmistakable.
"Ma'am, this is the White House," Stahlman recalled hearing.
That was good enough, she said. Instead of requiring a deposit guaranteed by a credit card, which is standard operating procedure with phone orders, Stahlman asked only for a name, phone number and billing address.
"The federal government doesn't pay in advance, and I figure the government is probably good for this," she said.
Stahlman had less than a day to get it together, because everything had to be delivered by 9 a.m. today for setup at the dam.
Stahlman, business administrator for the rental company, had to call the two other rental businesses in Moses Lake and Kennewick owned by her boss, David Rose of Richland, to fill the order.
Rose, who is running for the Richland City Council seat, agreed to cut a deal for the president.
"He's donating some of the labor and charging (rent) for only one day," Stahlman said, adding that a public endorsement of her boss would be nice.
Townsend said Columbia School District officials have no problem letting the Bush administration install a communications antenna on the roof of Columbia High School for his arrival Friday. The installation is at no cost to the district, she said.
---
John Trumbo
All President's Men Gear Up for Visit
Tri-City Herald, August 21, 2003
---
See what you can learn
learn more on topics covered in the film
see the video
read the script
learn the songs
discussion forum