---
Projects in Mexico, Canada grapple for container traffic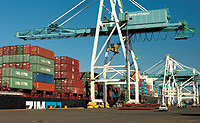 CLARKSTON, Wash. - Picture a lazy beach south of the border with rowboats calmly rocking at the water's edge. It's the stuff Mexican vacations are made of as more U.S citizens search out those remote coastal playgrounds. But if developers have their way, Mexico's tranquil Punta Colonet will become a major West Coast port in just a few years. Some envision a port as large as Los Angeles once the dredging and development are complete.
And it's something Pacific Northwest ports will have to watch, according to John Akre, Port of Portland's regional marketing manager. Akre presented "the big picture" of port activities to a suppliers' banquet crowd at Clarkston recently.
"From southern Mexico to Chicago is a distance of 2,092 miles," Akre pointed out of the comparable rail connections. "It's 2,147 from Portland to Chicago, so it's nearly the same distance."
Most in Akre's audience have ties to the ports at Lewiston and Clarkston, which have the most inland docks on the Columbia-Snake river system at 465 miles upriver. With wheat and hay export markets booming this year, and other containerized freight also using the barge transportation system, shippers must watch what goes on at the mouth of the Columbia. The symbiotic ties between upriver ports and the Port of Portland mean cheaper barge and rail shipping costs for producers from as far away as the Midwest, Montana and southern Idaho.
"The Port of Lewiston is responsible for about 75 percent of the upriver port business that comes through Portland," said Josh Thomas, media relations manager for the Port of Portland. "Lewiston has seen the most growth of all the upriver ports."
With the value of the dollar keeping everyone on edge, plus the constant musical chairs of world trade, port transportation is a key topic for inland producers. Akre noted that Tacoma is gradually taking business from Seattle. And industry leader Costco is now favoring Prince Rupert over Seattle. Vancouver, British Columbia, suffers harsh winters, labor problems and railroad difficulties. Such circumstances have put Portland in a prime position for growth. And that bodes well for Lewiston area ports as well.
"The Port of Portland was the fastest growing West Coast port, percentage wise, last year," Akre said.
With the ports of Long Beach and Los Angeles at capacity, other ports up and down the West Coast are planning for growth. Portland has kept up its dredging to accommodate larger vessels, and has courted shippers worldwide. It also has a rail advantage over Seattle, with Burlington Northern Santa Fe and Union Pacific traveling the Columbia River Gorge corridor, while rail service is more limited along I-5 and I-90 out of Seattle.
And then there is Mexico. With the port city of Lazaro Cardenas, Mexico has a growing port linked by rail to the United States and can move containers to Houston in the same amount of time it takes to move items from the ports of Long Beach and Los Angeles.
As for Punta Colonet, a harbor waits to be dredged deep enough to accommodate several of the largest container ships at once. A breakwater, 10 to 20 berths, roads, housing and public buildings are planned where none exist today, and the government wants a 180-mile rail line to the border. An airport specializing in cargo service is also being discussed.
---
Barbara Coyner, freelance writer based in Princeton, Idaho.
New West Coast Ports Spur Competition
Capital Press, October 19, 2007
---
See what you can learn
learn more on topics covered in the film
see the video
read the script
learn the songs
discussion forum