---
Portland, Oregon, is also a Pacific Northwest port, but its fortunes deteriorated rapidly this year because of labor problems.
Portland currently is virtually nonexistent as a container gateway, handling only 292 TEUs in May, down from 12,066 TEUs in May 2014.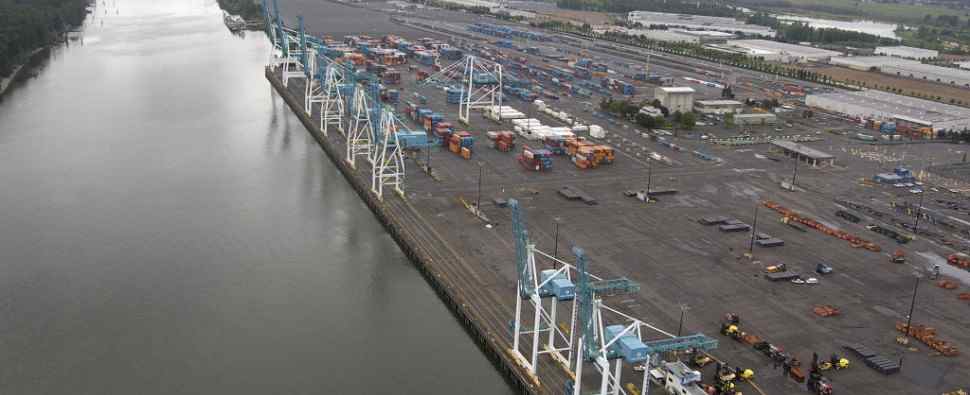 After bleeding market share in the first few months of 2015 because of congestion and labor problems, the Seattle-Tacoma gateway appears to be leveling off in the competitive Pacific Northwest. Port Metro Vancouver, British Columbia, is likewise leveling off, but Prince Rupert continues to register impressive double-digit gains compared to last year.
Numbers on laden container volumes for May compiled from the Pacific Maritime Association, Port Metro Vancouver and Prince Rupert websites seem to indicate that trade patterns in the Pacific Northwest are returning to recent historical trends following the signing of a new dockworkers' contract on the U.S. West Coast.
The yearlong contract negotiations between the PMA and the International Longshore and Warehouse Union that began in May 2014 and ended with PMA and ILWU ratification of a new five-year agreement this May precipitated a noticeable diversion of U.S. West Coast cargo to the Canadian ports and to ports on the U.S. East and Gulf coasts.
The ILWU on Oct. 31, 2014, slashed ship-to-shore container moves in Seattle-Tacoma from about 28 to less than 20, and at times into the mid-teens, according to the PMA. By the end of the year, employers retaliated by reducing or eliminating night and weekend work. The result of these combined events was terrible terminal congestion, a backlog of vessels at anchor causing vessel schedules in the trans-Pacific to be thrown off their rhythm. California's ports suffered just as much, if not more.
Retail importers, meanwhile, missed store deadlines and in some cases failed to get their products to shelves in time for the holidays. Agricultural exporters saw their products rot on docks, and other exporters, without the guarantees of delivery, lost business to overseas competitors.
By the time some semblance of normalcy returned in the spring, the damage was done. Container volumes through Seattle-Tacoma dropped 16 percent in January and 7 percent in February compared to the same months of 2014. Port Metro Vancouver and Prince Rupert, which is located 500 miles north of Vancouver, were the direct beneficiaries, recording large double-digit gains in the early months of 2015. Both Canadian ports have direct intermodal rail service to Chicago, which is also the primary destination for Seattle-Tacoma's intermodal services.
Terminal congestion in Seattle-Tacoma dissipated by May, and vessel schedules returned to normal. Following these developments, it appears cargo interests returned to their normal supply chain routing in the region. Seattle-Tacoma in May handled 224,792 laden 20-foot-equivalent units, down 4 percent from May 2014. Vancouver handled 228,900 laden TEUs, also down 4 percent from May 2014.
Prince Rupert continued to register strong gains, although from a smaller base than the Puget Sound ports and Vancouver. Prince Rupert handled 54,889 laden TEUs, up 25.9 percent from May 2014. Prince Rupert in April announced it would build a second container berth that will increase its annual throughput capacity to more than 1 million TEUs.
The drop in container volumes in Seattle-Tacoma and Vancouver in May isn't troubling because May 2014 wasn't normal in the trans-Pacific. U.S. importers shipped their goods through West Coast ports earlier than normal in the spring of 2014 in anticipation of the July 1 expiration of the ILWU contract. Memories were still fresh of labor problems during the 2002 contract negotiations in which the PMA locked out the ILWU. As a result, imports through the West Coast in May and June last year were stronger than usual.
In addition, U.S. exports are down this year because of the strong dollar and weak economic performance in major trading partners such as China and the European Union. PMA statistics for loaded export containers through U.S. West Coast ports show exports were down 15 percent year-to-date through May compared to the same period last year.
Importers and shipping lines in the trans-Pacific completed most of their service contract negotiations in June for the 2015-16 contracting year. Numbers on containerized imports from June through October will reflect the back-to-school and holiday retail imports this year, so subsequent statistics will demonstrate if Seattle-Tacoma's market share has stabilized compared to the Canadian Northwest ports.
Portland, Oregon, is also a Pacific Northwest port, but its fortunes deteriorated rapidly this year because of labor problems. Portland currently is virtually nonexistent as a container gateway, handling only 292 TEUs in May, down from 12,066 TEUs in May 2014.
ILWU Local 8 in June 2012 got into an ugly spat with ICTSI, which operates the port's only container terminal. Productivity plunged that month and stayed at about the same level for the next three years, according to crane productivity records kept by the port authority and ICTSI. Dozens of work stoppages over the past three years also plagued Portland.
Hanjin Shipping and Hapag-Lloyd, Portland's two largest ocean carriers, had warned the port authority, the ILWU and ICTSI they would not tolerate the poor productivity forever, and in early 2015, they ended their liner services. Much of that cargo shifted to Seattle-Tacoma. The two lines had accounted for 99 percent of Portland's container business.
---
Bill Mongelluzzo
Pacific Northwest Ports Gain Momentum After Months of Problems
Journal of Commerce, July 31, 2015
---
See what you can learn
learn more on topics covered in the film
see the video
read the script
learn the songs
discussion forum