---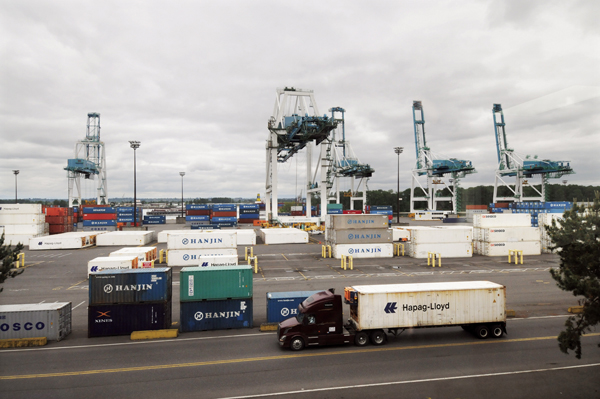 Port of Portland commissioners brushed aside an accusation of unfairness Wednesday and unanimously approved a deal with a Philippine company that aims to double Portland's shipping-container volume within five years.
Managers from International Container Terminal Services Inc., of Manila, predicted after a public hearing that they would attract more steamship lines to Terminal 6, a sprawling Columbia River container yard in Portland's Rivergate Industrial District.
Under the deal -- the largest financial transaction in the history of the city's maritime port -- International Container will lease Terminal 6 from the Port for 25 years. The arrangement, if cleared by U.S. national-security officials, is designed to reduce financial risk and ensure income for the Port, creating jobs. The public agency has struggled for years to attract and retain international steamship lines to T6, as it's known, 100 miles upriver from the Pacific Ocean.
"We have concrete plans to make this grow," Marcelo Suarez, International Container senior vice president, told The Oregonian. Suarez said his company would start by recruiting smaller, niche cargo carriers from locations including Central and South America.
Port managers hailed privatization of Oregon's only container terminal as a landmark deal that would better connect Portland to global trading powers. Longshore union leaders also welcomed International Container, which develops and operates ports worldwide, and commits to operating T6 as its sole West Coast venture.
But representatives of Ports America, a company that currently runs the terminal on a more limited management contract, blasted the lack of a competitive selection process during public testimony.
"We don't think we have been treated fairly," said Don Wylie, Ports America senior vice president. "We also don't believe you can be assured of the best financial offer by negotiating exclusively with only one company."
Judi Johansen, president of the Port commission, whose members are appointed by the governor, told Wylie she felt confident the agency was on firm legal ground. Bill Wyatt, Port executive director, agreed.
"I respect the disappointment expressed today," Wyatt said. "If I were in your boots, I'd probably feel the same way."
Ports America and International Container competed, along with other bidders, in a 2008 process the Port conducted to choose a company that would lease T6 for 50 years. The Port suspended the process in November of that year when the global financial meltdown clobbered the shipping industry, depressing port-terminal values.
In early 2009, International Container asked Port managers whether they would consider negotiating a different deal. The Port entered confidential talks with the publicly-traded Manila company that March. Ports America managers say they got wind of the talks and inquired with Wyatt, who told them he couldn't disclose anything.
Ports America, based in New Jersey, had filed a bid in the earlier competitive process that did not meet Port specifications, proposing an initial $10 million payment and annual rent of $6.7 million for 50 years. The 25-year International Container deal approved Wednesday meets different criteria, precluding direct comparison, but the initial rent payment is $8 million and the annual rent is $4.5 million.
The deal with International Container is worth about $68 million in today's dollars to the Port. Last year the Port handled about 210,000 so-called twenty-foot equivalent units -- an industry measure for container volumes.
If International Container boosts that volume beyond 250,000 a year, the company must pay the Port additional fees per 20-foot container. If the 20-foot number surpasses 400,000, the Port and International Container will embark on a capital expansion plan.
The Port calculates 192-acre Terminal 6 could handle a maximum 700,000 twenty-foot equivalent units. It's that number that excites Jeffery Smith, president of International Longshore Warehouse Union Local 8.
"If these guys can bring 700,000 containers to this region," Smith said, "we want 'em."
No one's promising that just yet. But Suarez, of International Container, expects within five years to double the number of containers handled at T6. Elvis Ganda, chief executive of ICTSI Oregon Inc., the company's newly formed local subsidiary, believes that's possible in part because of Portland's uncongested terminal, available rail capacity and newly deepened shipping channel.
Ganda -- who will manage the Portland operation, International Container's first U.S. venture -- is eager to start. But first his company and the Port must gain approval from the Federal Maritime Commission and the Committee on Foreign Investment in the United States, an inter-agency team that reviews deals that could affect national security.
Lawyers hired by the Port are confident the T6 deal will survive review. They say it differs from a doomed 2006 Dubai Ports World proposal to sell U.S. seaport management businesses, in part because the Portland deal is only a lease -- and to a company with no foreign-government backing.
Paradoxically, Ports America -- the company that feels jilted by the T6 deal -- is the target of a complaint filed with the Federal Maritime Commission by a competitor, SSA Marine. In that case, SSA presents itself as the jilted party, claiming the Port of Oakland granted Ports America a 50-year terminal concession on exceptionally reasonable terms.
As in Portland, Port of Oakland managers defend their decision and stick by their agreement.
---
Richard Read
Port of Portland Rejects Complaint, Leases T6 to Philippine Company
The Oregonian, May 12, 2010
---
See what you can learn
learn more on topics covered in the film
see the video
read the script
learn the songs
discussion forum