---
Entity's net position rose to $24.8 million in fiscal year 2017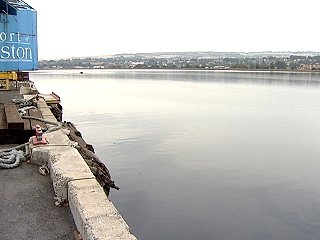 Tax dollars continue to be a key component of the Port of Lewiston's budget.
The port had an operating loss of $134,220 in the fiscal year that ended June 30 for its dock, rental properties and warehouse, but a net income of $478,620 counting revenue from property and sales tax that totaled more than half a million dollars for the same time period.
The figures come from an audit that was released at a port meeting Wednesday.
The port has experienced operating losses since fiscal year 2013, when the loss was $92,435. Losses peaked last year at $501,234. The last time the port's dock, rental properties and warehouse showed earnings was in fiscal year 2012 when they reached $280,509, largely because of revenue from megaloads.
Among the largest expenses in the calculation always is depreciation, which was about $400,000 in fiscal year 2017. Depreciation has to be deducted as infrastructure ages, but it doesn't represent actual dollars going out the door.
The port has faced a number of financial challenges in recent years after container shipments between Lewiston and Portland halted. Shipments of cargo such as dried peas and lentils had been a significant source of income.
The port's operating loss was smaller in fiscal year 2017, though it still did relatively little business at its dock. The port spent less on property development and received a refund from the city of Lewiston on the 18th Street North road project.
It sold rock that had been intended for a Regence expansion planned for more than a decade ago that eventually happened on the insurance provider's existing Lewiston site.
Overall, the port's net position climbed from $24.3 million in fiscal year 2016 to $24.8 million in fiscal year 2017. Those numbers include the port's savings and capital assets.
In other business, port commissioners:
Heard a report from manager David Doeringsfeld about railroad repairs. The port spent $59,000 to fix its train tracks in recent months, compared with the $5,000 to $6,000 that was budgeted. The money went to replacing ties on at least one tight corner as well as rehabilitating a bridge and a railroad crossing. The port anticipates the amount it spends on railroad maintenance will be higher in the next several years, partly to accommodate higher volume. Trains, for instance, are transporting products of a dried pea and lentil processing operation.

---
Elaine Williams
Audit: Port of Lewiston's Annual Operating Loss Tops $134,000
Lewiston Tribune, December 14, 2017
---
See what you can learn
learn more on topics covered in the film
see the video
read the script
learn the songs
discussion forum