---
"We need containers on the Columbia River," said Bill Wyatt, executive director of the port.
"Converting the terminal to other cargo would be pretty hard to swallow," he said.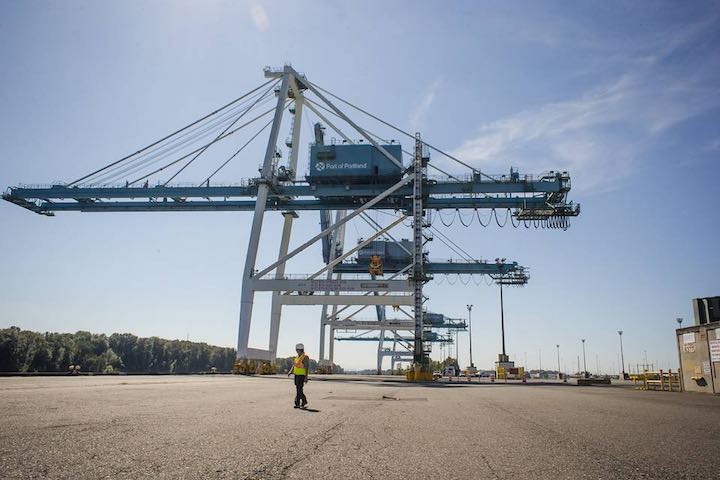 The operator of Portland's only container terminal is confident that liner services will once again call at Oregon's only container port, but International Container Terminal Services Chief Executive Officer Elvis Ganda said the International Longshore and Warehouse Union must work with management to convince shipping lines productivity levels will return to normal.
Ganda's comments Monday followed an announcement from the weekend that Westwood Shipping Lines, the only remaining container line to call at Terminal 6, pulled out of Portland, taking with it the final 2 percent of the port's container business. Last year, Hanjin Shipping and Hapag-Lloyd, which had accounted for about 98 percent of Portland's container traffic, ended their services, citing the notoriously poor productivity their vessels had been experiencing during a labor feud between the ILWU and ICTSI that dated to 2012.
Although at this moment Terminal 6 has no container business, the goal of the Port of Portland is to reserve the facility for regularly scheduled container line services rather than to turn it over to other types of cargo such as bulk or breakbulk. "We need containers on the Columbia River," said Bill Wyatt, executive director of the port. "Converting the terminal to other cargo would be pretty hard to swallow," he said.
At the same time, although efforts have been underway for some time now to find replacements for Hanjin and Hapag-Lloyd, Wyatt said: "Until the uncertainty of the labor situation is resolved, there will be limited interest among carriers."
The ILWU is keeping the door open to a future for container services in Portland. "Longshore workers continue to work productively at all Portland terminals, including auto, grain and bulk facilities, and would welcome containers as well," said ILWU spokesperson Jennifer Sargent Bokaie.
The ILWU-ICTSI conflict began in 2012 over a jurisdictional dispute involving the equivalent of two jobs plugging and unplugging reefer containers at Terminal 6. The feud escalated into a non-stop battle between the ILWU and ICTSI over enforcement of the coastwide labor contract. Wyatt stated in a 2014 interview that part of the problem was that over the many years that Portland had run the facility as an operating port, ILWU Local 8 had been allowed to engage in inefficient work practices that existed nowhere else on the coast.
When the dispute began in 2012, container lifts per crane plunged by 50 percent and consistently remained at that level for more than two and one-half years, except for one day, Super Bowl Sunday 2014, when lifts returned to more than 25 per hour, according to port records. The ILWU blamed the poor productivity on defective cargo-handling equipment.
Tired of poor productivity, the shipping lines warned the port, the ILWU and ICTSI that if productivity did not return to historical levels, they would discontinue services. Hanjin and Hapag-Lloyd pulled out in the spring of 2015. Westwood, which hung in this past year with its monthly service, did not receive the poor level of service Hanjin and Hapag-Lloyd had received, but its volumes in Portland had been consistently declining, so its service was not sustainable, Wyatt said.
Westwood in fact had suspended its service for two months last spring, but when it did return to Portland, the volumes never recovered to previous levels. Wyatt said Westwood's declining container volumes, and weak freight rates in the trans-Pacific, more than anything else drove Westwood to suspend its monthly service. The ILWU said much the same. "We hope that these market dynamics improve and bring cargo back to Terminal 6," Sargent Bokaie said.
In an advisory last week to its customers, Westwood said "the economics for a single call per month do not justify continuing operations at Terminal 6." The carrier said it will continue to offer "Portland CY" service using "non-direct call" freight rates.
This could be sending a subtle message to the Portland port community that a container terminal that is inefficient will not be tolerated. Ever since Hanjin and Hapag-Lloyd left Portland, most local importers and exporters shifted their freight to the Northwest Seaport Alliance of Seattle and Tacoma. Ocean rates between Asia and Seattle or Tacoma were traditionally lower than to Portland because of the higher volumes and larger ships serving the Washington ports.
Container lines that had called in Portland were able to charge premium ocean rates because of the convenience of using the local port, and the ability of shippers to avoid costly overland transportation to Seattle and Tacoma. Wyatt said the ability of lines to charge premium ocean rates had always been a selling point for attracting container services to Portland.
Since last year, though, freight rates on all trans-Pacific services have plummeted due to overcapacity in the major east-west trade lanes. Therefore, shippers say, their current all-inclusive rates through Seattle and Tacoma, including the inland move to or from Portland, are no higher than what they were paying from Portland, so shipping through Portland offers them no particular advantages in terms of total transportation costs.
This development is one of the obstacles Portland and ICTSI will have to overcome now as they attempt to attract container business back to Terminal 6. Ganda said he is optimistic everything will work out, although it will take some time. The current situation in the trans-Pacific is unsettled, with carrier mergers underway and the major vessel-sharing alliances being realigned, a process that is projected to continue into 2017. "We have to let the dust settle. I'm optimistic," he said.
Related Pages:
Shipping Authority Seeks to 'Adopt' Portland by Staff, Port Strategy, 5/12/16
Here's Why Portland Won't Get New Shipping Container Service Anytime Soon by James Cronin, Portland Business Journal, 5/9/16
---
Bill Mongelluzzo
Restoration of Container Services to Portland Hinges on Labor
Journal of Commerce, May 24, 2016
---
See what you can learn
learn more on topics covered in the film
see the video
read the script
learn the songs
discussion forum