---
"Technically, they're subsidizing the export market by billions of dollars, even with the rates
the lowest I've seen in my career, because they've overbuilt and oversupplied based on the market."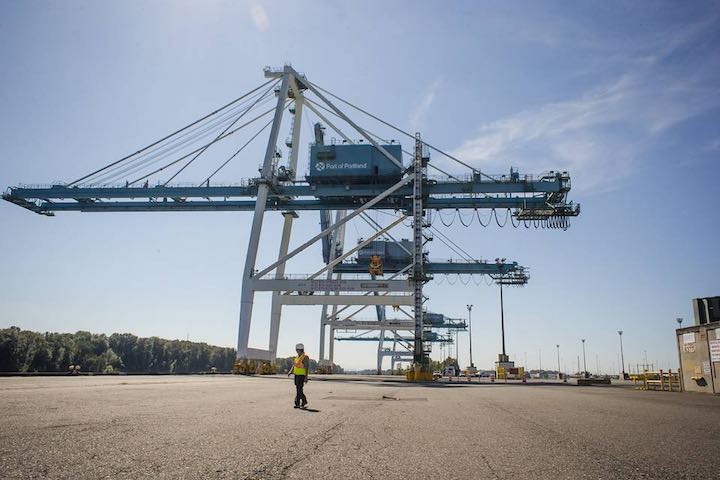 The demise of ocean-going container traffic through Portland is indicative of global shipping woes, but it's unlikely to spark higher consumer prices.
Edward Zaninelli, president of Griffin Creek Consulting, who deals with international carriers and shippers, said this week the Port of Portland's loss of container shipping activity is the result of overcapacity in the industry.
"Carriers are losing their shirt," said Zaninelli, a former North American representative for Hong Kong-based OOCL. "Technically, they're subsidizing the export market by billions of dollars, even with the rates the lowest I've seen in my career, because they've overbuilt and oversupplied based on the market."
Ports such as Portland don't generate enough traffic for carriers to justify making calls, he said.
Los Angeles and Long Beach combine to handle 75 percent of West Coast shipping, Seattle and Tacoma handle 13 percent and Oakland 9 percent. "The major ports will continue to dominate," said Zaninelli, who will speak at the Gulf Shipping Conference in Houston next month.
Carriers, with rare exceptions, are hemorrhaging cash, forcing their owners -- often government entities -- to shore up their finances or combine competing lines flying under their flag.
"The industry has focused on utilization, not profit," he said.
Zaninelli said officials who don't understand the industry hire people ill-equipped to run carriers.
"People who don't know what they're doing appoint people who don't know what they're doing," he said.
An industry capable of making billions in profits is losing millions every quarter.
Danish-based Maersk Line, one of the few companies showing profitability, earned $700 million the first quarter of 2015, but saw profits plunge to $57 million during the first quarter this year.
"There are only two or three other carries reporting a profit," he said. "Everyone else lost money."
Korea's container carriers Hanjin and Hyundai are in receivership, owing money to a state-owned bank. Hanjin accounted for 78 percent of the Portland container business, or 1,600 containers weekly, before pulling out 15 months ago.
"They should be forced to merge to eliminate some of the overlapping costs such as management and HR," he said. "The three Japanese carriers all lost money; there should be just one in Japan."
"What we have now is financial destruction within the industry," Zaninelli said. "The result will be common sense as some of the carriers go away or merge."
When Maersk began building massive 400-meter ships in 2011, other companies followed suit.
"It was monkey see, monkey do," Zaninelli said. "Everyone thought they needed bigger ships. Money was cheap, and they built beyond the global need.
They focused on volume, not revenue."
Operational costs to call on the likes of Portland no longer penciled out.
"Low transportation rates for goods does not create more shipments," he said. "It's not like dropping $50 on a cross continental flight to New York, which generates more travel."
The cost of shipping a television set across the Pacific dropped from roughly $3.25 to $2.50 last year.
"It means nothing to the cost of the TV or the number ordered," he said.
Ultimately, Zaninelli said, Portland suffered from the same issues as Baltimore or Wilmington, N.C., smaller ports too close to major ones.
"You can send 200 truckloads to Tacoma easily," he said. "It may cost a little more for the shipper, but when it costs $70,000 to $90,000 a day for a ship, plus fuel, it doesn't make sense to deliver 200 or 300 containers when it needs to handle 2,000 or 3,000."
He said bulk cargo ships, the kind grain exporters use, still make runs.
Oregon Shipping Group Director Kevin Mannix has called for port development in Coos Bay and Astoria, coupled with improved rail service.
What Zaninelli would like to see is expanded freight lines connecting Oregon to the Midwest.
"Right now," he said, "the railroads just want to run Chicago to Seattle and Chicago to LA."
Related Pages:
Shipping Authority Seeks to 'Adopt' Portland by Staff, Port Strategy, 5/12/16
Here's Why Portland Won't Get New Shipping Container Service Anytime Soon by James Cronin, Portland Business Journal, 5/9/16
---
Greg Stiles
Portland Shipping Woes Result of Global Shakeout
The Mail Tribune, May 25, 2016
---
See what you can learn
learn more on topics covered in the film
see the video
read the script
learn the songs
discussion forum