the film
forum
library
tutorial
contact

South Korean Shipping Company's Portland
Exit Will Affect Many Jobs, Businesses

by Associated Press
The Register-Guard, February 16, 2015
---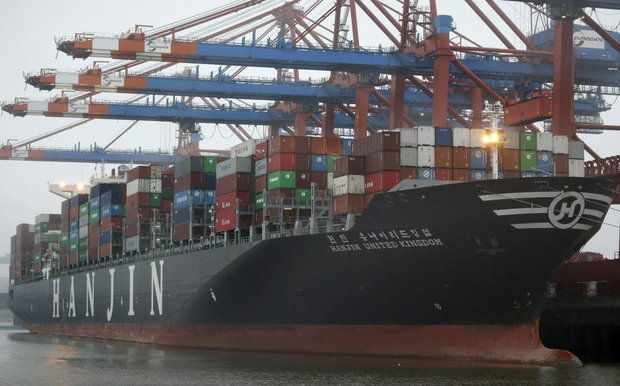 PORTLAND -- A South Korean shipping company that is the Port of Portland's largest container carrier will be terminating its service with the city, but it will continue to use rail and truck transportation, port officials said.
Hanjin Shipping notified the port and customers it will withdraw services on March 9, port spokesman Josh Thomas said last week. Hanjin handles nearly 80 percent of the container volume at the port's Terminal 6.
"It's something the port had worked very hard to avert," Thomas said.
Hanjin has had a presence in Portland since 1993. But its pullout wasn't a surprise. In recent years, the company has been unhappy about the pace of work among longshore workers and announced its intention to withdraw two years ago.
Since 2012, members of the International Longshore & Warehouse Union clashed with the Philippines-based company known as ICTSI that operates Terminal 6 for the port. Those labor troubles didn't help make the port more competitive, Thomas said.
Last year, Hanjin decided to stay, but the company said it would review productivity and costs.
A Hanjin official confirmed the latest decision by email.
"If you are in Portland you should know why. Can't afford the expense of operating there. Simple," said Mike Radak, senior vice president for Hanjin USA.
Because hundreds of exporters and importers use the terminal to transport goods to and from international markets, Hanjin's pullout will affect many jobs and businesses. Many of the area's largest shippers as well as exporters such as farmers depend on Hanjin's services.
Port officials said they're now working on the transition. The two remaining small container carriers -- Hapag-Lloyd, a German company, and Westwood Shipping -- will continue to serve the terminal and may be able to absorb some of the cargo, but in many cases they don't serve the same ports, Thomas said.
The port will try to attract another trans-Pacific carrier, he said, but in the meantime the costs for those sending cargo by rail or truck to or from Seattle will likely increase.
All other lines -- including autos, grain, mineral, steel, liquids -- won't be affected by Hanjin's announcement, the port said.
---
Associated Press is editor and publisher of Washington Manufacturing Alert and Pacific Northwest Rail News.
South Korean Shipping Company's Portland Exit Will Affect Many Jobs, Businesses
The Register-Guard, February 16, 2015
---
See what you can learn
learn more on topics covered in the film
see the video
read the script
learn the songs
discussion forum