---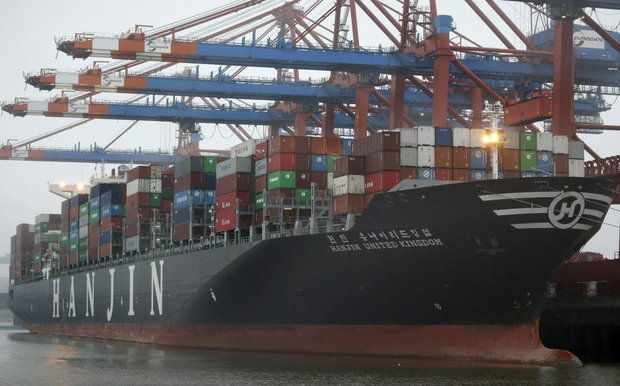 After percolating out of sight for months, contract talks between West Coast port operators and unionized longshore workers exploded into public view this week, raising the possibility that West Coast marine exports could be shut down as soon as next week. Vessel loading and unloading has been suspended for the weekend.
Early Friday afternoon, the Pacific Maritime Association, which represents operators of 29 West Coast ports including the Port of Portland, said it was suspending work this weekend because members can no longer afford to pay longshore workers "for diminished productivity." The association said the union has staged slowdowns that have crippled productivity at ports, drawing full paychecks while working at reduced speed.
The chief executive of the Pacific Maritime Association, Jim McKenna, made a final public offer to longshore workers Wednesday, blasting the union for causing "devastating slowdowns" that have brought West Coast ports to "the brink of collapse."
The president of the International Longshore and Warehouse Union, Robert McEllrath, called McKenna's statements "unnecessary and counterproductive." He said the two sides were close to reaching an agreement.
Josh Thomas, a spokesman for the Port of Portland, said Friday port officials are planning how to handle a lockout of or strike by longshore workers at the port. Because some port tenants don't use longshore labor and aren't party to the contract negotiations, port security officials are discussing how to operate and Mike Francis "neutral gates" where such tenants could enter and exit their facilities. He said the port's security force is prepared to coordinate with the Portland Police Bureau to monitor activities at the neutral and contested gates.
In Portland on Friday, the Hanjin Copenhagen container ship is at Terminal 6 in the Rivergate Industrial District, but longshore workers aren't loading or unloading cargo from the vessel. The longshore local informed ICTSI Oregon, which operates Terminal 6, it wouldn't work Friday because it was demonstrating a grievance over several recent incidents at the terminal, an ICTSI spokesman said. He said the notification came at 6:55 a.m., a little more than an hour before the workers' shift was to begin.
A shutdown would come as a serious blow to manufacturers and other exporters who ship goods overseas by ship. It would be particularly costly in the Portland area, where roughly one-fifth of the area's economy is generated by exports, according to a 2012 study by the Brookings Institution. Exports support 142,270 jobs in the Portland area, the study found.
Some shippers are preparing to shift exports from sea to air.
"A lot of the suppliers will stop putting any sort of inventory on a ship now," Neel Jones-Shah, president of JS Aviation Consulting and chief commercial officer for Los Angeles-based forwarder Able Freight, told Bloomberg News. "They know it's going to get stuck at sea for weeks before it gets unloaded."
Japanese carmakers including Honda Motor Co. and Fuji Heavy Industries Ltd.'s Subaru are already sending some parts to the U.S. by air to bypass the slowdown, Bloomberg reported.
---
Mike Francis
Port of Portland Shuts Down for Weekend
Oregonian, February 6, 2015
---
See what you can learn
learn more on topics covered in the film
see the video
read the script
learn the songs
discussion forum