---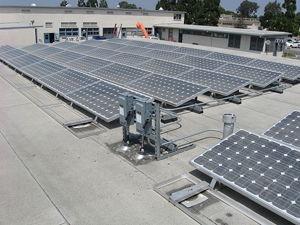 CARSON CITY -- The mighty sun appears to have hit the black hole of Nevada politics in the caustic dispute between NV Energy and the rooftop solar industry over the expansion of net metering.
Net metering, where residents who install rooftop solar systems receive a credit for excess electricity their systems generate and send to the grid, has been a political football for the past year.
Solar advocates won a skirmish last week when the state Public Utilities Commission voted to continue the existing net metering program for the next four months while a new tariff is finalized as directed by the state Legislature. The program had been capped at 235 megawatts, a limit that was reached earlier this month.
But the battle is far from over. And the issue has engulfed politicians -- from Gov. Brian Sandoval and U.S. Sen. Harry Reid to President Barack Obama -- as well as Berkshire Hathaway CEO Warren Buffett, owner of NV Energy, solar company executives and environmental groups.
Reid not shy about views
Reid said in a recent interview that he knows and respects Buffett but that NV Energy needs to embrace the new technology and not try to operate as if nothing has changed in the past century.
"I have not hidden my feelings about this," Reid said of the solar controversy. "I believe they have got to get with modern times. I think they have a monopolistic attitude there and it just won't work. They might as well do something now because they cannot stop consumers from having their own electricity produced."
Reid said the rooftop solar industry "got a lousy deal in the Legislature" when it failed to get an increase in the net metering cap.
Obama weighed in on behalf of rooftop solar as well during last week's visit to Las Vegas, announcing $1 billion in additional federal loan guarantees for renewable projects and another $10 billion in loan guarantees for distributed energy projects such as micro-power stations and rooftop solar arrays.
Although the president shares Reid's goals for rooftop solar, he didn't inject himself directly into in the Nevada dispute.
Sandoval has declined to engage on the issue publicly despite calls for him to do so by Reid and solar advocates, deferring instead to his three appointees on the commission. But he has pointed to his past record in support of net metering.
NV Energy officials say they don't oppose net metering.
"We support cost competitive renewable energy in all forms, and will continue to work with stakeholders through this interim period to ensure Nevada retains its leadership position in the development of renewable energy," the company said in a statement after last week's commission vote.
ClimateTruth.org, a grass-roots online organization that says it fights "climate change denial and disinformation," last week called on Buffett to stop his fight against rooftop solar and net metering in Nevada.
Brant Olson, campaign director for the group, said Buffett is fighting a war on rooftop solar in Nevada based on false pretenses.
"If Buffett wants to crush the Nevada solar industry, costing thousands of people jobs and slowing the fight against climate change, he should at least be honest about why that is. It's not because it will hurt nonsolar customers, it's because it will hurt his potential profits," Olson said.
The controversy seems out of proportion to the rooftop solar business in Nevada in at least one respect.
As of the end of last week, there were 9,884 net metering customers for Nevada Power and 1,679 customer for Sierra Pacific in Northern Nevada who were interconnected. This represents approximately 1.1 percent of Nevada Power customers and 0.5 percent of Sierra Pacific customers.
A lot of heat in Nevada
On one side is NV Energy, doing business as Nevada Power in Southern Nevada, which argues that solar customers in Nevada are being unfairly subsidized by other ratepayers for the electricity they generate.
The bottom line for the utility is that it costs about 4.4 cents per kilowatt-hour for the electricity it generates but rooftop solar customers are receiving 11.6 cents in credits. The new rate proposed paying rooftop solar generators 5.5 cents per kilowatt-hour. A kilowatt-hour is the amount of electrical energy consumed when 1,000 watts are used for one hour.
The proposal came in for criticism when NV Energy acknowledged a rooftop solar customer might actually end up paying more for energy than a regular customer under the proposed rate when the cost of a solar installation was included.
The Alliance for Solar Choice, a group of large solar companies, said the proposed tariff would mean the elimination of their industry and its 6,000 Nevada jobs.
Solar industry officials argue that rather than a subsidy, rooftop solar customers who will soon be generating 235 megawatts of electricity in Nevada are providing green energy without requiring the utility to build costly power plants to keep up with demand.
Rooftop solar requires no water and would help Nevada meet new carbon emission standards set by the Environmental Protection Agency.
Cost versus benefit
A study done for the Public Utilities Commission in 2014 found that there were no significant costs going forward to nonparticipating ratepayers from homeowners who install their own rooftop solar systems to reduce their power bills.
"Overall, we do not estimate a substantial cost shift to nonparticipants due to (net metering) going forward given the current and proposed reforms to the program," the study by San Francisco-based Energy + Environmental Economics (E3) said.
NV Energy disputed the findings in the report but it was adopted by the commission as submitted.
Last week, Fred Voltz of Carson City, a frequent visitor to commission meetings, opposed the interim decision to continue the existing program, arguing it will create unreasonable expectations that the "liberal subsidies" will continue for rooftop solar customers.
"If a relative handful of utility customers wish to pay the full cost of solar, that is their prerogative," he said. "But for this small group to expect permanent subsidies for the initial installation and buy-back of their excess energy at retail rates is unreasonable and unjust."
The initial analysis of whether net metering customers should be placed in a separate rate class was first sought last year by the attorney general's Consumer Protection Bureau.
The Sierra Club opposed the review, saying, "the assertion that net metering customers are unfairly burdening other customers is often put forward by utilities or other interests seeking to undermine the growth of distributed generation, and it is an argument that is usually either untrue or severely overstated."
While the petition by the Consumer Protection Bureau did not say that net metering customers should be charged higher rates, it has in past filings made statements that net metering customers should pay higher fixed charges, the environmental group said.
Legislators punt on net metering
The net metering report was forwarded to the 2015 Nevada Legislature by the commission.
Rooftop solar groups tried without success to increase the net metering cap from the current 3 percent, which was translated into the 235 megawatt figure, in the 2015 session.
Instead, lawmakers sent the issue back to the commission, comprised of three Sandoval appointees.
The fight in the Legislature was high stakes.
The secretary of state's campaign reporting search engine shows that NV Energy made about $182,000 in contributions to 39 of the 63 members of the 2015 Legislature and associated parties and political action committees in the 2014 election cycle, not counting contributions to failed candidates.
Solar companies also made significant contributions. SolarCity contributed $100,000, much of it to legislative candidates and Sandoval, in the 2014 election cycle.
NV Energy won the legislative fight but the battle continues.
---
Sean Whaley
Obama Joins the Nevada Political Fray Over Rooftop Solar Energy
Las Vegas Review-Journal, August 30, 2015
---
See what you can learn
learn more on topics covered in the film
see the video
read the script
learn the songs
discussion forum