---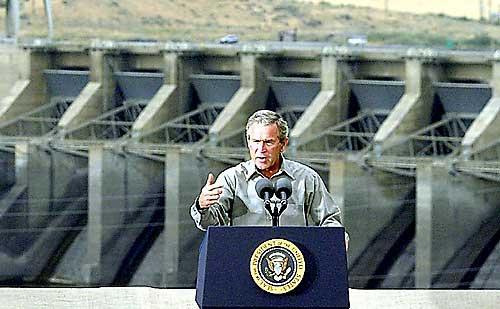 Remember when George Bush stood at Ice Harbor Dam and told Pacific Northwest residents he wouldn't remove dams to save salmon?
The second biological open released by his administration came out this week and he has stood by his pledge. The federal officials who work for him also believe they have done what is necessary to protect and restore salmon.
Bob Lohn, Pacific Northwest director of the National Marine Fisheries Service, was rightly proud of his agency's effort to look at each of the 13 salmon and steelhead populations in the Columbia Basin and determine the limiting factors for each. We have to wait until independent scientists and fisheries biologists from the states and the tribes grade his agency's work.
But just looking at the challenges of individual populations will help the region focus on the individual problems. He talked about sockeye salmon, which he described as "functionally extinct." So few fish have returned really since the 1970s that the Snake River sockeye may be so weakened genetically that even clearing the mainstem passage to the Pacific won't restore the hardy stock of sockeye that was able to swim 900 miles, climb 6,500 feet.
He also talked about the Upper Columbia steelhead, which also suffers genetic problems. Years of releasing hatchery-raised coastal steelhead stocks into the rivers with the native steelhead, has slowly wiped away the traits that allowed the native Upper Columbia steelhead to thrive.
Dams remain the major limiting factor for Snake River spring-summer Chinook, fall Chinook and Snake River steelhead. Lohn and his team say the measures they are taking are enough to put Idaho's fish on the road to recovery. But opponents are skeptical.
Scientists like salmon guru Don Chapman of Eagle , who long opposed breaching, say removing the four Snake River dams in Washington may be the only way to preserve those fish who spawn in the best protected habitat left in the region.
The problem Lohn and Bush face is that if they believe sockeye is functionally extinct, the Endangered Species Act dictates that they should organize an Endangered Species Committee, made up of scientists cabinet members and others to acknowledge that fact and accept the reality that the building of the dams on the Columbia and Snake Rivers sent the sockeye into extinction.
Unfortunately, that would mean admitting that Bush didn't keep his pledge.
We might see a Republican candidate make the same promise that Bush did. It remains good politics for Republicans in the region and why not? With climate change, electric energy sources that produce less carbon are even more valuable.
Not a single sitting governor or senator from either party supports breaching the four dams. As long as that's the case it's unlikely a Democrat will join environmentalists, Indians, fishermen and salmon-dependent communities and businesses in calling for breaching the four Snake River dams. Al Gore was unwilling to take that stand in 2000, so was John Kerry in 2004.
But environmentalists can dream.
Imagine Barack Obama, who opened an office in Boise Thursday, standing on Ice Harbor Dam. At his side would be dam breaching advocates former Oregon Gov. John Kitzhaber and former Interior Secretary Bruce Babbitt.
"Neither George Bush nor Mrs. Clinton's husband had the courage to do what it takes to save Snake River salmon and help the Northwest get free of this issue," He would say using his current rhetorical theme. "I do.
"Mr. President, take down these dams."
But then, what if he lost?
Related Pages:
The opinions and supporting documents are available here.
Idaho's Sockeye: FCRPS Biological Opinion NOAA Fisheries' Executive Summary, 10/31/7
---
Rocky Barker
Don't Expect Any Surprises in Salmon and Dam Politics in 2008
Idaho Statesman, November 2, 2007
---
See what you can learn
learn more on topics covered in the film
see the video
read the script
learn the songs
discussion forum