the film
forum
library
tutorial
contact

First Public Comments on
Columbia River Plan Reveal Dissent

by Shannon Dininny, Associated Press
Seattle Post-Intelligencer, July 15, 2006
---
Upcoming documentary tells complex story of 20th Century decisions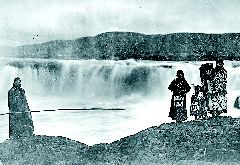 YAKIMA, Wash. -- When it was signed into law earlier this year, a new management plan for the Columbia River was hailed as a way to begin resolving the long-simmering dispute over water rights and threatened fish in Washington state's vital river system.
If 120 pages of public comments are any indication, the sides still have much to settle.
Irrigators and municipalities want new water rights by July 1, 2007. Conservation groups want a thorough environmental review of any project that could result in new water rights. And one tribe reserved the right to sue to remedy any disputes arising from the plan.
"The recent state legislation was enacted by excluding the senior right holders, and as such, appears to be not so much a management plan as a loosely connected patchwork of special interest loopholes," wrote Phil Rigdon, deputy director of the Yakama Nation Department of Natural Resources.
Wading through the comments are officials with the state Department of Ecology, which is charged with implementing the plan. Phase one: Develop an environmental impact statement that includes dozens of conflicting opinions and ideas submitted during a 30-day public comment period.
The management plan was a policy decision by the Legislature to address the health of the river and its salmon while still getting water to those who need it, said Gerry O'Keefe, Ecology's project manager. Gathering public comment is a crucial part of the process, he said.
"There's a lot of people in Eastern Washington who care very much about how this happens," he said. "There's a lot to learn here. It's a big job, and we don't have all the answers."
The new law seeks to make more water available by increasing storage in new reservoirs. It also allows the state to sign regional agreements with communities or other groups seeking new water rights in the near-term in exchange for mitigation efforts to preserve stream flows.
Several conservation groups raised concerns about plans for storage, noting that water storage often means construction of new dams. Hydroelectric dams on the Columbia River have been blamed for declining salmon runs.
"The Columbia suffers from significant environmental problems associated with existing dams and reservoirs. Wouldn't it be better to solve these problems before adding more into the mix?" wrote Beckett Stanley and John Osborne, conservation chairs for the Sierra Club's Cascades and Northern Rockies chapters.
Rachael Paschal Osborn, executive director of the Columbia Institute for Water Policy, cautioned the state against taking an inventory of water supply and demand without including neighbors that have a stake in the talks, such as Canada, Idaho, Oregon and American Indian tribes.
On the flip side, several groups representing irrigators and agricultural interests raised concerns that the environmental review could impede or stall efforts to get new water rights.
The Association of Washington Business urged the state to promptly proceed with new water storage studies so that construction can begin in the next few years.
Some programs should be implemented with or without the EIS process "so that new Columbia-Snake river system water rights are issued by July 1, 2007," wrote Darryll Olsen of the Columbia-Snake River Irrigators Association.
Is July 1, 2007, feasible? Are dams among the solutions? No one knows.
The process is intended to gather everyone's ideas about what an environmental review should entail and to ensure that no one is left out, said Derek Sandison, Central Washington regional director for the state Department of Ecology.
Some recommendations are already under way by the state, he said. They include work to better understand the connection between groundwater and surface water throughout the basin, and an assessment of demand and supply.
Some environmental and tribal groups cried foul immediately after lawmakers approved the management plan, saying the law wasn't built in a public process. The plan resulted from weeks of closed-door negotiations involving lawmakers from both parties and interest groups representing the environmental community, irrigators and farmers.
But the plan that lawmakers approved didn't come from nowhere, O'Keefe said. Rather, it was the result of four years of negotiations and discussion, he said.
In the meantime, state officials continue to discuss Columbia River management issues through existing channels, such as the Northwest Power Planning and Conservation Council, and is working to avoid any appearance that the program has been built in a piecemeal approach, Sandison said.
The Ecology Department also is inviting representatives of competing water interests - tribes, municipalities, environmental and agricultural groups, as well as neighboring states - to participate in a task force about the program going forward.
"It's a big basin. Connecting the dots for people is really important, and there really hasn't been a place at the state level for the Yakama Nation, for example, to talk to Columbia River irrigators," O'Keefe said. "We really need to make sure that we are plugging into the federal government, tribal governments and others to make sure that we are getting all the information to make good decisions."
Related Sites:
The Columbia River management plan
---
Shannon Dininny, staff writer
First Public Comments on Columbia River Plan Reveal Dissent
Seattle Post-Intelligencer, July 15, 2006
---
See what you can learn
learn more on topics covered in the film
see the video
read the script
learn the songs
discussion forum