---
225,000 Fish Caught, Top Angler Earns $119,000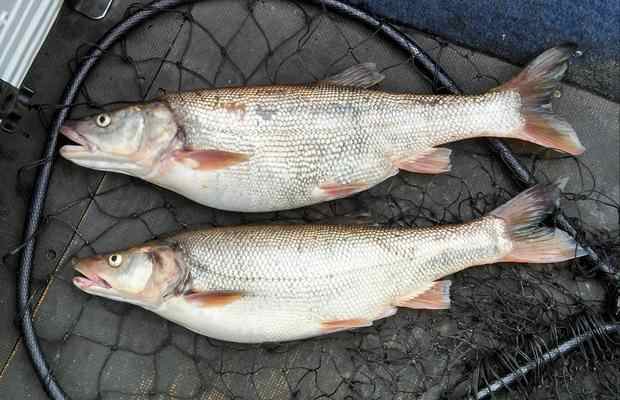 More than 225,000 Northern Pikeminnow were caught this year as part of a program that rewards anglers for each predatory fish they catch.
The Bonneville Power Administration's Northern Pikeminnow Sport Reward program is designed to control one of salmon and steelhead's most persistent predators in the Columbia River and this was one of the better years, according to Steve Williams, the pikeminnow program manager with Pacific States Marine Fisheries Commission.
"I think this was a very successful year," he said. "We hope to exploit the population (of pikeminnow) by 10 to 20 percent per year and so far this year we're at about 11 percent."
Some 225,226 pikeminnow were caught and turned in for a reward by anglers during the May to end of September season, he said, although not all of the pikeminnow vouchers (the tags given to anglers as they turn in their catch) have been turned in. Anglers have until November 15 to turn in the vouchers.
To this point, the sport reward program has given $1,767,526 in payments to anglers, with the largest payment to one angler at $119,341 for catching 14,019 pikeminnow. Of the top 20 anglers in 2016, this angler (Williams wouldn't give out his name) received twice the amount as the second place participant in the program, who received $55,245 and caught 6,625 fish this year. The angler in 20th place caught 2,274 fish and was rewarded $18,469 for his effort.
"Sometimes the guy (speaking of the top angler) will fish six days a week," Williams said. "He really works at it."
Overall, the program to remove pikeminnow from the Columbia River costs BPA $3 to $4 million each year. It is a cooperative project of PSMFC, the Washington Department of Fish and Wildlife and the Oregon Department of Fish and Wildlife. WDFW operates the 19 check stations and ODFW does the biological research, exploitation evaluations and tagging of a certain number of pikeminnow each year.
It was such a big year that PSMFC approached the Northwest Power and Conservation Council in mid-September for more money, asking $350,000 of Budget Oversight Group emergency funding just to be able to finish the normal season and pay the anglers. The Council approved the expenditure, although not without some debate.
(See CBB, September 16, 2016, "Council Approves Emergency Funds To Cover Shortfall For Pikeminnow Fishing Rewards Program")
Still, it was not a record year. That was in 2004 when 267,215 pikeminnow were caught. Last year 200,215 were caught and in 2014 the tally was 164,058. Some 162,079 were caught in 2013, 157,846 in 2012, and 155,057 in 2011.
The objective of the Northern Pikeminnow Sport Reward program that began in 1991 is to pay recreational anglers to catch and remove the pikeminnow in order to reduce predation on salmon and steelhead, many of which are listed under the federal Endangered Species Act.
Based on 1983 – 1986 research in the John Day reservoir, pikeminnow accounted for up to 80 percent of predation on salmonids. The conclusion is that the removal of 10 to 20 percent of predatory size pikeminnow could result in up to a 50 percent reduction in predation.
That exploitation rate is not met every year. Last year's exploitation rate was 17.2 percent; 2014 was 11.5; 10.8 in 2013; 15.9 in 2012; 15.6 in 2011; and 18.8 in 2010. Anglers have failed to reach 10 percent in just two years – 8.1 percent in 1993 and 9.6 percent in 1997.
The program had been in a downward spiral for some years, with fewer anglers participating and fewer fish caught, Williams had told the Council in September. Angler registration had declined from 6,490 anglers in 2002 to 2,618 in 2013, a number that alarmed the program managers enough to change the pricing structure of payments to anglers in 2015 and step up the amount of marketing for the program.
The first tier of pricing for catches up to 25 fish is now $4: it was $3. The second tier for catches 26 to 200 is $5, up from $4. The highest tier for catches over 200 remained the same at $8. For tagged fish – ODFW tags some pikeminnow each year – anglers receive $50.
The pricing changes were designed to attract new anglers, Roberts told the Council. The number of anglers in 2014 was 2,773 and that number increased to 3,210 last year. It has remained steady at about 3,000 this year.
The area where anglers catch the most pikeminnow is just downstream of The Dalles Dam, where 41,482 fish were caught this year, Williams said. Other areas of high catch are the Yakima River at its mouth with the Columbia River near the Tri-Cities in Washington (37,320), downstream of Lower Granite Dam on the Snake River (15,811) and often in the lower river as far downstream as Cathlamet (12,734 fish) and Kalama (7,299 fish) in Washington, and Rainier, Oregon (8,641).
For information about the Northern Pikeminnow Sport Reward Program, including how to catch the fish and how to register as a participant, as well as data about catch, see www.pikeminnow.org
---
Staff
Pikeminnow Sport Reward Program Successful This Year
Columbia Basin Bulletin, November 4, 2016
---
See what you can learn
learn more on topics covered in the film
see the video
read the script
learn the songs
discussion forum