---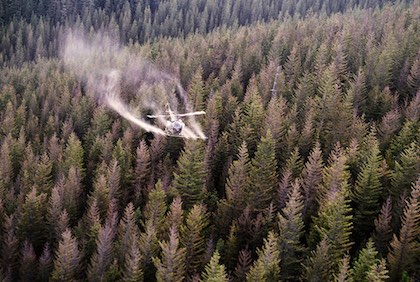 SEATTLE -- A trio of widely-used pesticides threatens Northwest salmon and the orca that rely on them, even with these species on the brink of extinction.
That's according to a biological opinion from the National Oceanic and Atmospheric Administration's fisheries office that the environmental law firm Earthjustice unveiled this week.
The document is part of a 2017 court deadline requiring NOAA Fisheries to determine the threat these agricultural pesticides pose to salmon.
Glen Spain is Northwest regional director of the Pacific Coast Federation of Fishermen's Associations, which has been pushing back against the Environmental Protection Agency on the use of pesticides near rivers since a 2002 lawsuit.
"We require that our rivers, basically, are clean and that the salmon runs are healthy in order to survive as an industry," says Spain. "And the idea of putting more and more toxic chemicals in our rivers without any analysis is appalling."
The report finds even low levels of runoff from these three pesticides -- chlorpyrifos, malathion and diazinon -- can cause abnormal development and impair the salmon's ability to swim. The document suggests prohibiting the use of these pesticides near salmon habitat.
The Environmental Protection Agency asked for a two-year extension on the deadline for this biological opinion at the request of Dow Chemical, but that request was not granted. Spain believes the EPA is not doing its job to protect the environment, which hurts Northwest fishers.
"This administration is very gung ho on talking about jobs and economic impacts," he says. "There is a huge economic impact on our industry, not to mention on the public health, of having rivers full of toxic chemicals that have been poorly tested or not tested at all, and for which there are very simple solutions: to not put them in there in the first place."
The EPA proposed to ban chlorpyrifos' use two years ago because of its harmful effects on children and workers who use the product. But the agency changed course when the Trump administration took over. EPA Chief Scott Pruitt says the agency will postpone a final decision on the pesticide until 2022.

---
Eric Tegethoff
NOAA says Pesticides Killing Northwest Salmon, Orca <-- Listen to story at original site.
Public News Service, January 12, 2018
---
See what you can learn
learn more on topics covered in the film
see the video
read the script
learn the songs
discussion forum