the film
forum
library
tutorial
contact

Columbia River Anglers may Find Relief Soon as
NOAA Authorizes Permanent Removal of Sea Lions

by Mark Yuasa
Seattle Times, March 15, 2012
---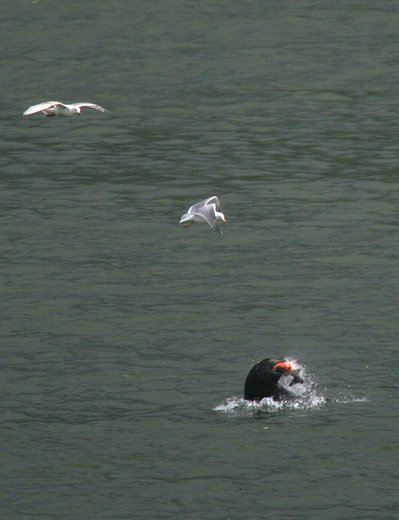 For many years anglers on the Columbia River have dealt with pesky sea lions not only swiping fish from their hooks, but have also seen a dramatic decline in many migrating fish stocks.
Now NOAA's Fisheries Service said today it was authorizing Idaho, Oregon and Washington to permanently remove the specific California sea lions eating the imperiled salmon and steelhead that congregate below Bonneville Dam as they head up the Columbia River to spawn.
The authorization becomes effective on March 20 and stays in effect until the end of May 2016.
The agency has authorized the states to remove up to 92 animals annually, but estimates that far fewer, about 25 to 30, will be taken each year, given the conditions in the authorization.
Under the Marine Mammal Protection Act, states can request permission to kill individually identifiable California sea lions or seals that are having a "significant negative impact" on at-risk salmon and steelhead, and NOAA's Fisheries Service can grant that permission if certain legal standards are met.
California sea lions capturing salmon just below the Columbia River's Bonneville Dam.
Leaders of the Columbia River Inter-Tribal Fish Commission's member tribes expressed support for NOAA's decision.
"We applaud the states for taking swift action in their application and NOAA for their authorization," Paul Lumley, executive director for the Columbia River Inter-Tribal Fish Commission said in a news release. "The tribes have always recognized that there is a balance between salmon and sea lions that needs to be managed. NOAA's decision takes an important step in restoring that balance."
Predation by California Sea Lions on threatened and endangered salmon populations at Bonneville Dam has been a concern of the tribes since 2002 when 31 sea lions arrived at the dam to feast on the salmon before they could ascend the fish ladders.
Sea lions' total kill of salmon has reached levels that demanded management actions. Biologists estimate that sea lions eat 16%-20% of the salmon between the river mouth and Bonneville Dam.
The 2012 spring chinook run is forecast at 314,200.
With this kind of run size, sea lions may consume 50,000 to 60,000 spring salmon from the Columbia River. Minimum predation estimates used in the permit are based only on the daytime feeding that is directly observed from Bonneville Dam itself.
---
Mark Yuasa
Columbia River Anglers may Find Relief Soon as NOAA Authorizes Permanent Removal of Sea Lions
Seattle Times, March 15, 2012
---
See what you can learn
learn more on topics covered in the film
see the video
read the script
learn the songs
discussion forum