the film
forum
library
tutorial
contact

Eagles, Gulls, Terns, Salmon/Steelhead; Corps
Considers Ways to Manage Estuary's Predation Dynamics

by Staff
Columbia Basin Bulletin, April 26, 2013
---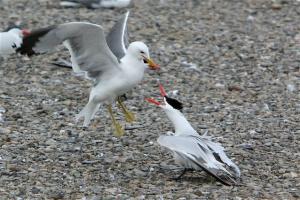 Protections from egg-gobbling gulls could soon be in place for Caspian terns, a bird species long managed to reduce their predation on juvenile salmon and steelhead that stream through the Columbia River estuary.
Those protections for terns could include hazing of the gulls and/or their lethal removal.
For the last three nesting seasons (2010-2012) productivity for the tern colony on East Sand Island has been at an all-time low. In 2011 the colony did not produce a single fledgling.
The loss of productivity is attributed primarily to glaucous-winged/western gulls, a hybrid species that also lives on the island near the river's mouth at the Pacific Ocean.
More common during recent years are events observed by researchers where bald eagles flush terns from their nests and the gulls swoop in to consume tern eggs and chicks.
The U.S. Army Corps of Engineers on Thursday issued a draft Environmental Assessment for adaptively managing that gull predation on Caspian terns at East Sand, which has over the past 10 years been the location each spring and summer of what is believed to the biggest Caspian tern nesting colony in the world. The Corps is seeking comments on the draft National Environmental Policy Act document.
Resource managers are concerned the terns may abandon the colony and seek new habitat for nesting on nearby islands (Rice Island and Miller Sands Spit) in the lower Columbia River Estuary where consumption of juvenile salmon would be greater. Many of the salmon and steelhead species passing through the estuary are protected under the Endangered Species Act.
The Corps has since the 1990s directed research, monitoring and management of Caspian terns on islands the Corps owns and/or uses to dispose of dredged material in the Columbia River estuary. In 1999, the Corps began a project to socially attract the terns, using decoys and playing pre-recorded callbacks, away from Rice Island to East Sand Island, which also is owned and managed by the Corps.
The relocation, which was successful, was intended to reduce tern consumption on salmon by placing them nearer the ocean, where marine forage fish are more plentiful and provide the birds alternative prey.
Early studies indicated their consumption of juvenile salmonids was nearly two times higher at Rice Island when compared to a similar number of birds nesting on East Sand Island.
Meanwhile, as a result of a 2002 legal settlement, the Corps, NOAA Fisheries and U.S. Fish and Wildlife Service developed a plan to further reduce predation on salmon by relocating as much as 60 percent of the East Sand tern colony to sites outside the Columbia River estuary. In addition to reducing predation on salmon, it is believed dispersing the birds to more, smaller colonies would help avoid a catastrophic loss should disease or other perils strike the large colony.
NOAA Fisheries is charged with protecting listed salmon stocks, and the USFWS has obligations under the Migratory Bird Protection Act.
In the document released this week the Corps is considering actions to reduce that predation on terns at East Sand.
The draft EA identifies as the "proposed action" a strategy that would rely on a combination of non-lethal and lethal methods to haze gulls away from the Caspian tern colony to prevent/minimize depredation on tern eggs and chicks.
"Decoys would be placed on the colony to socially attract the terns back to the colony and reduce the time they spend away from their nests and chicks. This alternative would allow personnel currently monitoring the colony to haze gulls with green laser lights, dispersing the gulls away from the colony before they begin depredating on Caspian tern eggs and chicks.
"Lethal removal of up to 150 glaucous-winged/western gulls would occur from between mid-May to no later than June 15th. Gulls would be shot on the Caspian tern colony should the frequency and intensity of bald eagle disturbance be such that it causes substantial egg consumption and chick mortality from glaucous-winged/western gulls, and the colony is at a risk of failure commensurate with the past three years (see Figure 3 above).
"Removal of gulls would be limited to those individuals observed to have depredated on tern eggs and/or those individuals that display predatory behavior," the preferred alternative says. "Shooters would use high-powered pellet guns with non-toxic pellets. Glaucous-winged/western gull carcasses may be collected if opportunities present themselves, typically at times when the colony is absent from disturbance events. Upon collection and if opportunity presents itself, carcasses would be used to create effigies (carcasses put on stakes) on the colony.
The proposed action, which the Corps hopes to implement this year, would require approval from the USFWS of a migratory bird depredation permit prior to the lethal removal and approval for use of toxic shot and non-standard disposition of carcasses."
The draft EA also includes a no action alternative and one that would involve increase hazing efforts on Rice Island and Miller Sands Spit to discourage Caspian tern nesting at those sites.
The draft EA is available for public review and comment under the "Announcements" tab at www.nwp.usace.army.mil
Questions or comments regarding the draft EA should be directed to Elisa Carlsen, Environmental Resources Branch via email at Elisa.Carlsen@usace.army.mil, or mailed to the address below. Mailed comments regarding this notice must be postmarked by May 4, 2013 and sent to:
District Engineer
U.S. Army Corps of Engineers, Portland District
Attn: CENWP-PM-E/Elisa Carlsen
P.O. Box 2946
Portland, Oregon 97208-2946

Responses should refer to the public notice number CENWP-PM-E-04-24-2013 and include the public notice title and date.
Related Pages
Bald Eagles' Predation Decimates Columbia's Salmon-Eating Tern Colony; Cormorants Also Hit Hard by Staff Columbia Basin Bulletin, 6/10/11
---
Staff
Eagles, Gulls, Terns, Salmon/Steelhead; Corps Considers Ways to Manage Estuary's Predation Dynamics
Columbia Basin Bulletin, April 26, 2013
---
See what you can learn
learn more on topics covered in the film
see the video
read the script
learn the songs
discussion forum