---
Will Allocate Generators' Costs Based on Use of Transmission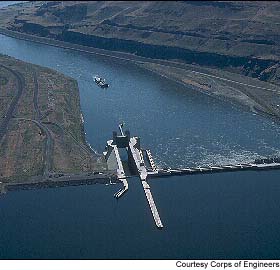 After a lengthy rate proceeding, BPA officials have decided to allocate oversupply costs to generators within its balancing authority area based on their scheduled use of transmission during oversupply events.
The costs occur when BPA uses its Oversupply Management Protocol to displace generation in its balancing authority area with federal hydropower and compensates generators for certain costs related to the displacement.
The release of the final record of decision March 27 concluded the formal rate proceeding, which began in November 2012. BPA will submit the rate to the Federal Energy Regulatory Commission for approval. The rate, which will be effective through the fiscal year 2014-2015 rate period, also will recover the costs incurred since 2012, when BPA established the protocol.
In 2012, the agency incurred $2.7 million in displacement costs. BPA did not have to implement the oversupply protocol in 2013.
BPA officials say there are many perspectives on who should pay the costs of oversupply.
One argument is that the costs are caused by BPA's fish and wildlife obligations and the inability to sell excess power, and that these costs must be borne by power customers.
Others argue that, because BPA didn't incur these costs when it managed high water occurrences before open access and the influx of wind energy, the displacement cost should be borne by wind generators or transmission customers.
Another view is that the displacement costs are caused by both BPA's fish and wildlife obligations and its integration of significant amounts of new wind generation that will not voluntarily curtail for zero-priced power.
"I understand and respect the perspectives of the many parties to this case," said Administrator Elliot Mainzer in his preface to the record of decision. "I have taken into account all of their submissions, including those filed in response to the draft record of decision. I have selected an alternative that I believe is consistent with our multiple statutory responsibilities, is rooted in the basic principles of cost causation and fairness that underlie BPA's rate directives, and reflects the guidance we have received from FERC."
All generators on line in BPA's balancing authority area during oversupply contribute to the costs of displacement. Therefore, BPA says it is reasonable to allocate costs to those generators on line during oversupply events proportional to their scheduled generation, which represents their contribution to the magnitude of the event.
This methodology, suggest BPA, could also encourage generators to minimize generation during oversupply events, increasing BPA's ability to dispose of excess federal hydropower.
While oversupply is most likely to occur during the spring runoff, the need to implement the Oversupply Management Protocol depends on a combination of factors, such as the shape of the runoff and the demand for power in California.
BPA says it will monitor forecasts throughout the spring and manage oversupply conditions with the most operationally feasible and cost effective means available. If oversupply conditions appear imminent, BPA will host a Spring Operations Forum conference call, which gives generators the opportunity to learn about the potential for oversupply as well as the steps BPA is taking to mitigate the risk of implementing the Oversupply Management Protocol.
BPA says it is committed to mitigating oversupply by first taking other available actions, such as marketing strategies that allow BPA to shift generation out of light-load hours (10 p.m. to 6 a.m.) into hours when there is greater demand for power. BPA uses the protocol only as a last resort to balance energy supply and demand, and reduce the amount of total dissolved gas in the river to protect fish and other aquatic species.
"To me, the oversupply issue has been somewhat disheartening," Mainzer stated, "because it pits two clean energy resources -- hydro and wind -- and their respective interests against each other at a time when we should be working collaboratively to find ways to better leverage and harmonize our zero-carbon resources."
Mainzer said he looks forward to working with regional interests to identify a long-term solution to the oversupply issue that enables the region's zero-carbon hydro and wind energy resources to operate together more harmoniously.
PA established the Oversupply Management Protocol to reconcile several objectives: to preserve reliability of the electric system; protect aquatic species, including threatened and endangered salmon; and continue the commitment to supporting renewable resource development. Compensating renewable generators for energy that is displaced with federal hydropower under the protocol allows BPA to meet those objectives.
The protocol is also an important tool to limit cost exposure to the displaced generators' actual costs, rather than subjecting ratepayers to a potentially volatile negative market. Under the protocol, the agency reimburses renewable generators within its balancing authority area only for payments they would otherwise receive for producing power, including (1) production tax credits, (2) renewable energy credits unbundled from the sale of energy, and (3) losses with respect to contracts executed before March 6, 2012, for the bundled sales of renewable energy credits and energy. In addition, renewable generators must provide auditable cost information, and are displaced in order of least cost.
The record of decision is posted at www.bpa.gov/goto/OS14
---
Staff
BPA Issues Decision on Oversupply Rate; Will Allocate Generators' Costs Based on Use of Transmission
Columbia Basin Bulletin, April 4, 2014
---
See what you can learn
learn more on topics covered in the film
see the video
read the script
learn the songs
discussion forum