the film
forum
library
tutorial
contact

Oregon and Idaho Officials are Squabbling Over
Salmon and Steelhead in Snake River Tributaries

by Editorial Board
Baker City Herald, December 21, 2016
---
Idaho Power's original 50-year license expired in 2005, and the company has operated on annual licenses since.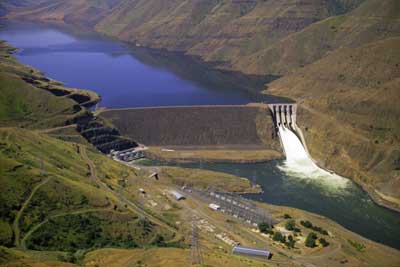 Oregon and Idaho officials are squabbling over salmon and steelhead in Snake River tributaries, and we urge the federal officials who will settle this dispute to give precedence to Oregon's legal claims.
The issue, to be more specific, has to do not with the fish themselves, but rather with their absence.
Since Idaho Power Company built its three hydroelectric dams in Hells Canyon in the 1950s and 1960s -- Hells Canyon, Oxbow and Brownlee -- anadromous fish have been blocked from migrating upstream because the dams lack fish ladders.
After Idaho Power's proposed alternative -- trapping fish and trucking them upriver above Brownlee Dam -- failed because young fish migrating back downriver could not navigate the 53 miles of slack water of Brownlee Reservoir. Instead the company in effect transplanted the fish runs to the Salmon River in Idaho by trapping returning fish and rearing their offspring in hatcheries.
The issue might have seemed long since settled, since the three dams obviously remain in place.
But over the years, and particularly since Idaho Power applied more than a decade ago with the Federal Energy Regulatory Commission (FERC) for a new long-term license for the three dams, various groups have urged FERC to include in the company's new license a requirement that it abide by the terms of its original license and ensure anadromous fish runs continue upriver of the Hells Canyon Complex.
(Idaho Power's original 50-year license expired in 2005, and the company has operated on annual licenses since.)
Environmental groups and Native American tribes, for instance, have argued that Idaho Power can afford to restore salmon and steelhead runs.
But the Oregon-Idaho battle brings to bear the greater resources of a state government. Oregon law requires fish passage, whether by fish ladders or, as Idaho Power does now at Hells Canyon Dam, by trapping anadromous fish, rearing their offspring in hatcheries, and then releasing the young fish below that dam. But there are no fish runs in Oregon tributaries above Hells Canyon Dam.
Idaho law, by contrast, prohibits reintroducing endangered species -- which would include some Snake River salmon and steelhead runs -- in Idaho waters without consent of the state's lawmakers and its governor. To that end, Idaho Gov. Butch Otter wrote in a letter to Oregon Gov. Kate Brown that Idaho "cannot and will not, agree to the reintroduction of salmon or steelhead above Hells Canyon Dam."
Oregon is not demanding immediate action. Rather, the state is proposing to give Idaho Power 13 years to study the feasibility of reintroducing anadromous fish into Pine Creek, a Snake River tributary near Halfway.
We think that study should be included in Idaho Power's new federal license. Anadromous fish are a vital part of Baker County's past -- Salmon Creek west of town didn't get its name by coincidence -- and they could be in the future as well.
We understand, of course, that other, non-Idaho Power dams on the Powder and Burnt rivers also lack fish ladders and limit the potential for reintroduction of these historic runs.
In addition, habitat conditions in many of the Snake's tributaries, including again the Powder and Burnt rivers, are marginal at best for anadromous fish -- warm water during the summer being among the more common, and for fish potentially lethal, factors.
Still and all, we think it's unreasonable to allow Idaho's ban on reintroducing endangered species to dictate the terms of the new license for Idaho Power, which, after all, is responsible for the blockage of these fish runs.
Idaho needn't participate in any experimental reintroductions. But if Oregon wants to mandate that Idaho Power at least try to reverse some of the effects its dams have wrought over the past half century, we think the state should be able to include that work as part of the license that allows Idaho Power to continue turning the Snake River's mighty flow into immensely valuable megawatts.

---
Editorial Board
Oregon and Idaho Officials are Squabbling Over Salmon and Steelhead in Snake River Tributaries
Baker City Herald, December 21, 2016
---
See what you can learn
learn more on topics covered in the film
see the video
read the script
learn the songs
discussion forum