---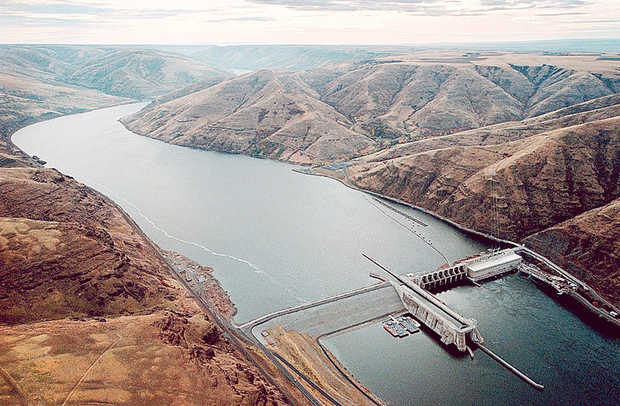 Washington Gov. Jay Inslee has proposed spending $750,000 to study the removal of four dams on the Snake River to provide more salmon for the orca pods that seasonally forage off our coast.
Upon reading data from the Wikipedia free encyclopedia: The four dams of the lower Snake River have an electricity capacity of 3,155 megawatts. The replacement of that generating capacity would take about 1,434 of the latest technology 2.2 megawatt wind mills to replace the carbon-free electricity.
It is estimated that the recent cost of installing these wind mills is about $4.6 million each. The total cost would be about $6.596 billion in cost of electricity. Not counting the cost of removing the dams and the loss of river transportation.
This would not reduce global warming one iota and may actually increase it because wind mills need some back-up source when the wind is not blowing.
There is also concern where these 1,434 wind mills could be built. We do not want them near our back yard! There is also concern about them affecting sage grouse and other endangered birds and animals. They cannot be built within 70 miles of the coast because of the endangered marbled murrelet.
Then the real question: Would removing the four dams really increase the number of salmon? Or just for the California sea lions? Even then would it really help the orcas?
Maybe it would be better to just ban salmon and steelhead fishing for about 20-plus years and see if that works.
However, then the fishermen would probably trade their fishing vests for fluorescent (riot vests) like the French and storm the capitol.

---
Kelly C. Niemi, Kelso, Wash.
Gov. Inslee's Orca Plan
Capital Press, February 4, 2019
---
See what you can learn
learn more on topics covered in the film
see the video
read the script
learn the songs
discussion forum