---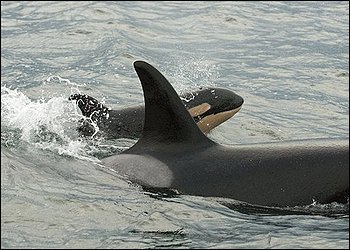 SEATTLE -- A little over a year after researchers feared a drop in the Northwest's endangered killer whale population meant disaster, the number of orcas has bounced back with six new babies and no whales lost.
Though scientific evidence is skimpy, some whale experts say the good news might be the result of enough salmon for the majestic black-and-white mammals to eat. Others say so little is known about orcas that the baby boom could be due to any number of factors - or simply a statistical fluke.
Whatever the reason, they're overjoyed about the new arrivals.
"We're all very happy to see so many births," said Susan Berta of the Whidbey Island-based Orca Network.
"We're all hoping that they find lots of fish to keep them healthy and keep the mothers in good condition so they can feed the calves," she said.
The Center for Whale Research says that in 2008, eight orcas in the three pods, J, K and L, that make up the southern resident population in Washington and southwest British Columbia went missing and were presumed dead, including two females of reproductive age and the 98-year-old matriarch of K Pod. With just one surviving birth that year, the total in the three pods as of December 2008 dropped to 82.
That alarmed researchers - "This is a disaster," Ken Balcomb, a senior scientist at the San Juan Island-based center, said in October of that year.
But in 2009, no deaths were reported and five new calves were spotted, giving a December total of 87. A sixth infant was born Jan. 3 while its family, J Pod, was near Seattle on a winter visit, making it 88.
Both Balcomb and Howard Garrett, director of the Orca Network, think food might have something to do with it.
The whales feed on salmon - particularly chinook salmon, the largest and arguably tastiest of the Pacific species. Chinooks are listed as threatened or endangered in several Northwest waterways, including Puget Sound and the Columbia River.
"Unfortunately, they're very picky," Garrett said, with chinooks sometimes making up 80 percent of the whales' diet. It sounds simplistic, Garrett said, but "the way that we can tag the population fluctuations is directly from the chinook runs."
Taken as a whole, the runs in the region have held steady over at least the past two years, he said.
It's not that simple, said Brad Hanson, a wildlife biologist with the federal Northwest Fisheries Science Center in Seattle. He said that for much of the year, little is known about what salmon stocks the whales eat and where.
The southern orcas can range widely, from the north end of Canada's Vancouver Island to Northern California for K and L pods.
Depending on the river, he said, some salmon stocks are up, some down, some about average. And orcas face the same problem that bedevils all fishermen: hitting the right run at the right time under the right conditions.
"There's just so many different variables involved," Hanson said.
The three pods in the southern resident community - J Pod based in the San Juan Islands, K Pod in the Strait of Juan de Fuca and L Pod off the coast - are genetically and behaviorally distinct from other killer whales. Besides sticking to this region, their sounds are considered a unique dialect, they tend to mate only within their community and they usually gather each year to socialize in a "super pod" near the San Juans.
Orcas have a 17-month gestation period, so at least six of the whales were pregnant a year ago. From a distance it's hard to tell whether an orca is pregnant, so no one on land knew they were expecting when worries over the lost whales emerged.
Over the years the Center for Whale Research has tracked the southern population, their numbers have varied from a low of 71 in 1977 to a high of 97 in 1996, and the current total of 88 only matches the total in 2007.
It's also far below the 140 or so that lived here before dozens were captured for aquariums and parks in the 1960s and early '70s.
A 20 percent drop in their numbers in the late 1990s, blamed by many on pollution and dwindling salmon stocks, led to their listing as an endangered species. Experts estimate a long-term steady population of about 200 would be needed to take them off the list.
Experts caution that young orcas have a rough life - commonly, about 50 percent die in their first year - and that one good year isn't a recovery. Critical to their long-term survival, they say, will be cleaning up the marine environment and eliminating the toxic chemicals that collect in the whales' bodies, and restoring the region's once-massive salmon runs.
Still, Balcomb said: "I'm just optimistic that this year's bumper crop of babies will prove to be their investment in the future. And we should invest in the food resources for them and for us.
"We like salmon, too."
---
George Tibbits, Associated Press
Is Washington's Orca Baby Boom a Fluke?
Washington Post, January 9, 2010
---
See what you can learn
learn more on topics covered in the film
see the video
read the script
learn the songs
discussion forum