---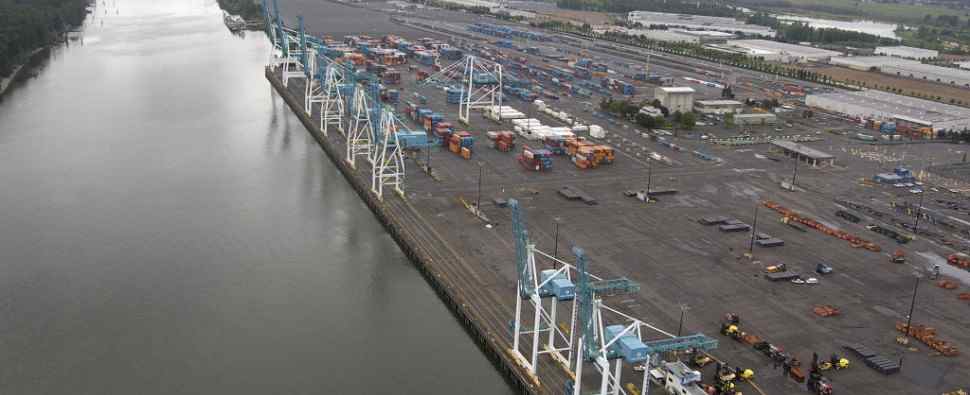 State and local officials say they haven't given up on efforts to attract a new trans-Pacific shipping line to take cargo containers in and out of Portland.
The Port of Portland lost its last major shipping lines earlier this year amid long-standing labor disputes between longshoremen and the company hired to operate Terminal 6. The lack of container traffic at the port has meant additional costs for importers and exporters in the region, and led to increased traffic congestion as more cargo moves by truck.
At a state Board of Agriculture meeting this week in Portland, officials stressed that there are shippers interested in the Port's business.
"They covet a small, captive, local market like Portland," said Greg Borossay, a general manager of the Port's marine trade development.
Meanwhile, labor rulings continue to pile up, saying that the International Longshore and Warehouse Union workers in Portland intentionally worked slowly and engaged in other tactics to hurt the container terminal.
Terminal 6 is barely used these days, since both major shipping lines that connected Portland with Asian and European customers stopped calling at the container terminal in the spring. Elvis Ganda, the head of terminal operator ICTSI Oregon, said the company hires for just 30 eight-hour shifts a month now, down from more than 500 per week before February.
Dan Smith of The Tioga Group, which does consulting nationwide on freight shipping issues, said a survey of Oregon exporters found that their costs increased by as much as $11 million annually when Terminal 6 shipments ended.
Part of the cost is a shortage of truck drivers. Rail service between Portland and the Tacoma and Seattle ports has absorbed half of the shipping. Trucks make up the other half.
Smith said the country faces a growing shortage of truck drivers as the workforce ages. Industry reports say there could be 200,000 fewer drivers than are needed by 2020 -- which means the cost to hire trucks and truckers is on the rise.
It's also logistically more complicated to manage trucking shipments than doing everything by container ship. Especially when the unexpected strikes.
Shelly Boshart-Davis said her family's trucking company had seven trucks slotted to leave at 4 a.m. on a recent day when heavy rains led to a mudslide on Interstate 5 between Portland and Seattle.
Boshart-Davis put some of the containers onto trains, and some trucks were eventually able to make it to Seattle and Tacoma after long waits. But, every time a truck was late or she had to modify her transportation plan, that meant she had to also change the dates of picking up empty containers, and they had to make adjustments, and so forth.
In the past, Boshart-Davis would have been sending the bulk of her shipments through the Portland of Portland's Terminal 6. But, as it is, she said she is happy the weather only affected four or five shipments.
"It'll push us back, it'll affect a few of our customers," Boshart-Davis said the day after. "All in the day of exporting."
State officials have some ideas of how to ease the woes of exporters, including training for truck drivers, better intel on highway and port conditions, places to store empty containers that aren't at the ports, more systems to connect different transportation modes to move containers, like a barge-to-rail service on the Columbia.
But the largest focus remains for port officials and port operator ICTSI Oregon to find new shipping lines. Officials say they have identified four carriers that would serve Japan, Korea and China -- Oregon's biggest trading partners -- and officials maintain that the port is attractive to some shipping lines.
The ships have to be small enough to get up the Columbia River, but the market doesn't have the same level of competition as at other major ports. And Oregon shippers have few cheaper options than Terminal 6.
"There is enough of a market to support more than one shipping line," Ganda said.
However, as attractive as Terminal 6 might be financially, many worry deals won't be inked while labor remains an open question.
Two decisions from the National Labor Relations Board have ruled against the longshoremen in Portland in recent months. The rulings date back to claims and counterclaims between the longshore workers and ICTSI Oregon going as far back as 2012.
The ILWU headquarters in San Francisco have appealed the first ruling to a federal appeals court. After that, the only option would be to appeal to the U.S. Supreme Court.
Ganda said he hopes that as litigation clears up -- there are still a few cases left involving the longshore union and the port -- union workers will help lure business back to Portland's container terminal.
The ILWU did not immediately respond to a request for comment.
Related Sites:
Shipping Report by Port of Porland, 2011 to 2015
---
Molly Harbarger
State, Port Officials Work on Export Solutions, Still Courting Shipping Lines
The Oregonian, December 19, 2015
---
See what you can learn
learn more on topics covered in the film
see the video
read the script
learn the songs
discussion forum